Neat-O Stuff and Spanish Rice
Hey, it's Friday! Yay! Here's a couple of cool things that happened or are about to happen:
1. I was included in the Austin Gastronomist's list of Austin's Influential Foodies Under 35! I'm really flattered to have been included with some of the top chefs, restauranteurs, and writers in Austin. I'll be doing an interview with her soon, too, and I'll post the link here when that comes out.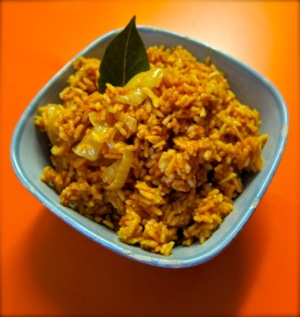 2. I'm teaching a free live cooking class tonight at 6pm CST! Not sure if you're on Google Plus yet or if you've heard about this G+Cooking School, but it is a REALLY cool idea. I'm making my fish tacos and Spanish rice on the show tonight and the creator, Lee Allison, will be making pico de gallo and sopapillas to go with the meal. The hangout session is probably filled (only 10 spots available) but it will be STREAMING LIVE at 6pm CST at http://hangoutparty.com/
If you miss the live stream, here's my post and video on Fish Tacos from last year.
And here's my Spanish Rice Recipe so you can still participate and have what I'm having for dinner tonight!
Print
Spanish Rice
Ingredients

2

T oil or butter

1 cup

long grain white rice

1/2

onion, sliced thinly into half-rings

1

large clove garlic, minced

8 ounce

can tomato sauce

1 cup

water or broth

1

bay leaf

1/2 teaspoon

salt and black pepper, each
Instructions
Rinse the rice in a colander and shake well to remove as much water as possible.
Heat the oil or butter in a saucepan over medium heat and add the rice. Stir until the grains are coated in oil and looking shiny.
Add the onion and garlic.
Continue stirring until some of the grains are lightly toasted.
Add the tomato sauce, water and seasonings.
Bring to boil, stir, then cover, reduce the heat, and simmer 15 minutes.
Remove from heat but leave the lid on and let the rice chillax for 5-10 minutes before fluffing it up.
We'll also be enjoying some margaritas, BTW. Here's my recipe!