Inspired by this description of a Mexican pickled beet botana from the Yúcatan, these pickled beets are a little spicy, sour and sweet. They're a delicious addition to your stocked refrigerator — eat them on their own; make a salad, adding arugula and crumbled goat cheese; or put some on your cocktail-hour snack plate.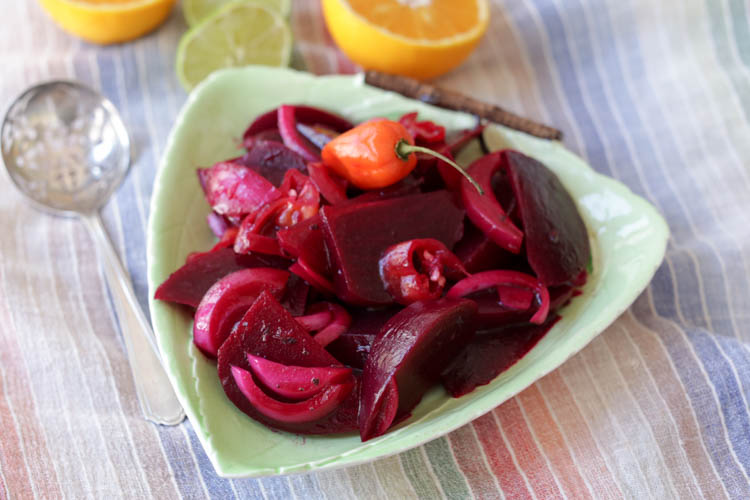 The habanero adds heat, but also has a very sweet, floral flavor that complements the earthy beets. If you want flavor with less heat, use the habanero but do not slice it; just cut a slit in the side and add it to the marinade. For a spicier pickled beet salad, dice or mince the habanero before adding.
To use the beet greens as well, wash and chop them. Steam for 5 minutes. Drain well. Toss with a drizzle of olive oil, lime juice and sprinkle salt to taste. Lay on a platter and top with chilled beet salad. (It's really nice to do warm greens with cold salad; make the salad a day before and cook/dress the greens before serving.) This is also a nice way to cook beet greens and Swiss chard on their own.
And! I know beets are notoriously stain-y but I've found that if you boil them whole, then let cool and slip the skins off, there is minimal staining of your skin. You will still stain a wooden cutting board (likely permanently) when you cut them, so you may want to use a plastic one or just an old one.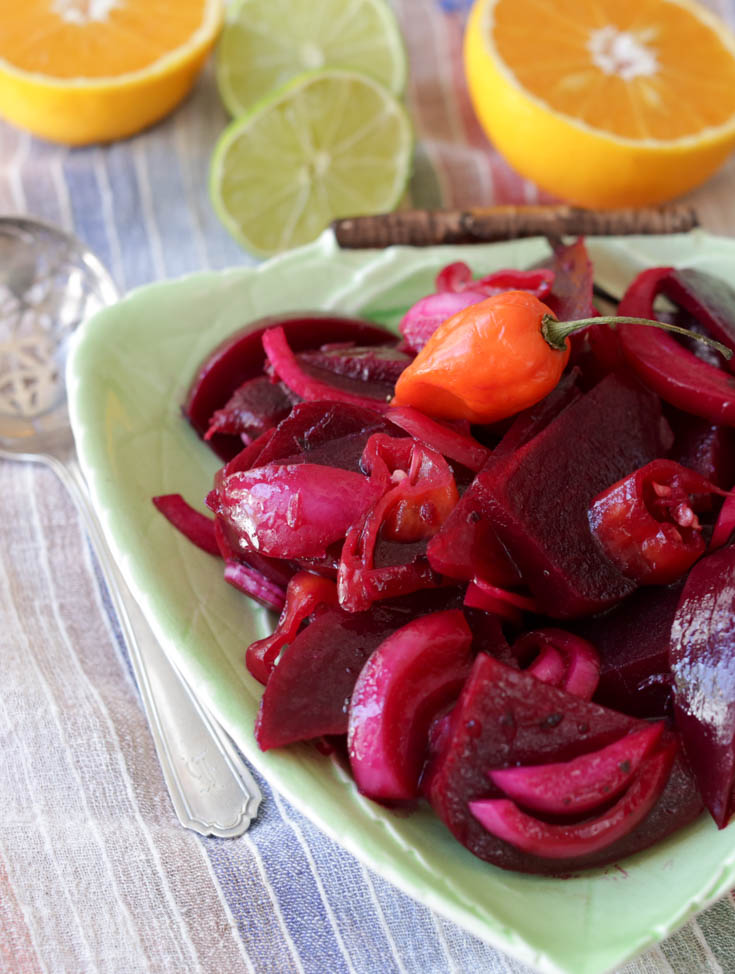 Print
Pickled Beet Salad
1 pound beets
1/3 cup orange juice (about 1 juicy orange)
2 tablespoons lime juice (1 lime)
2 tablespoons white or rice vinegar
1/2 teaspoon honey or brown sugar
2 cloves garlic, sliced
1 teaspoon salt
1/2 teaspoon dried oregano
1/2 cup sliced red onion
1 habanero (see notes above on preparation)
Instructions
Boil or steam the beets for 40 minutes until tender. (I pressure cooked mine in the instantpot for 20 minutes.) Let cool and slide the skins off. Cut into wedges.
While beets cook, whisk the liquids together with salt, garlic and oregano in a glass bowl. Add cooked beets, onion and habanero.
Let marinate at least 4 hours, or overnight. Serve cold.
Nutrition
Serving Size:

1/2 cup

Calories:

40

Fat:

0

Carbohydrates:

9

Protein:

1