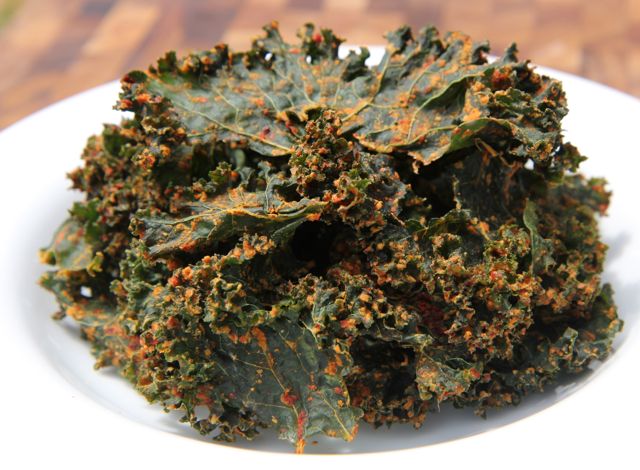 So we're doing this "Health Thing" for the month of August. No alcohol, no dairy, no sugar, no gluten. Good God almighty, what the hell are we thinking?!
Actually, so far it's pretty awesome. And that's coming from a couple of booze hounds. The first three days, and I'm embarrassed to admit this, we had what seemed to be alcohol withdrawals. Yikes. Granted, we self-diagnosed through the internet so we can't be certain, but did you know that a feeling of jumpiness or nervousness, feeling of shakiness, difficulty with thinking clearly, and bad dreams are all symptoms of alcohol withdrawal? Also, we found out that even just moderate-but-consistent alcohol users should consult a doctor before going "cold turkey". So, I guess, beware or something. We seem to have lived through it and now we've both been sleeping WAY better than we did before with the added bonus of not waking up hungover! Winning!

Anyway, the no gluten (and very limited grains) part of the "Health Thing" makes it REALLY HARD to snack. And I love to snack. And I can only eat so many celery sticks dipped in guacamole (yes, it's good) before my jaw starts to hurt and I start to hate celery.
But Chris found this snack called Kale Krunch at the Flag Store on Duval and Ho. Lee. Crackers. Those sonsabitches are magnificent! They are also horribly, terribly expensive. So I did what any crafty cheapskate would do: I copied the hell out of that shit.
The ingredients were only kale, cashews, red bell pepper … aaand some other things. While it didn't explicitly say they were dehydrated, there's a bunch of stuff on the package about "alive!" which I have learned after my 8 days of doing "Health Thing", is healthy-person-talk for "raw" and the only way to get that crunch without cooking has got to be drying. Fortunately, I have an antiquated dehydrator that still works after 10 years of disuse. (Let it be known that I have tried baking kale chips before and they were barely just okay; I could never get them evenly crisp and the outcome hardly seemed worth having the damn oven on for that long.)
I did some googling to get an idea of how to use my dehydrator, and found this recipe that looked similar to the Kale Krunch we had. I didn't have sun dried tomatoes, though, or cashews, so I made up my own version inspired by those totally awesome Spicy Thai kettle chips — know what I'm talking about? These are spicy and sour  and garlicky and just a tiny bit sweet naturally from the virgin coconut oil. Man, they are so good, you will find that eating an entire bunch of kale all by yourself is no longer unthinkable and in fact, NOT eating an entire bunch of kale is almost impossible when it's prepared this way.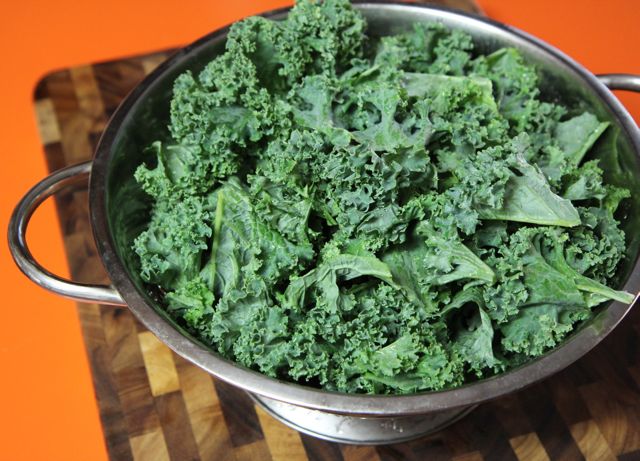 This is what washed and dried kale looks like in a colander. I can't make this stuff up!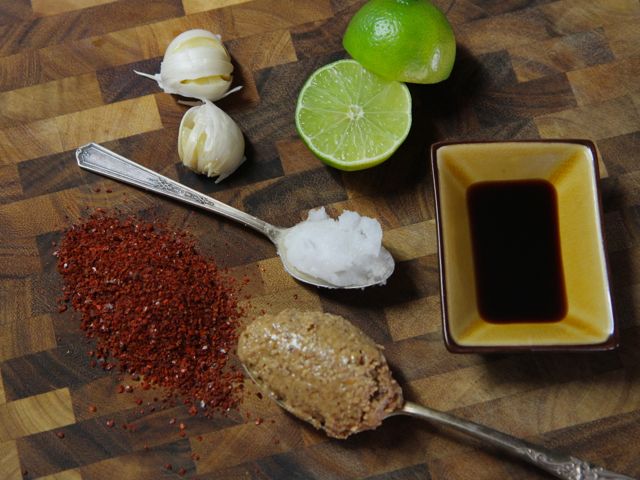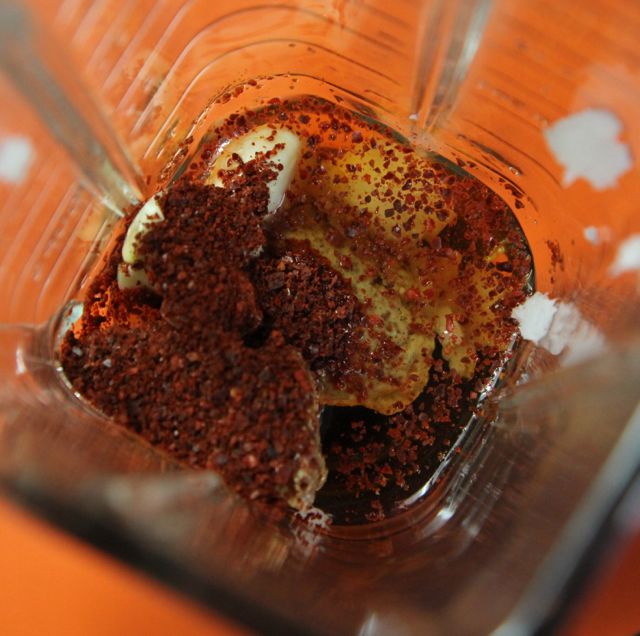 All that stuff from the previous photo, but reorganized inside a blender.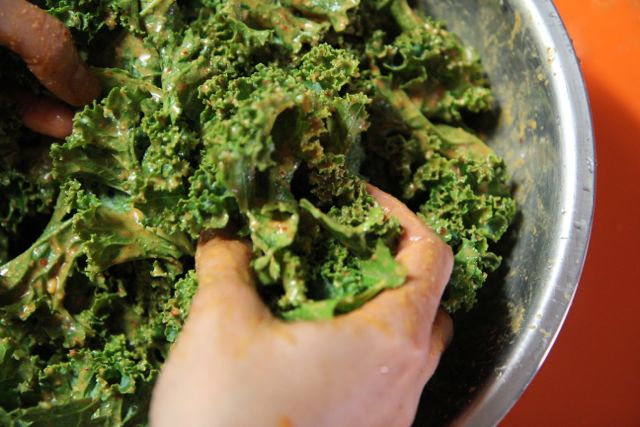 This is when your hands will come in "handy".
Oh, brother.
It's true, though.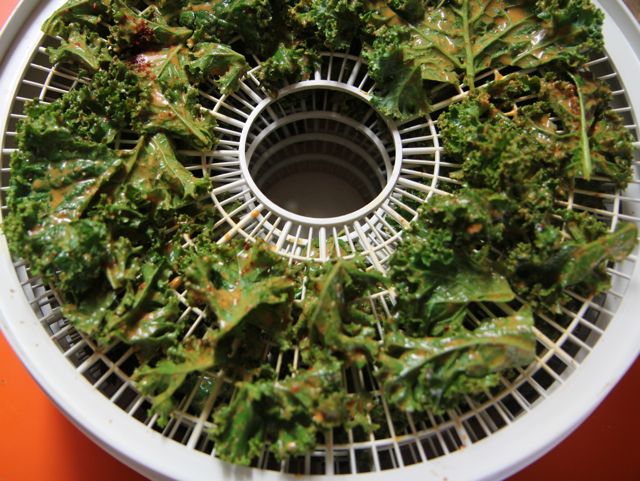 I can't tell if my photography skills are getting better or worse now.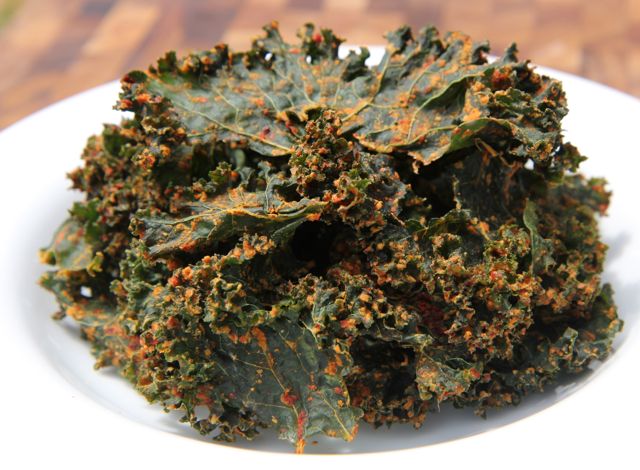 Print
1

large bunch kale

1/2 cup

water

2 tablespoons

almond butter

1

large clove garlic

1

lime, juiced, about

2 tablespoons

1 tablespoon

tamari

1 tablespoon

virgin coconut oil

1

–

2

tablespoons red pepper flakes

1/4 teaspoon

salt
Instructions
Tear the kale into bite-size pieces and discard the stems (they just turn rubbery in the dehydrator).
Wash the kale well and dry. If you have a Salad Spinner, that would work great. I don't have one so I put the kale in a large colander, held a clean tea towel over the top and shook it really hard over the sink. That worked pretty well. I've also heard of putting wet greens in a clean pillowcase and swinging it around but that seems kind of gross to me.
Combine all the other ingredients in a blender until smooth. Give it a taste and adjust the salty/sour balance to your taste.
Put the kale in a large bowl, pour the sauce over, and use your hands to coat every leaf well. I like to massage it a bit to get the sauce in all the little crevices. Taste a leaf now and sprinkle a little more salt or red pepper over them if you think it needs it. I think some sesame seeds would be a nice touch, too.
Spread out in a single layer in your dehydrator and turn that mother on. My antique dehydrator has only one setting and I have no idea what temperature it runs at, but it only takes 4 hours to do a batch. That other recipe I found said 12 hours, but that's probably a much lower temperature. My dehydrator might even run at too high a temperature to still call these "raw" but they are delicious and healthy and that's all I care about.
I guess store these in an airtight container, but I doubt you'll even need to. I bet you will eat them all within 20 minutes. Just a heads up.