Happy New Year, Everybody! No I'm NOT reading that calendar wrong. I'm talking about Chinese New Year! Yeah, you read that right.
And I made me some dim sum. I shortcutted my way through the dough and the Chinese barbecued pork filling, leaving me plenty of time to roll these babies around my kitchen on a little cart before digging in. JUST LIKE AT THE RESTAURANTS.
Not really. It was more like a deranged bag lady using a stolen Target shopping cart as a serving dish for pork buns and wontons.
But whatever.
Dim Sumbody say "Dim Sum"?! (Don't hate me.)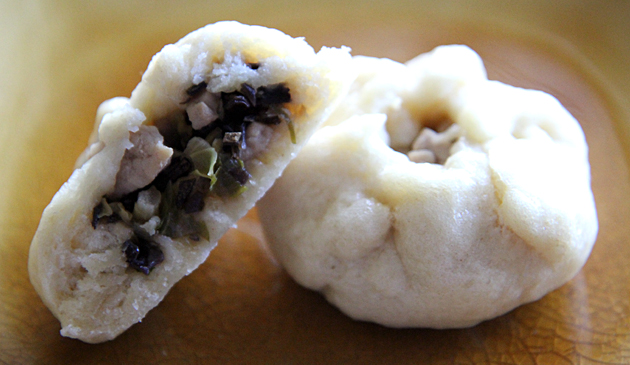 Print
Char Sui Bao
Chinese Steamed Pork Buns
1 1/2 cups

all purpose flour, sifted

1/2 cup

powdered sugar

2 tablespoons

baking powder

2 teaspoons

sesame oil + enough vegetable oil to make 1/2 cup total

2 teaspoons

rice vinegar

1/2 cup

cold water

1/2

pound ground or finely chopped pork

1/2 ounce

dried mushrooms, soaked in boiling water for

10

minutes

1 cup

minced cabbage

1 teaspoon

fresh minced ginger

1

green onion, minced

2 tablespoons

sherry or vermouth

1

–

2

tablespoons soy sauce (to taste)

2 teaspoons

honey
Instructions
Make the dough: Combine the dry ingredients, then add the oil, water, and vinegar. Knead the dough for 3-5 minutes until it can be shaped into a ball. Set aside.
Make the filling:
Blanch the cabbage by dropping in boiling water for 30 seconds. Drain and squeeze the water out.
Mince the reconstituted mushrooms.
Brown the pork in a skillet until cooked.
Add the vegetables and ginger.
Add the liquids and cook down.
Remove to a plate, leaving excess liquid behind, and let cool while you shape the dough.
Divide the dough into 12 equal pieces.
Roll each out into a circle about 4″ diameter, leaving the center a bit thicker than the edges.
Place a spoonful of the pork mixture in the center and pinch the edges up and over to seal.
Place on a 3″ square of parchment paper and set on a steamer.
Steam the buns 25 minutes until risen and cooked.
Cool slightly.