Strawberries with Coconut Cream
Strawberries with Coconut Cream video – scroll down for recipe
Subscribe to my YouTube channel to get notified of new videos.
Whipped coconut cream is a damn miracle food. As long as you like coconut, you will love coconut cream. It's easy to make and it lasts a hell of a lot longer than whipped dairy cream. Whipped coconut cream will stay light and fluffy and whipped for like 24 hours in the fridge! Amazing! Science!
But that's not totally why I combined it with strawberries. Strawberries and coconut also happen to go really well together; talkin' flavor country right there. I added toasted hazelnuts to this elegant dessert, but you could use some candied pecans or cashews. Roasted macadamia nuts would go well, too. Add some chocolate chips maybe if you're feeling frisky. Or candied ginger! That would be yum.
Get more strawberry recipes on my YouTube playlist!
Strawberries with Coconut Cream recipe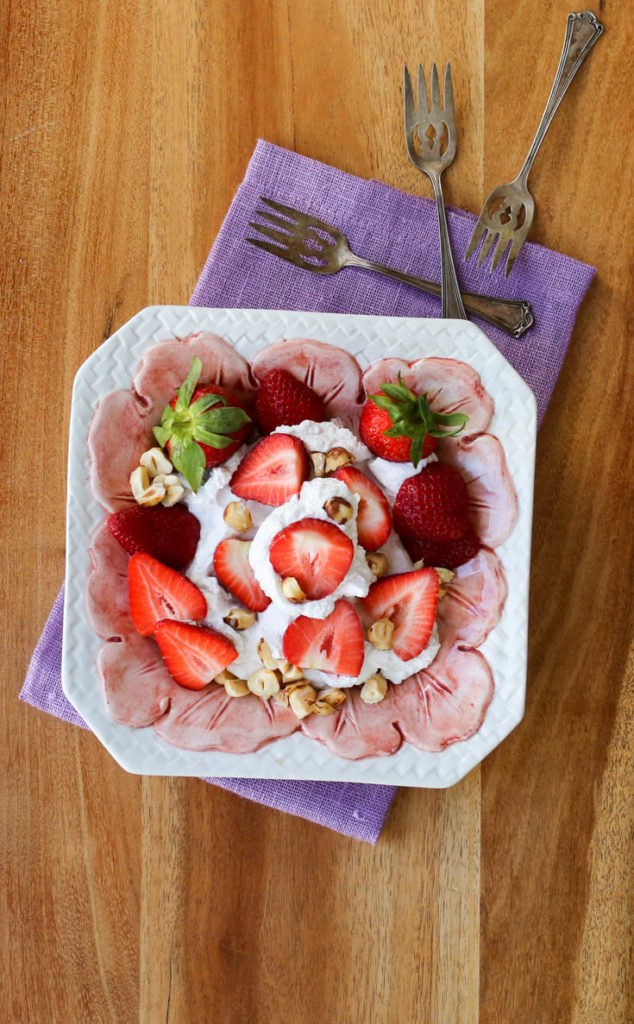 Print
Strawberries with Coconut Cream
15 ounce

can of full-fat coconut milk

1 teaspoon

vanilla extract

1

pound fresh strawberries, washed and sliced

1/2 cup

hazelnuts (filberts)

2 tablespoons

powdered sugar, optional
Instructions
THE NIGHT BEFORE: Put the coconut milk in the fridge for at least 8 hours. If you forget, you can put it in the freezer for about 1 hour but don't let it freeze solid. If you have room in the fridge or freezer, chill your mixing bowl and beaters, too.
Open the BOTTOM of the cold coconut milk can with a standard can opener and drain the liquid into a bowl. Reserve.
Scoop the cold coconut fat into the cold mixing bowl, add the vanilla and beat on high speed for about 2 minutes.
Add a tablespoon or two of the reserved coconut water if the mixture seems too "dry".
Continue beating on high speed for another 1-3 minutes until it looks like whipped cream!
Refrigerate until ready to use. It will stay whipped and fluffy for several hours.
Place the hazelnuts in a dry skillet over medium heat. Shake frequently and toast the nuts for about 5 minutes. Pour onto a clean towel, wrap them up and roll them around to remove the skins. Coarsely chop peeled nuts.
Arrange coconut cream, sliced berries and chopped nuts on serving plates. Sprinkle with powdered sugar if you like a bit more sweetness.