Strawberry Cupcakes with Strawberry Frosting
The best part about making these strawberry cupcakes is how the smell of strawberries fills the kitchen when you're making the strawberry puree.
When I was a kid, we'd visit my great-granny every summer in east Tennessee. Most of the time her trailer smelled like Ivory bath soap, with a soft undercurrent of mildewed plastic.
But when it was strawberry picking time, and we'd come back with buckets of pick-your-own and she'd start making strawberry jam and strawberry pie, the whole (tiny) place would be taken over by the scent of strawberries.
Real strawberries being cooked down into jam or puree really do smell like the scratch-and-sniff part of a Strawberry Shortcake doll. Strawberries are one fruit the fake-fruit-smell factories got right, I guess.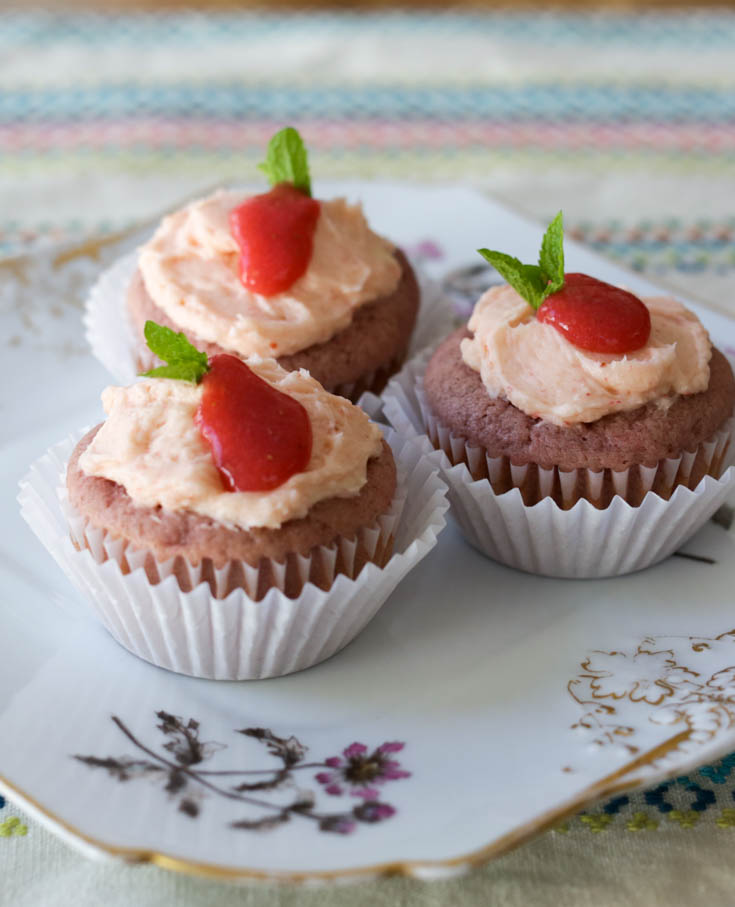 Print
Strawberry Cupcakes with Strawberry Frosting
Cupcakes
1

pound fresh strawberries (or frozen, thawed)

1 cup

sour cream or Greek yogurt

2 cups

all-purpose flour

1 teaspoon

baking soda

1/4 teaspoon

salt

1/2 cup

butter (

1/4

pound), at room temperature

1 cup

sugar

2

egg whites

1 teaspoon

vanilla extract

1/2 teaspoon

lemon zest
Optional: 2-3 drops red food coloring
Strawberry Frosting
1/2 cup

(

1/4

pound) butter, at room temperature

3 cups

powdered sugar, sifted
Strawberry puree, from above
pinch salt
Instructions
Hull fresh strawberries. Thaw frozen strawberries.
Puree berries in a food processor or blender. Add up to 2 tablespoons water if you need to get your blender moving. Strain puree into a small pot to remove seeds. Simmer puree over medium heat, uncovered, 15-20 minutes until reduced by a third and thickened. Stir occasionally, scraping the bottom and sides, to keep from sticking. You should have a little over 1/2 cup once cooked. Remove 3 tablespoons puree and set aside for icing.
Combine this 1/2 cup puree with sour cream and set aside.
Line 12 standard cupcake tins with paper liners. Set oven to 350ºF (176ºC)
Sift together the flour, baking soda and salt and set aside.
Cream butter and sugar together on medium-high speed for 2 minutes or until light and fluffy.
Beat in egg whites one at a time until fully combined.
Add vanilla and zest (and optional coloring).
Add half the flour mix and combine on low speed until almost fully incorporated.
Add half the sour cream+strawberries and mix.
Add remaining flour and mix.
Add remaining sour cream and mix on low until smooth.
Scoop into cupcake tins, filling 3/4 full. Bake 20 minutes.
Cool in pan 5 minutes, then remove cupcakes to cool on racks completely.
For the strawberry frosting:
Beat the butter with 2 cups powdered sugar on low speed until incorporated, then increase speed to high and mix another minute until fluffy.
Add remaining sugar this way.
At the end, mix in 2-3 tablespoons fresh strawberry puree from step 1, and a pinch of salt.
Ice cooled cupcakes and garnish with fresh strawberry slices or a bit of leftover puree
Nutrition
Serving Size:

1

Calories:

448

Fat:

19

Carbohydrates:

66

Protein:

3.8