Streusel Pear Cake: Old Lady Recipe #3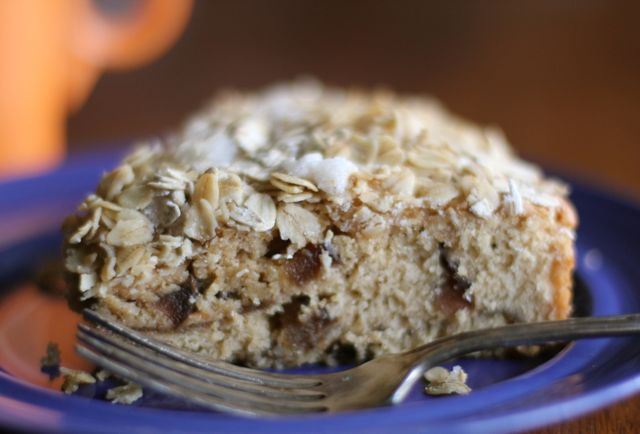 My mama might kill me for calling this an Old Lady Recipe, since she used to make it all the time, even before she was an old lady. (Just kidding, MOTHER!) So if I turn up dead tomorrow, you know who to blame. (Just kidding, MOTHER!)
But all seriousness aside, folks, this here is one DEEEEEE-LISHUS CAKE! Mama's been making it ever since when we were in middle school and a friend of Little Brother had a pear tree in his yard — those big hard Kieffer pears that grow so well in Texas. This recipe came from a folded-up, Xeroxed piece of paper printed by some people who had a pear orchard I guess. There was a drawing of a dancing pear involved.
Or something like that. I can't remember all the damn details.
But as time has gone on, I've modified the recipe somewhat anyway, adding an oatmeal streusel topping just to put the nail in that proverbial coffin, sealing the deal and making well sure that this will always and forever be considered an Old Lady Recipe.
Print
Streusel Pear Cake
2 cups

thinly sliced firm pears

1 cup

sugar

1 cup

chopped nuts (optional, I never add these)

1 1/2 cups

whole wheat flour

1/4 teaspoon

cinnamon

1 teaspoon

baking powder

1/2 cup

oil

1/2 teaspoon

vanilla

1

egg

1/2 cup

rolled oats

2 tablespoons

butter
Instructions
Combine the pears and nuts with most of the sugar (set aside about 2 tablespoons for the streusel) and let stand 30 minutes. Lots of juice will be released; that's good.
Preheat the oven to 350 while that is going on.
Add the flour, cinnamon, and baking powder to the pears.
Beat the oil, vanilla, and egg together and add that, too.
Stir gently and pour into a greased 8 or 9″ round cake pan.
Combine the oatmeal, reserved sugar, and butter, then sprinkle the mix over top of the cake.
Bake 40-50 minutes or until it passes the toothpick test.