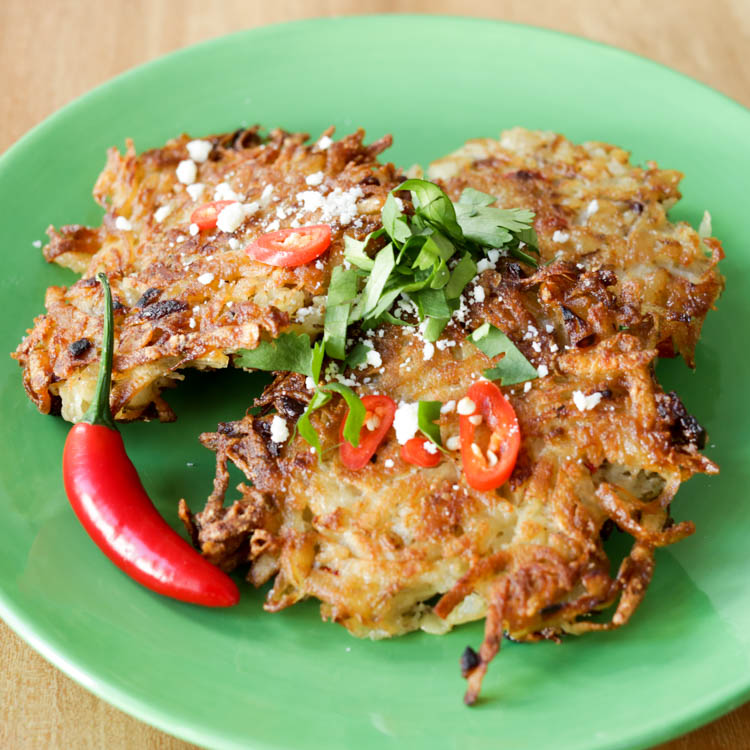 These crispy, Tex-Mex potato latkes are jazzed up with chiles and salty cotija cheese. I love chiles with potatoes and this is one of the best ways to eat them both: fried 😉
A couple of pointers for the best latkes:
Grate the potatoes by hand and grate 2/3-3/4 of them on the large holes and the rest on the small holes. The small-grated potato helps bind the latkes without adding flour or matzo meal
Squeeze the liquid from the potatoes over a bowl. Save the liquid and let it settle out. You can pour off the brown potato-skin water and save the starch left in the bottom. Add that to the latke mix for additional binding power.
You need more oil. You really need a lot of oil to fry latkes well. I know it seems kind of insane to use a cup of oil for 12 latkes but … it makes them the best.
Watch the Tex-Mex Latkes Video on YouTube!
Tex-Mex Latkes
Print
Tex-Mex Latkes
2

pounds potatoes (starchy Russets are my preference)

2

eggs

3/4 cup

finely chopped onion (

1

small yellow onion)

1/2 cup

crumbled or grated cotija cheese

1

–

2

jalapeño or serrano peppers, minced

2

cloves garlic, minced

1/2 teaspoon

salt

1/4 teaspoon

pepper

1 cup

oil for frying (grapeseed, canola, corn, light olive oil)
For serving:
Sour cream
Apple sauce
Jalapeño jelly
Fresh cilantro
Instructions
Grate most of the potatoes on the large holes of a grater. Grate about ¼ cup of potato on the fine side.
Put all the potatoes on a clean towel and squeeze over a bowl to get the liquid out. Set the bowl aside to settle.
Mix potatoes with the egg, onion, cheese, pepper, garlic, salt, pepper.
Drain the brown water from the small bowl, keeping the white potato starch behind. Scrape the starch into the potato mix and stir.
Heat 1/3 cup of oil in a skillet over medium-high heat until a strip of potato sizzles. You should have at least 1/8 inch of oil in the pan.
Scoop the potato mixture by large spoonfuls onto the skillet (about ¼ c each) and spread out to make a 3″ patty.
Fry for 2-3 minutes until very brown.
Flip carefully and cook an additional 3 minutes.
Add more oil to the skillet as necessary and fry the rest of the latkes.
Serve with sour cream, applesauce, jelly and a little cilantro
Tex-Mex Latkes Recipe Video