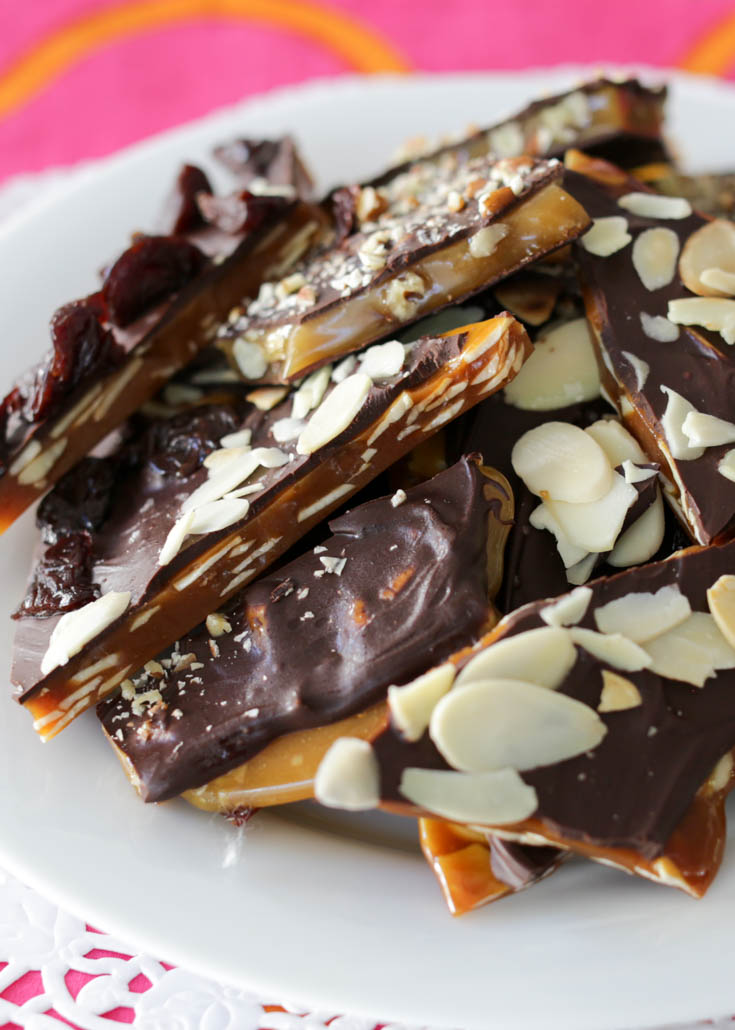 I don't do much candy, namely because it's a little finicky and much prefer focusing my energy on things more in line with my impatient personality. BUT this almond toffee is pretty damn easy.  The butter keeps it nice and chewable — no jaw-breaker here! — and as long as you have a thermometer the rest is just stand-and-stir. But not even. You don't even stir it. Kinda magical if you ask me.
You may use other nuts besides almonds if you like. I've used finely chopped pecans and pistachios with great success. For Christmas toffee, green pistachios on top look pretty and seasonal. Do be sure to toast pecans and almonds (or any raw nuts you're using) to improve their flavor. Just place in a dry skillet over medium heat and stir for 2-4 minutes. Watch them carefully because once they start to brown, they brown. You can see I also experimented with some dried fruit on top which adds a nice chewiness and tartness. Dried cherries or cranberries, chopped dried apricots or even blueberries would be good. Try some coarse salt or maybe even smoked salt if you're crazy.
I like the random look of broken candy shards, but for a more dignified look, score the candy after spreading it onto the baking sheet: Allow it to cool for 2-3 minutes until it's firm but still pliable then use a butter knife to score into squares or rectangles. Cool. Once fully set it should break easily along the lines. Individual pieces can be dipped in chocolate.
Watch the Toffee Recipe Video on YouTube!
Almond Toffee Recipe
Print
Halloween Toffee
1

stick butter (

4 ounces

)

3/4 cup

sugar

1 tablespoon

water

1/2 teaspoon

salt

1/2 teaspoon

vanilla extract

1 1/2 cups

toasted, slivered almonds or other nuts

3 ounces

semisweet chocolate (about

1/2 cup

)
Optional garnish: dried fruit, coarse salt, M&Ms, more nuts, sprinkles
Instructions
Line a baking sheet with parchment or a silicon mat
In a heavy-bottomed pot melt the butter over medium-low heat. Add the water, sugar and salt and whisk until fairly uniform and the sugar is suspended in the butter.
Increase heat to medium or medium-high and clip a thermometer on the pot. Cook, not stirring, until the temperature reaches 290ºF or 143ºC.
Turn off heat and add 1 cup of nuts and the vanilla. Stir quickly. Pour onto prepared pan and let cool. If you want uniform sized pieces, score the toffee with a knife after 2-3 minutes. Refrigerate to cool faster.
Melt 3/4 of the chocolate in a double boiler or microwave for a few seconds until almost melted. Stir in remaining 1/4 of chocolate chunks and stir until completely melted. Spread onto cooled toffee.
Sprinkle candy and remaining almonds on top. Refrigerate to set.
Twist sheet to loosen candy and break into chunks. Store pieces layered between waxed paper in an airtight container. For longer storage, refrigerate up to 2 months.
Almond Toffee Video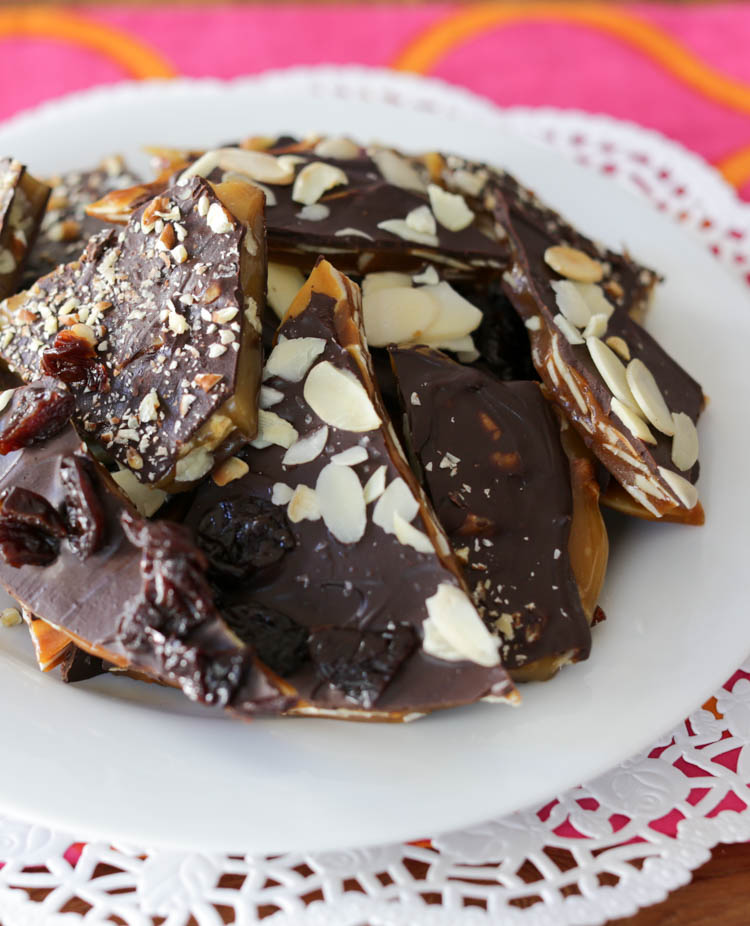 The Thermometer I Like: