Tres Leches cake (or just "tres leches" for short) is a classic Mexican dessert. It's a light, vanilla sponge cake baked in the pan from which you serve it, saturated with a mixture of three milks: whole milk or half-and-half, sweetened condensed milk, and evaporated milk, then finally frosted with whipped cream (which technically makes it four milks, but whilst one is eating tres leches cake is no time to be counting milks.)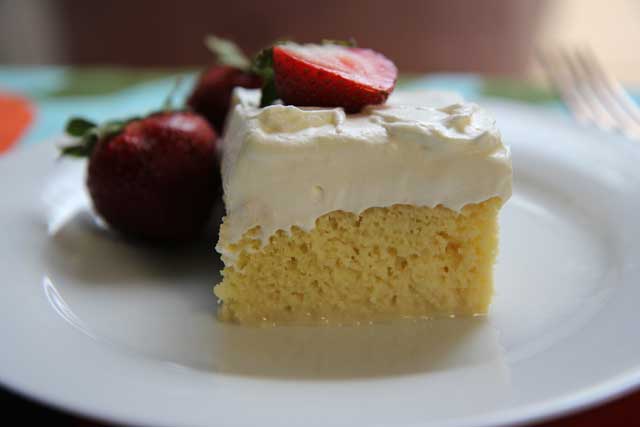 The origin of Tres Leches cake is questionable. I think most Latin American countries could claim it. But I suspect it has a similar tale as Key Lime Pie: that is, it was a recipe created by the creators of canned milk products in order to encourage people to consume canned milk products. In 1864, Old Man Borden built the largest milk condensing factory to date in New York. This was long before refrigeration and the shelf-stable milk became hugely popular with the people, not to mention as war rations bought by the US government for Union soldiers during the Civil War. I am totally guessing here, but it seems logical that as refrigerators became more wide spread in the US, the market for canned milk moved southward into Mexico and the Tres Leches cake was born. (Edit: Turns out, my guesses were right on. Austin Chronicle writer MM Pack just sent me this link to her article with more history on the cake.)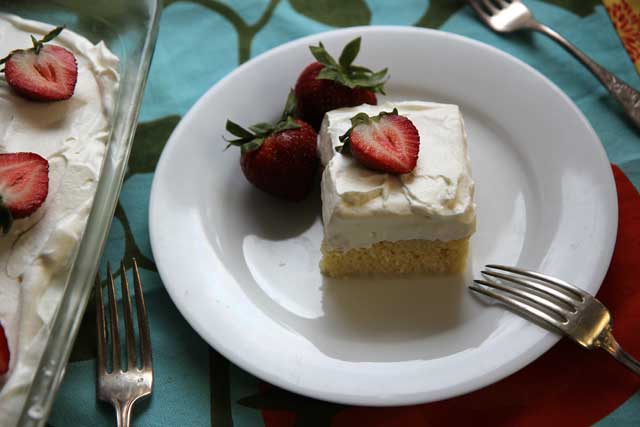 I use Alton Brown's recipe for this cake, almost exactly. Changes I make are to the whipped cream topping: cut back on the sugar and leave the vanilla out for aesthetics. He insists on weighing his dry ingredients, and truthfully it is the best way to bake, though I don't make a habit of it myself. I've given both weight and volume here for those of you without a home scale.
Cake flour is crucial to this cake. You'll find it next to the all-purpose flour, usually sold in a box similar to a cereal box. Swan's Down is a common brand and the one my grandma always used. The difference between cake flour and all-purpose flour starts in the field. Cake flour is milled from a "soft wheat" rather than a "hard wheat"; soft wheats have less protein (ie gluten) and because of that, cake flour makes a more tender final product. Then cake flour is milled exceptionally finely and bleached all to hell. The bleaching further deteriorates the gluten so it's even softer. I've read that in a pinch you can make "fake cake flour" by using 1 cup minus 2 tablespoons of all-purpose flour and then adding 2 tablespoons cornstarch to it and then sifting it several times to equal 1 cup cake flour. I have not tried it myself and take no responsibility!
Print
Tres Leches Cake
Author:
Prep Time:

12 hours

Cook Time:

25 mins

Total Time:

12 hours 25 minutes

Yield:

16

-

2

0

1

x
6 3/4 ounces

(

1 1/2 cups

+

3 tablespoons

) cake flour (plus an extra tablespoon for flouring the cake pan)

1 teaspoon

baking powder

1/2 teaspoon

salt

4 ounces

(

1/2 cup

) butter, softened

8 ounces

(

1 cup

) sugar

5

eggs, room temperature

1 teaspoon

vanilla extract
Three Milks:

1 cup

half-and-half or whole milk

1

12 ounce can evaporated milk

1

14 ounce can sweetened condensed milk
Topping:

2 cups

heavy cream

1/4 cup

sugar

1 teaspoon

vanilla extract (optional)
Fresh fruits like strawberries, peaches, and mango
Instructions
Set oven to 350ºF and grease and flour a 9×13″ pan. Set aside.
Whisk flour, baking powder and salt together in a small bowl.
Cream butter with an electric mixer on medium speed until fluffy, about 1 minute.
Add in the sugar and beat on low speed for another minute. Scrape down the sides of the bowl if necessary to get all the sugar and butter well mixed and creamy-looking.
With the mixer still on low speed, add the eggs one at a time. Mix well after each egg and don't add the next until the previous has been fully incorporated.
Mix in the vanilla.
Add the flour mixture a little bit at a time, mixing on low speed and scraping down the sides of the bowl as needed, until all the flour is in. When the batter is finished, it will be slightly glossy and fall away from the spatula in wide "ribbons".
Spread into pan and bake 25 minutes or until a toothpick comes out clean.
Cool 30 minutes.
Combine the three milks in a quart measuring cup or pitcher.
Use a skewer to poke about 50 holes in the cake, all over. Go crazy! Make sure the skewer reaches all the way through the cake and to the pan. There should be at least a hole every 1/2 inch.
Pour the milks over the cake. Within 5 minutes, the milk should all be pretty much absorbed. Cover the cake with plastic and refrigerate overnight.
Whip the heavy cream with sugar and vanilla on medium speed until it begins to thicken, then increase and beat on high speed for 2-3 minutes until stiff peaks form.
Spread over cake. Garnish with fruit if desired and serve.
Store leftover cake in the refrigerator, covered, for up to 3 days.