Ladies. I got your back on this one. I talked to the master to get the key to all men's hearts. Of course, I hadda blow him for it, but it was worth it for all the awesome info I got on how to impress dudes in the kitchen. Thanks, FreekZone. I owe you one more, buddy.
Here's what I learned from FreekZone about cooking for dudes.
Make it meat. Dudes are basically…what did he call them? Overweight puppies. Yes. And they like meat. So give 'em it.
Keep it simple. Dudes are easily confused. They know not what to do with salad plates and garnishes and finger bowls and Cornish game hens. It should be easily recognizable to the dumbest dude you know. Or hope to get in bed.
Keep it light. No, not because he cares what he looks like. But because he doesn't want to get all sleepy and not be able to do you later. He's thinking about you.
Make it sensual. Things you must eat with your fingers, things you can share easily. Things that taste good off of body parts. Not things that look like body parts. At least, I'm pretty sure that's not what he meant.
Give him one job. This should be a simple job. Dinner should be almost ready when he gets there and he will ask if he can help (assuming he is a lady-killer like FreekZone) but he doesn't really want to do anything. Giving him an easy job like opening wine or mixing drinks makes you both look good.

If dinner went well, you will both be a little drunk and thinking everything is hilarious and your booze-eyes will be telling you that it's time to get bizzy. And it is. Screw the dishes. Put your leg up on his leg under the table and let him feel it up. Sip your wine seductively. That's right.
In the morning, make some coffee. But then he better be taking you out for tacos or something.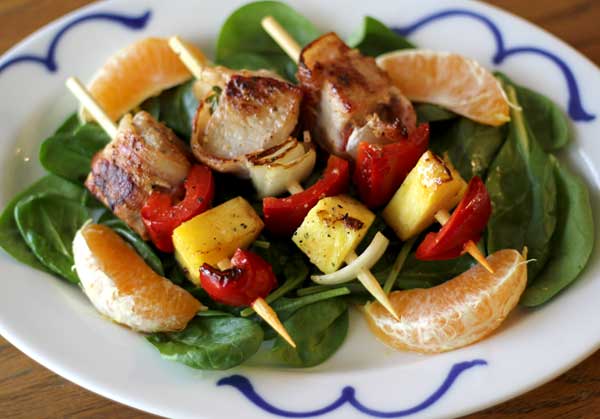 FreekZone's Favorite Tropical Kebabs
If you have a grill and know how to use it, this would be a perfect recipe to do outdoors. Otherwise, in a cast iron skillet or on a grill pan is the way to go. You'll have to get skewers that are small enough to fit in your skillet; 4-5" bamboo skewers shouldn't be hard to find.
You can use some center-cut boneless pork chops or a whole tenderloin. You could even do this with chicken if you're dating a guy you met at the gym. Or a guy that wears short-shorts and has spitcurls plastered to his temples. But don't date that guy. Really.
The spinach is really just there because it's pretty and good for you. Some dudes hate green things, though. If you suspect that is the case, you could cook a cup of rice in 2 cups of chicken broth, add some butter, and serve it over that.
Print
Tropical Kebabs
Pork, bacon and pineapple kebabs
1

pound boneless pork loin chops

6

strips of bacon (about

4 ounces

)

12

pineapple chunks, about

1

" square

1

bell pepper, cut into

1

" squares

1

onion, cut in half crosswise, and the halves cut into

6

wedges each
salt and pepper
Skewers!

4 cups

baby spinach

1

tangerine, peeled and seeded and separated into sections
Citrus glaze and dressing:

1/4 cup

orange juice

1 tablespoon

lime juice

1 tablespoon

honey

1 teaspoon

fresh ginger

1/2 teaspoon

black pepper
Instructions
Cut the pork into 12 cubes, approximately 1″x1″x1.5″. Cut the bacon strips in half crosswise and wrap each pork cube in a pork strip. Impale the wrapped cubes on a skewer and then stick on a pineapple chunk and bell pepper and onion. Continue until all the stuffs are used up. Sprinkle the kebabs with salt and pepper on all sides.
Heat a large skillet over medium-high heat. Put in as many kebabs as you can fit, probably 4 depending on your skillet. Cook on one side 4 minutes, or until they can be flipped easily. Turn the heat to medium and cook on each other side 2-3 minutes until the meat is all done in there. It'll take about 10-12 minutes total.
Mix all the glaze ingredients in a jar with a tight lid and shake the hell out of it. Brush a little of this over the pork right before you pull it out of the skillet.
Arrange on plates: spinach, tangerines, kebabs. Drizzle a few tablespoons of the dressing over the whole thing. Feed your soul and your man's soul. And yo' sexy bodies.