Surf and Turf: Steak with Oysters
Surf and Turf: Better than at a strip club
V-D is Tuesday so here's an awesome surf and turf combo I came up with that incorporates not one, but THREE aphrodisiacs and if that doesn't get ya laid, well, perhaps you should look into improving your technique.
Relax!
I mean your cooking technique!

Here's some quick facts* on the aphrodisiacs in this recipe:
Oysters: Supposedly oysters get their "sexual powers" because they look like girl parts but if your girl parts look like an oyster, well, that's bad. You might be dead, even. Or a zombie. But they are high in zinc and there is such a thing zinc-deficiency-induced impotence, so that's interesting. Casanova reportedly ate like 50 raw oysters every morning and he was a stud so maybe give it a shot. Except for the food poisoning risk with raw ones. That's why I fried these. Nothing says "no second date" like food poisoning.
Basil: Uh, I couldn't find much facts on the internet about this one, except the Romans thought it was an aphrodisiac. I think it smells good and at $2.50 for 3 sprigs at my grocery store, it also counts as "expensive".
Honey: Honey is sweet and it never spoils, so maybe if you're lucky your love will be like that? Aww, that was a nice thing to say. Honey was also the preferred offering to Min, the Egyptian god of fertility. Min can always be identified amongst the heiroglyphs by his huge, erect penis. And penis = romance in my book.
*The veracity of these facts is dubious.
Now that you have the facts, here's how to make the recipe so you can get to making OUT.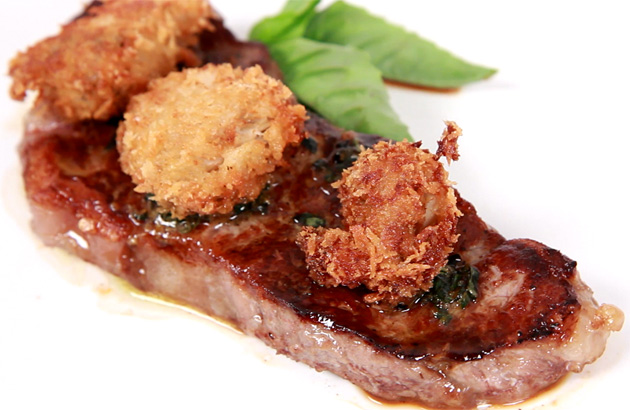 Print
Strip Steak with Fried Oysters and Basil Butter
Way easier than the long title suggests
3 tablespoons

softened butter

1 tablespoon

olive oil

1 tablespoon

minced fresh basil

1/2 teaspoon

lemon zest

1/2 teaspoon

honey
salt and pepper to taste

2

–

1/2

pound strip steaks

6

oysters, shelled, oyster liquor reserved

1

egg
dash Tabasco

1/2 cup

Panko crumbs (or crushed crackers)

1/4 teaspoon

cayenne pepper
Lemon wedges for serving
Instructions
Make the Basil Butter: Combine butter, oil, basil, lemon zest, honey, and a pinch of salt and pepper in a bowl and use a fork to combine well. Taste for seasoning and add more salt or pepper if necessary. Scrape out of the bowl and onto a piece of plastic wrap and form into a log. Wrap and refrigerate at least 30 minutes to harden.
Prepare the oysters: Drain the oysters and reserve their liquor. Beat the egg with the liquor and Tabasco. Mix the crumbs with the cayenne. Dredge the oysters first in egg, then roll in crumbs. Refrigerate 30 minutes to 2 hours.
minutes before you are planning to eat: Remove the steaks from the chiller and trim excess fat. Season them with salt and pepper.
Heat a cast iron skillet over high heat for one minute.
Place the steaks in and set a timer for 4 minutes (for medium-rare).
Turn the steaks after 4 minutes and set a timer for another 4.
Begin heating 1/2″ of vegetable oil in a skillet until it reaches 375 F or a crumb sizzles when dropped in.
When the steaks are done, remove to plates and add half the basil butter the the hot skillet, then pour melted butter and pan drippings over steaks. Set them aside to rest and keep warm.
Fry the oysters in the hot oil for 1 minute on each side, or until golden brown and crisp.
Drain briefly on a paper towel.
Top each steak with another pat of basil butter and three oysters.
Serve with lemon wedges to squeeze over everything.
Notes
The compound butter is also ab-fab on vegetables and fish, FYI.
For a video tutorial on How To Cook A Steak, click here.
And add even more sex-power to the meal with a side of roasted asparagus!