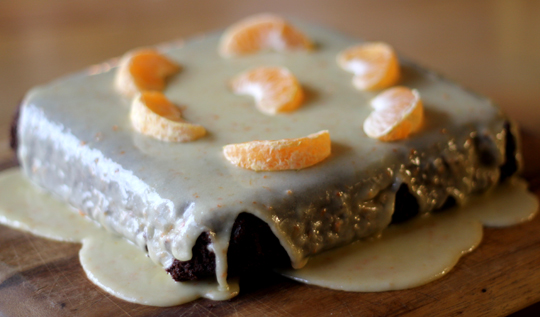 If you are reading this, and you are not vegan, you might be getting pissed off at me. You might be thinking, "Vegan cake is healthy and gross. Where's the chocolate funhouse of fat?!" If that is you, and your head is turning red and your neck is getting veiny, please let me assure you: This cake is a kick-ass cake. Lo, this cake rivals the greatest sponge cakes known to my mouth.

It's moist and fluffy and chocolaty and preposterously easy to pull together. It's also very affordable since you don't need expensive things like butter or cream or KitKats. Just kidding, who would ever put KitKats in a cake? Stop looking at me.
I included the recipe for that absolutely delightful tangerine glaze that I made on the episode (vegan). But I also gave you my favorite chocolate icing recipe. It's my favorite because it takes about 30 seconds to put together and people go "ooh" and "ahh" about it, as long as you use a nice dark chocolate and not KitKats. It also has a French name that sounds impressive: ganache.
Oh! HilahCooking is one year old today. Happy Birthday, internet-cooking-show-of-mine!
Vegan Chocolate Cake Recipe Video
Vegan Chocolate Cake Recipe – Printable!
Print
Vegan Chocolate Cake
A low-cholesterol cake with two icing options
Author:
Prep Time:

5 mins

Cook Time:

30 mins

Total Time:

35 minutes

Yield:

6

1

x
1 1/2 cups

flour

1 cup

sugar

1/3 cup

natural cocoa powder

1 teaspoon

baking soda

1/2 teaspoon

salt (optional)

1 cup

water

1/4

c oil

1 tablespoon

vinegar (I used apple cider vinegar; use whatever)

2 teaspoons

vanilla
Tangerine glaze:

2 cups

powdered sugar, sifted to get all the lumps out

2 teaspoons

tangerine zest (or orange)

3

–

4

tablespoons fresh tangerine or orange juice
Fresh or canned clementine or mandarin segments
Ganache (Not vegan!):

1/4 cup

heavy cream

1/2 cup

dark chocolate chips or chopped chocolate bar (I use a 60% cacao chip)
Instructions
Preheat oven to 375F if using a shiny metal pan; 350F if using glass or dark metal pan.
Grease an 8″x8″ square pan and put some parchment paper on the bottom if you have it (if you don't, then plan on serving the cake directly out of the pan).
Sift the dry ingredients together.
Whisk the wet ingredients together.
Add the wet to the dry and mix well.
Pour into the pan and bake 30 minutes, or until a toothpick inserted in the center comes out clean. Easy peasy.
Let it cool at least 30 minutes before icing.
To remove it if you have lined the pan with paper, run the blade of a butter knife around the edges to loosen it, then invert your serving platter over the top and, holding the pan tightly to the platter, flip the whole mess upside down and cross your fingers that it all stays together. Lift the pan off to reveal a perfectly centered, perfectly baked, vegan chocolate cake, ready for icing. (If you didn't line the pan, just ice and serve it in the pan.)
To make the glaze: Combine everything in a bowl. Mix it up good. Pour it over your cake. Decorate with clementine segments
To make the Non-Vegan ganache: Heat the cream in a microwave-safe bowl in the microwave until very hot. Add the chocolate and stir until it's all melted. Keep stirring until uniform in color. Pour over the cake. Mmm. If you want more of this for any reason, just double the amounts — no problem.
About Vegan Sugar
If you are vegan, you probably already know about this, but in all fairness, I should mention that some brands of sugar are not vegan because they are whitened with bone char. (That might seem gross even to non-vegans.) Other brands use carbon or something else, non-animal. Turbinado or "raw" sugar isn't bleached at all so any brand should be vegan-friendly. If in doubt, you could substitute turbinado in the cake recipe.
About Cocoa Powder
Cocoa can be found in both its "natural" state and what's called "Dutch process" state. Natural cocoa is acidic. The processed cocoa has been treated with an alkalizing agent to neutralize the acids in it. It's got a softer flavor than natural cocoa. I always use natural cocoa in my baking. If you were to try to swap one out for the other, beware. The acids in the natural cocoa are what react with the baking soda and make the cake rise. Neutral or alkaline Dutch processed cocoa will not react properly and you'll end up with a flat cake.