A couple weeks ago I had the extreme pleasure of visiting Johnson's Backyard Garden and getting a tour of the farm. I got to pull up beets right out of the ground and eat them in the fields under the sun. It was glorious.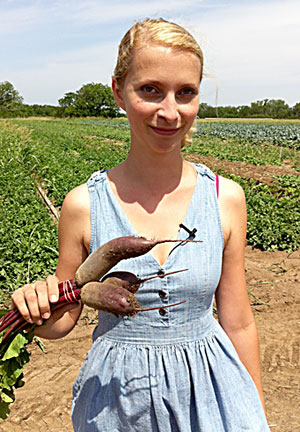 I met Brenton, who started the farm with his family in 2004 — literally in their backyard. The growth of the farm from a backyard affair in East Austin to a 60 acre, 1000-member Community Supported Agriculture (CSA) organization is truly inspiring. He told me that before he decided to become a full-time farmer, he was an irrigation specialist for the city. Obviously, his background is perfectly suited to farming in our drought-prone environment here in central Texas.
The farm is certified organic and grows over 60 different vegetables, fruits, herbs, and flowers; many of the varieties they choose are heirlooms that are impossible to find in your regular grocery store. When I visited, it was time to harvest the beets! I tried three different beets! Holy Cow! That's a lot of beets, y'all. (If you're curious, they were: golden beets, chioga beets, and forno beets.)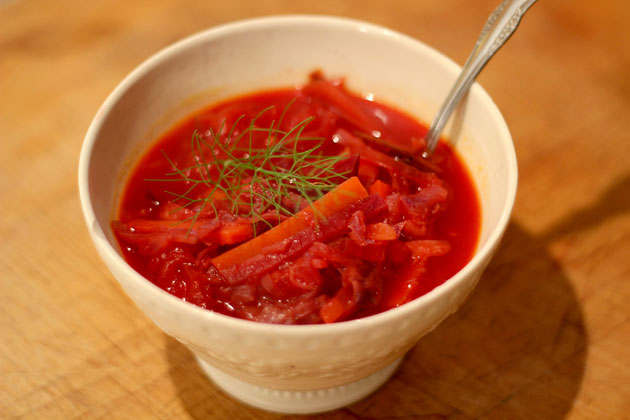 When we left, we each got a CSA box to take home. They were chock-full of beets, carrots, potatoes, onions, squash, fennel, basil, and mint. Such a cornucopia as I had never seen. Looking at that beautiful box, I was struck with the notion that everything needed to make a super-light, super-Summertime, vegetarian borscht was right in front of my face.

Borscht kind of has a rough reputation, although it is really yummy and gorgeous. It's usually made with beef stock and meat, but it need not be. It seems like some people have an aversion to beets. I suspect that it's an aversion that was established in childhood and I encourage you, if you are put-off by beets, to try them this way. Beets are high in antioxidants, folate, potassium, fiber, and phytochemicals. Plus, they are sweet. Sweet as beet sugar.
I didn't use the beet greens in this soup, but they are completely edible! Beets are related to chard and their leaves are very similar to chard. To prepare beet greens, wash them well, chop, then saute in some olive oil for 5 minutes. Add garlic or red pepper if you like. Salt to taste and serve as you would any greens. You can also combine beet greens with chard for a pretty medley.
Vegetarian Borscht and Farm Field Trip Video!
Vegetarian Borscht Recipe — Printable
Print
Vegetarian Borscht
A healthy vegetarian soup
1

pound beets (about 3)

1

large onion

2

large carrots

1 cup

shredded cabbage

2 tablespoons

olive oil

4 cups

vegetable broth

1 teaspoon

salt (approximate measure, depending on the saltiness of your broth)

1

lemon
Black pepper
Optional for serving: sour cream, fresh dill
Instructions
Peel the beets and carrots and cut into matchsticks about 2″ by 1/8″.
Cut the onion in half from top to bottom, then cross-ways to make little C-shaped onion slices.
Heat the oil in a large saucepot over medium heat until warm.
Saute the beets and carrots and onions for about 10 minutes.
Add the cabbage, broth and salt.
Bring to a boil, then turn down the heat and simmer, covered, about 20 minutes until everything is tender.
Season with pepper and lemon juice. I used an entire lemon. It should taste tangy and sweet.
Serve with a dollop of sour cream if you like, and/or some fresh dill.
This may also be served cold with good results.