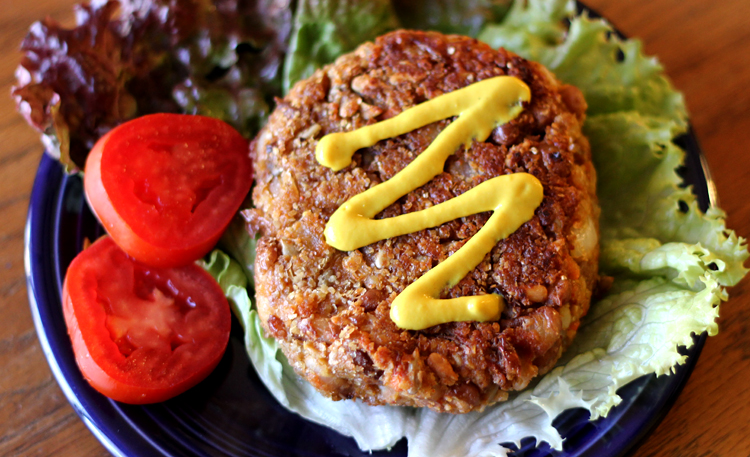 This veggie burger recipe will show you how to make your own Gardenburgers and save cash, homes. Plus the benefit of knowing what's in your veggie burgers. Mostly the saving cash, though, because not only are beans and oatmeal super duper cheap, you can cram lots of leftovers in these with no deleterious effects!
In all seriousness: A recent study found that a LOT of popular veggie
burgers contain a high level of hexane – which is a neurotoxin. For a list of veggie burgers containing hexane as well as more information on the study, click here.
Use any nuts or seeds you have handy; any vegetables you have; any leftover cooked grain. RE: that last one — you can also just use more oatmeal like I did since I am a bad planner sometimes and had no leftover cooked grains because I used them all the day before when I was practicing. Good grief. Anyway, these still turned out great even though there was way more oatmeal in them than the recipe calls for.
The only thing to keep in mind are the ratios. If you add in too much extra non-sticky things like vegetables and nuts, you'll throw off the bean glue: other stuff ratio and the burgers won't stick together properly.
VIDEO RECIPE
VEGGIE BURGER RECIPE (PRINTABLE)
Print
Homemade Veggie Burgers
1 1/2 cups

cooked beans (any variety), drained and rinsed

1/2 cup

sunflower seeds (or other seeds or nuts, minced to about the same size as sunflower seeds)

1/2 cup

minced onion

1/2 cup

grated carrot or another vegetable

1/2 cup

cooked brown rice or other grain

1/2 cup

oatmeal

2 tablespoons

whole wheat flour

2 tablespoon

soy sauce

2 tablespoons

water

1 teaspoon

vinegar

1/2 cup

breadcrumbs or wheat germ for dredging
Optional seasonings: 1/4 teaspoon thyme, rosemary; 1 teaspoon chili powder; 1/2 teaspoon cumin; black pepper

1

–

2

tablespoons vegetable oil, for cooking
Instructions
Mash up the beans as best you can with a large spoon against the side of the bowl. Use a food processor if you got one.
Mix everything else in there (except the dredging material) and mix it up good. It should be pretty sticky and stick-togethery. You can taste it now and see if you want to add salt or hot sauce or any other herbs or spices. The soy sauce should be enough for salt, though.
Anyway, shape it into four large patties or maybe six smaller ones. Coat both sides of the patties in the crumbs or wheat germ. Let them sit around and coagulate for a while — as long as you can bear it.
Heat the oil in a skillet over medium-high heat.
Fry on both sides until very crisp and brown; this will take about 3-4 minutes on each side I bet. Serve as you would any burger.
Alternately you can bake them at 350 degrees for about 30 minutes. I recommend brushing with a teeny bit of oil if you do this though, just so you get some appealing color and texture on the outside.
AND, you can freeze them after cooking and microwave them sonsabitches for lunch later.
Nutrition
Calories:

298

Fat:

15

Carbohydrates:

34

Fiber:

5

Protein:

8