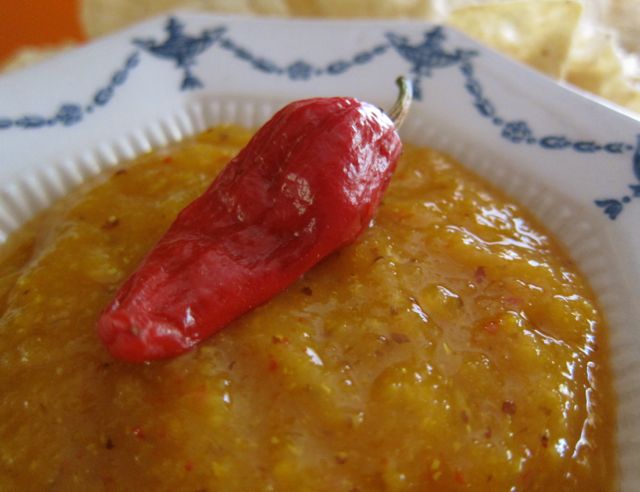 Okay, y'all, I'ma be real with you: I don't know dick about Jamaican food.
I've never even had Jamaican food. But in my mind, I know that I would love it, namely because I love me some hot peppers. Scotch bonnets, habaneros, whatever you got: Bring It. Plus, allspice and citrus?? I bet it smells like Spicy Christmas!
So imagine how horribly over-excited I was when someone I met through this show, practically a stranger, sent me some homegrown, freaky-hot peppers. From Canada. Isn't that just rad as hell? I think it is. He sent me ghost peppers, lemon drop aji peppers, aji cristal peppers, cayenne, habanero, and bonda ma jacques. Whoa. Pepper overload! Or Pepper Overlord…?
I decided to make some kind of incredible, amazing hot sauce that I could keep in the refrigerator and prolong my pepper pleasure. I happened to have an ENORMOUS mango. I swear it weighed two pounds. Absurd. And the usual things like onions, garlic, you know. I looked up all the peppers he sent and the bonda ma jacques is from the West Indies and related to habaneros. So with all that, it seemed a Jamaican-in-my-mind sauce would be perfect. Here is what I did. This sauce is really, REALLY hot and good. And as soon as I get around to it, I'm going to figure out how to make jerk seasoning and cook myself a Jamaican chicken and put this sauce all over it.
Adapted from a recipe by Jennifer Trainer Thompson. I didn't follow the ingredients or directions exactly, partly due to laziness, but mostly due to not reading the directions at all, which I guess also ultimately comes down to laziness. Oh well. I'm sure it will be fine in the fridge.
Print
West-Indian Pepper Sauce
1/2

of an ENORMOUS mango (more like,

1 1/2 cups

of mango cubes)

2 cups

diced onion

1

clove garlic

1

" piece ginger, peeled and minced

2

bonda ma jacques peppers

2

red habanero peppers

1/2 teaspoon

turmeric

1 tablespoon

brown mustard seeds

1/4 teaspoon

cumin seeds
dash ground allspice

1 teaspoon

honey

1/2 cup

cider vinegar

1/2 cup

water
Instructions
Puree everything together.
Pour into jars.
Keep refrigerated.
Notes
Original instructions said to blend all the solids together. Then boil the vinegar, water, and salt (1/2 teaspoon – I left that out completely) and pour that over the mango mixture and stir. Cool and bottle. Refrigerate up to 6 weeks.
I'll let you know if my lazy method results in illness or death.
Update: "My" way totally worked. It kept well in the fridge for months.