White Bean and Pumpkin Tacos
Wow, when I say it out loud it sounds weird as shit: white bean and pumpkin tacos. Sounds like some made-up food and it sort of is, although I would not be surprised if pumpkin tacos are actually a thing in Mexico. And, welp, check that out I just googled tacos de calabaza and there are a few recipes out there. This one is different than those I just saw, though.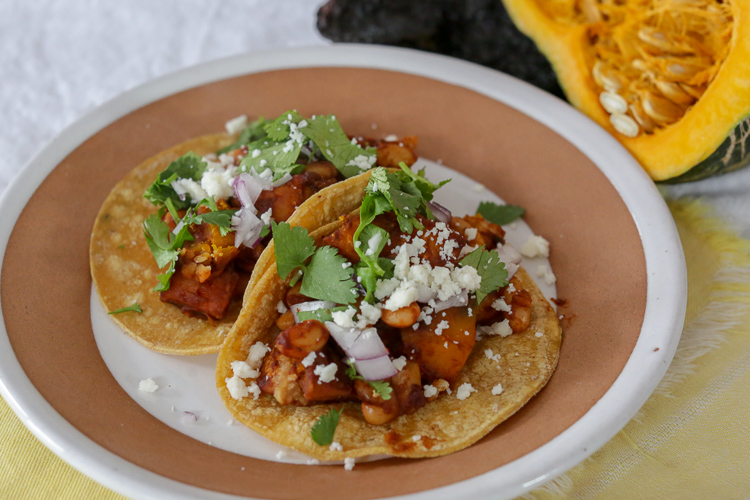 I took a pound of kabocha squash (aka Japanese pumpkin) and roughly peeled it, roasted it simply with oil and salt. Made a simple ancho-guajillo salsa, opened a can of white beans and mixed all that together. It's slightly sweet from the pumpkin, a little bitter from the ancho chiles, and very filling (by that I mean, starchy so if you are craving some carbs but also trying to avoid eating entire loaves of bread, try these pumpkin tacos, boyeeee!).
These pumpkin tacos are great for Meatless Mondays and meal planning because you can make the salsa and roast the pumpkin a week in advance and then reheat everything in about 2 seconds. To keep these vegan, add some avocado. Otherwise, salty cotija cheese is delicious. (Nutrition info doesn't include cheese or avocado.)
Don't be a'feared to salt these up in the skillet! I probably add another quarter teaspoon of salt at least, once everything is combined. Salt is the best way to make bitter flavors shine. Learn more about how to taste and season in this hilarious, educational podcast interview I did with author and chef Becky Selengut!.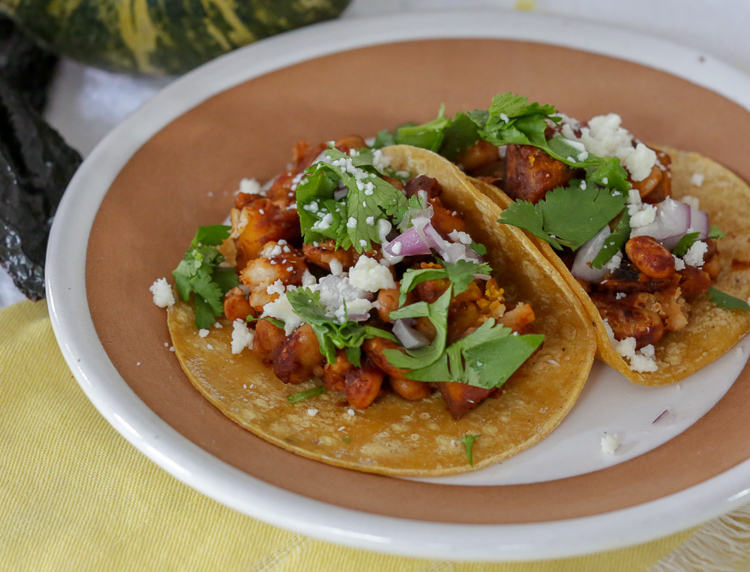 If you're an old pal, you might notice the salsa is similar to the salsa I use for cheese enchiladas, which reminds me I need to make those again STAT.
A nice green vegetable side that would go well with these vegetarian tacos is my winter salad with Napa cabbage, green apples and grapefruit. Orrr my fave spicy broccoli salad which is super bomb.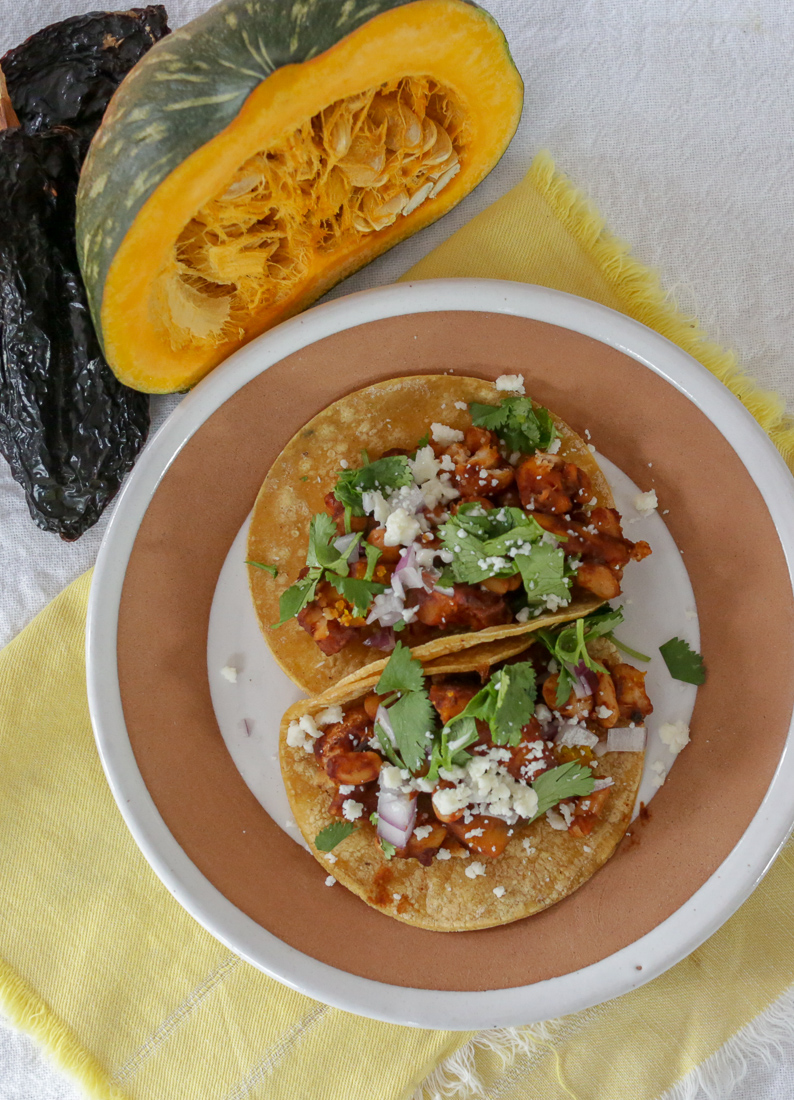 Print
White Bean and Pumpkin Tacos
Author:
Yield:

10

tacos

1

x
1 pound kabocha or butternut squash
1 tablespoons oil, divided
2 ancho chiles
1 guajillo chile
3 cloves garlic
water
salt
1 –15 ounce can white beans (or 1 1/2 cups cooked beans)
For serving:
corn tortillas, minced red onion, cilantro, cotija cheese or avocado
Instructions
Set oven to 450ºF. Peel and seed the squash, dice into 1/2 inch cubes. Toss with 1 1/2 tablespoons oil and about 1/2 teaspoon of salt. Roast for 15 minutes until tender. (Honestly, you could probs do this in a skillet but I haven't tried it yet.)
Salsa: Lightly toast the dried chiles on an open flame if you have a gas stove. Just a hint of toast. Rinse the chiles, place in a small pot and cover with water. Bring to boil, then simmer 10 minutes until soft. Let cool to handle. Discard the stems and seeds, place the chiles in a blender jar. Add about 1/2 cup of the cooking water, 3 peeled garlic cloves, and 1 teaspoon salt. Puree. You should get about a cup of sauce. You might not use it all.
The first two steps can be done days ahead of time. Refrigerate roasted squash and salsa for up to 1 week.
To cook: Add remaining 1/2 tablespoon oil to a large skillet. Heat over medium. Add about 1/2 cup of the sauce and fry it for a few seconds. Add the pumpkin and drained beans. Stir to combine. Heat through. Salt to taste.
Serve in corn tortillas with onion, cilantro, cotija or avocado to keep it vegan.
Nutrition
Serving Size:

1 taco

Calories:

145

Fat:

4

Carbohydrates:

25

Protein:

4