It truly is the world's best. This tuna melt recipe was shown to me by Chris, of all people. I say that because he's not really much of a cook and it's the only thing I can recall that he showed me in the kitchen.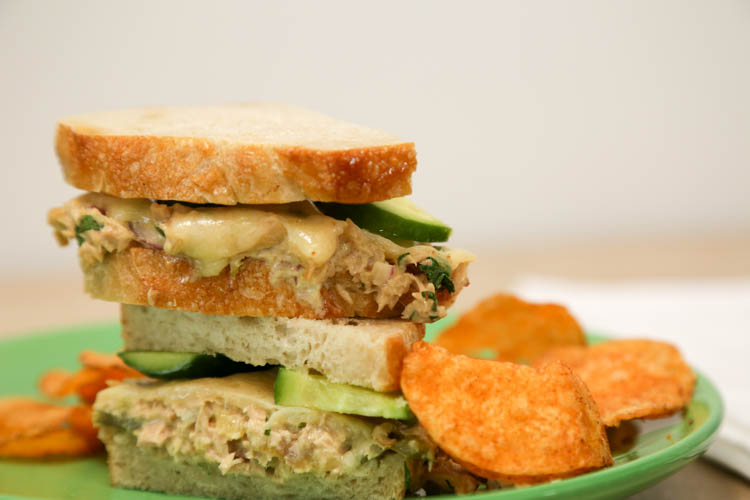 What makes it super special is the pineapple! Before you gag, just think back to the late 80s-early 90s to when Hawaiian pizza became a thing and it sounded so gross at first but it turns out to be fuckin' delicious. It's like that.
The other thing is the pickled jalapeños. I added those because I always ask for them on my Hawaiian pizza, too. Plus they are pickled and pickles go great in tuna melts.
For the cheese, I like a sharp white Cheddar but yellow Chedd or Jack cheese works, too. Swiss cheese is surprisingly good. Sourdough bread is great if you like that, but any bread you want is fine as long as it's sturdy enough to stand up to massive scoops of tuna salad and melty cheese. Because that's how you want your tuna melt: massive and cheesy.
If you want fresh vegetables on your sandwich, cucumbers and iceberg lettuce are really nice. Tomatoes sometimes. You can also serve this open-faced to cut carbs, with the cucumbers on the side. I love it that way.
Oh! The most important ingredient: the tuna! I always buy tuna packed in water with no salt. My favorite brand is Sustainable Seas light tuna. Note that "light" tuna doesn't mean lower calories or anything. It just means, basically, any kind of tuna that isn't "white" albacore tuna. Albacore tuna is much higher in mercury than skipjack and tongol and other "light" tuna varieties. Also check the label to make sure it says either pole-caught or dolphin-safe.
Print
World's Best Tuna Melt!
The tuna melt recipe to end all tuna melts!
1 5 oz can tuna
1/4 cup fresh diced pineapple (probably could use canned, too)
2–4 tablespoons diced pickled jalapeños (with juice)
2 tablespoons minced red or green onion
1 tablespoon minced fresh parsley or cilantro, optional
1–2 tablespoons mayonnaise
1–2 teaspoons mustard
Salt and pepper
4 slices bread
2 ounces Cheddar (or see above for suggestions) sliced
Optional: sliced tomato, cucumber, crispy lettuce
Instructions
Drain the tuna well and mix with pineapple through salt and pepper. Add mayonnaise and/or pickled jalapeño brine until a spreadable salad is made. This is important that the tuna salad be well-mixed and pretty smooth. Taste for salt.
Lightly toast the sliced bread and place two slices on a baking sheet. Top with tuna salad then sliced cheese. Broil until cheese is melted. This should just take a minute or so, depending on how close the pan is to the broiler.
Meanwhile, spread mayo on the other slices of bread.
Pull out the tuna melts and top with vegetables and/or lettuce and the other slice of bread.
Serve with chips, pickles, and beers!
Notes
Calorie estimate is with 1 tablespoon mayonnaise
Nutrition
Serving Size:

1 sandwich

Calories:

250