Yucca Fries and Raisin Ketchup!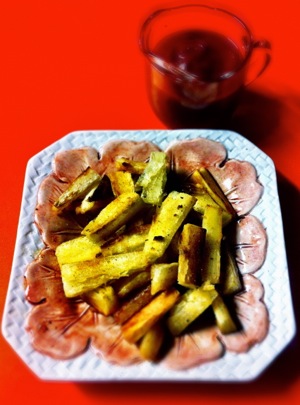 I've been broadening my horizons. I've been trying new things. I've been buying all those unusual vegetables I've never bought before.
And I've got two words for you.
Yucca Root.
Here's two more: Eat It.
Why? 'Cause it's fuckin' yummy-as-hell. How? I'll tell you right now.
From the outside, yucca (or yuca?) roots are brown and long and waxy; they look kind of gnarly and not very tasty. On the inside, under their thick fibrous skin, they are snow-white, hard like turnips, slightly astringent, and, well. . . well, they do not seem very tasty inside, either. When raw.

When cooked, they soften tremendously, and break apart so as to resemble a tree-trunk that's been exposed to the elements for millenia. Once adequately boiled, yucca roots (aka cassava) can be mashed to produce a product similar to mashed potatoes, though stickier. The mashed yucca can be eaten as a base for thick stews and sauces, much like soft polenta. Or it can be used as a "dough" to wrap around cheese and deep fry, like risotto balls (arancini).
BUT. Fried like potatoes is my favorite by far. Much more texturally and visually pleasing than mash, but way easier than crumb-rolled-stuffed-fry-ball-things. Here's how to make that happen, plus a neat dipping sauce I made with stuff from my pantry.
When you pick out a yucca, go for the smaller, thinner ones. Yuccas have a fibrous "core" that runs down the center that should be removed, but the small, skinny ones are less likely to have much of that. Meaning, less work for you.
Yucca Fries Recipe
Print
Yucca Fries and Raisin Ketchup!
1

yucca root (a small one, about

1

pound, will do for

two

people easily)
Vegetable oil (just about 1/4″ deep in a skillet)
salt
cayenne pepper
Instructions
Peel the yucca with a vegetable peeler. Make sure to remove not only the brown part, but also all the purplish-part under that. Your peeled yucca should be white white white.
Cut it into slices about 2″ wide, then cut those in half to make thick half-moons.
Put the yucca in a pot and cover with water; put a lid on it.
Bring to boil over high heat, then reduce to medium-high.
Cook about 20 minutes, then check. When the yucca pieces are kind of busted-open, they are ready. It may take up to 30 minutes.
Remove gently with a slotted spoon and set on a cutting board to cool. As they cool they will firm up again.
Once cool, slice each half-moon "with the grain" to give several 1/2″ x 2″ pieces. If you run into any fibrous bits, pull those out. Yuck.
Heat the oil in a heavy skillet until hot. Add your yucca pieces and fry for about 2-3 minutes until golden. Flip and turn until all sides are golden.
Remove to a serving dish and sprinkle with equal parts salt and cayenne pepper. Serve immediately with:
Tomato-Raisin Ketchup
Ingredients
8 ounces tomato sauce
2 tablespoons raisins
2 cloves garlic
2-3 tablespoons cider vinegar
1-2 teaspoons brown sugar
cayenne pepper or Tabasco sauce to taste
salt, if necessary
Directions
Combine all in a blender and puree. Begin with 2 tablespoons vinegar and 1 teaspoon sugar and adjust upwards to your liking.
Serve with yucca fries.
This will keep a week refrigerated, but will set up like jelly due to the pectin in the raisins. To soften, just microwave for a few seconds and stir.