Albóndigas is Spanish for meatballs and in Mexico, it's often understood to mean "meatball soup", so it may be redundant to call this albóndigas soup. I don't know for sure. I just know I like it.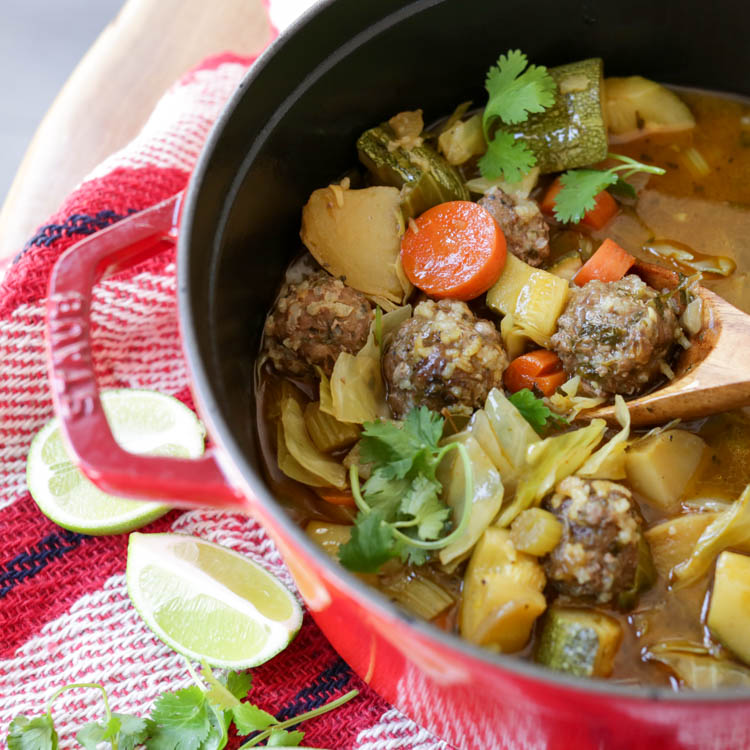 The meatballs are made from beef, but rather than breadcrumbs or something similar, it's mixed with raw rice that cooks as the albóndigas simmer. They have a light, fluffy texture when they're ready. My mom used to make what she called "porcupine meatballs" like this. I think her recipe called for a much higher ratio of rice to meat than albóndigas, and the balls were cooked in tomato sauce and served over mashed potatoes. Starch on starch on starch!
This is definitely a less starchy dinner than that was.
Of course you may use any vegetables you like to use in soup; I won't mind! I love stewed vegetables so I go nuts with lots of carrots, celery, cabbage and calabaza (a summer squash similar to zucchini, but more bulbous and the skin is a variegated green and white). Green beans would be good; and I'd like to try turnip or rutabaga some time.
I really recommend that you use fresh mint, parsley and cilantro in this recipe. With the fresh herbs and lime juice garnish, it's warm, lively and bright — making it a perfect soup for both cold winter nights and warm summer evenings.
The ground cloves might be a surprise, and really you could omit them if you don't have any on-hand, but they add a little sharpness, woodiness, heat, without being overpowering or even nameable. They're just there, hanging around, making everything a little more piquant without stealing the show.
Aaaand, not to push you around too much, but it's also really really better if you use homemade chicken stock. It's richer and fattier and at least 10 times more delicious than canned or cartoned broth. I make a big batch in my slow cooker every time I roast a chicken, then once it's cooled and strained, I freeze it in quart-size Mason jars. Be sure to leave at least one inch headspace at the top and do not screw the lid on until it's frozen solid. Otherwise, you'll end up with a cracked jar full of frozen chicken stock.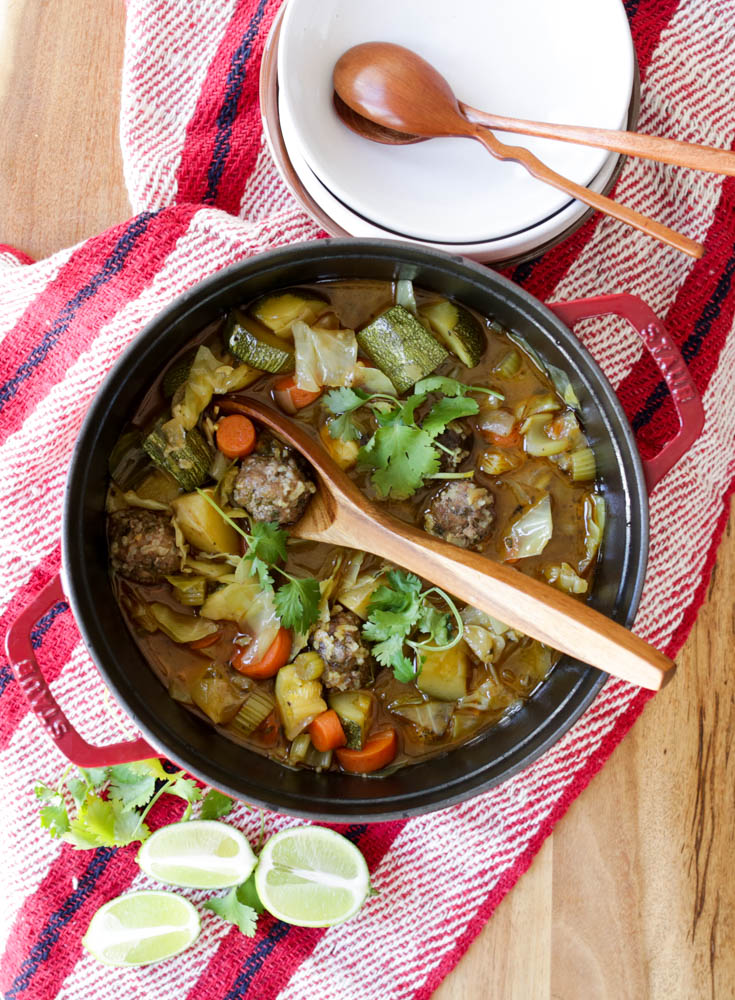 Print
Albondigas Soup
Author:
Prep Time:

10 mins

Cook Time:

50 mins

Total Time:

1 hour

Yield:

6

1

x
meatballs:

1/2

pound ground beef

2 tablespoons

raw white rice

2 tablespoons

minced parsley

2 tablespoons

minced cilantro (omit if you don't like it)

1 tablespoon

minced fresh mint

1

clove garlic, minced

1/2 teaspoon

salt

1/2 teaspoon

pepper
Soup:

1 tablespoon

olive oil

3

carrots, sliced

2

stalks celery, sliced

1/2 cup

diced onion

2

cloves garlic, minced

1

potato, diced

4

–

6

cups chicken stock

1

bay leaf

1/2 teaspoon

oregano
dash ground cloves

2 cups

chopped cabbage
Fresh cilantro and lime wedges for serving
Instructions
Combine all ingredients for meatballs in a large bowl. Mix well. Shape into 1″ balls and place onto a plate or baking sheet. Refrigerate.
Meanwhile, het the oil in a large soup pot over medium heat and add the carrots, celery, onion and garlic. Saute a few minutes until beginning to soften.
Add potato, chicken stock, bay leaf, oregano and cloves. Bring to boil, then reduce heat to simmer.
Carefully add meatballs and cabbage. Simmer for 30-40 minutes until vegetables are tender and rice is cooked.
Serve with garnish of fresh herbs and lime wedges for squeezing!
Notes
** If your meatballs are previously frozen, add them when you add the chicken stock. Cover, bring to boil, then add cabbage, calabaza and continue simmering as directed.
Nutrition
Calories:

246

Fat:

8

Carbohydrates:

23

Protein:

21