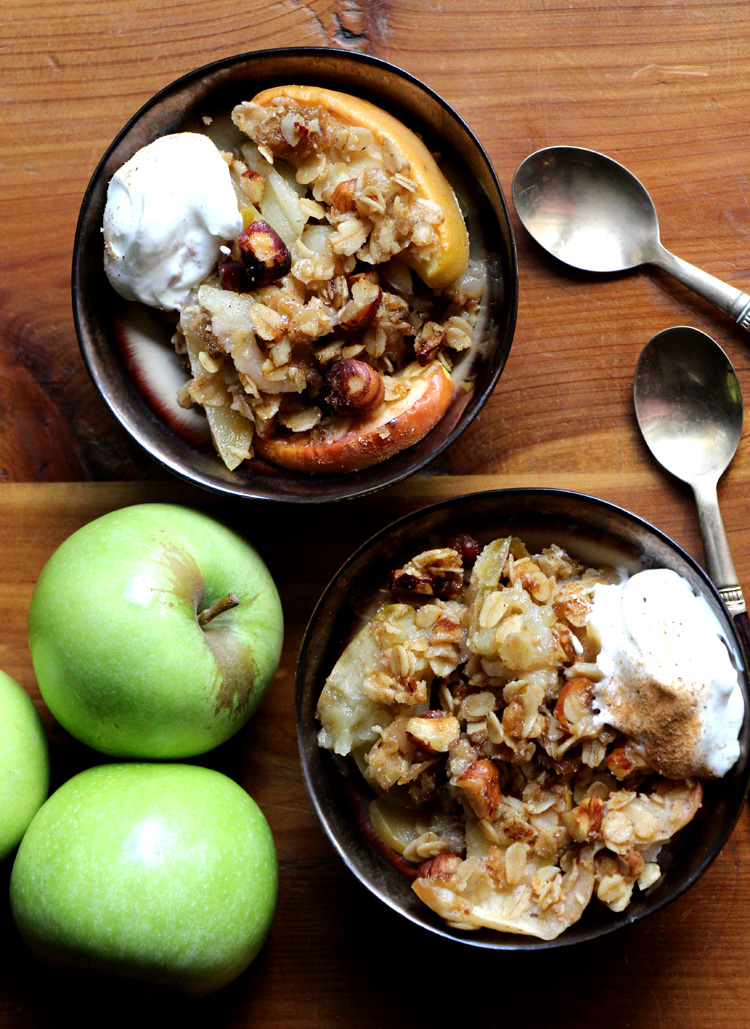 It's apple season! And what better way to please the apple gods than by making an apple crisp?! It's faster and easier than a pie, plus you can easily make it gluten-free to please all the people. My topping uses a combination of rolled oats and minced nuts for an extra crispy apple crisp, but if you want it less crisp, use all-purpose flour in place of half the nuts. Though I have no idea why a person would ever want to do that.
I'm also not sure on the difference, if any, between an apple crisp and an apple crumble. Seems like two words for the same thing, to me. Apple Brown Betty is what my grandma calls it, but I'm pretty sure that a Brown Betty must include some flour in the topping. At least hers does, so it ends up more like a reverse coffee cake or something. That made sense in my head before I typed it out, but hopefully you know what I meant.
Filberts (aka hazelnuts) have a special place in my memory, though for no very specific reason, I guess. My mom used them to make these cookies called Dutch Butter Slices way back when – they had filberts and poppy seeds in them – and maybe I just liked the name, "Filbert". Sounds like a scientist name. If you've never tried one, remember that they are what Nutella is made of and remember what that tastes like, then minus the chocolate flavor and you have pure filbert flavor. I don't think they are hard to find in most places, but if you have trouble locating them, use almonds. Almonds have a similar crunch as filberts and would make a nice combination with the apple. Walnuts and pecans would be yummy, too, though not as crunchy.
As is recommended for most apple recipes, use a combination of apple varieties for more apple-ness. Something tart like Granny Smith, plus something crisp like Gala or Fuji, plus something apple-y like Golden Delicious or Macintosh.
VIDEO RECIPE
APPLE CRISP RECIPE (Printable)
Print
Apple Crisp
Author:
Prep Time:

10 mins

Cook Time:

30 mins

Total Time:

40 minutes

Yield:

1

2

1

x
8

apples (3 or

4

pounds)

1

lemon

1 cup

brown sugar

1 1/2 cups

rolled oats

1/2 cup

chopped filberts

1/2 cup

melted butter

1 teaspoon

cinnamon

1 teaspoon

nutmeg
Optional for serving: whipped cream or ice cream
Instructions
Set oven to 375ºF.
Peel the apples if you like and slice them thinly. Put into a 13×9″ pan and squeeze the lemon juice all over. Toss them around in that and spread them evenly.
Combine the sugar, oats, everything in a medium bowl and mix with your hands to make a crumbly topping.
Spread that evenly over the apples.
Bake 30 minutes.
Serve warm with whipped cream or ice cream