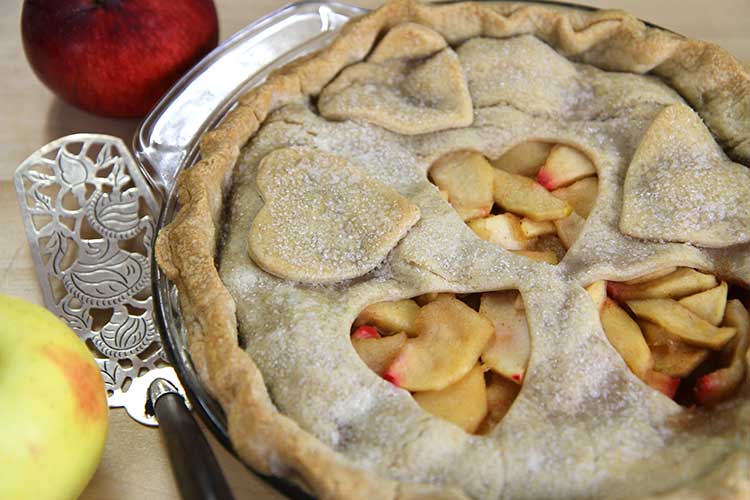 I got a big box of beautiful apples from our friends Randy and Merrilou in Vermont. Sent straight from the orchard, nine Empire and nine of a newer variety called Vermont Gold (which were BTW the best eating apple I've ever ate). I'd heard of Empire apples, but actually never had the pleasure of cooking with them and since it's both apple season and dessert season, I thought an apple pie was in order!
The best apples for apple pie are tart, firm apples like Granny Smith, Gala, Fuji — and I always like to use a mixture of apples in a pie to get a nice, round, full apple flavor. You know? Like, it makes you think, dang this apple pie really tastes like straight-up APPLES. It's gotta be so healthy for me I'll have another piece.
Apple pie you can justify eating for breakfast. That's what I want. And that's what this is, boyeeeeee!!!
P.S. My friends, you can totally buy a pie crust and it's very likely that no one will notice or care. BUT if you want to do it all, try my  homemade pie crust recipe
Apple Pie Recipe Video
Apple Pie Recipe – Printable!
Print
Deep Dish Apple Pie
Author:
Prep Time:

2 hours

Cook Time:

40 mins

Total Time:

2 hours 40 minutes

Yield:

8

1

x
1

recipe pie crust (or storebought crust)

3

pounds mixed apples

2/3 cup

+

1 tablespoon

white sugar

1 teaspoon

cinnamon

1/8 teaspoon

salt

3 tablespoons

butter
optional: dash cayenne pepper
Instructions
Roll out half the crust and shimmy it into a deep dish 9″ pie pan (glass preferred). Trim the edges leaving a half inch around. Roll out the other half to 10″ circle between waxed paper. Refrigerate the pan and the top crust.
Peel apples and cut into 1/4″ slices.
Melt butter in a large skillet over medium heat and add the apples, sugar and spices. Cook, stirring, for 5 minutes until apples are softened.
Remove apples to a bowl and bring the liquid to a boil. Boil a couple of minutes until thickened and add to apples. Let apples cool to room temperature.
Place cooled apples and sauce into bottom crust and lay top crust over. Crimp edges together and slash the top crust to allow venting.
Sprinkle with 1 tablespoon sugar if desired.
Bake at 350ºF for 30-40 minutes until golden.
Cool completely, 2-3 hours.
Also check out this homemade pie crust recipe and video!