All-Butter Pie Crust Recipe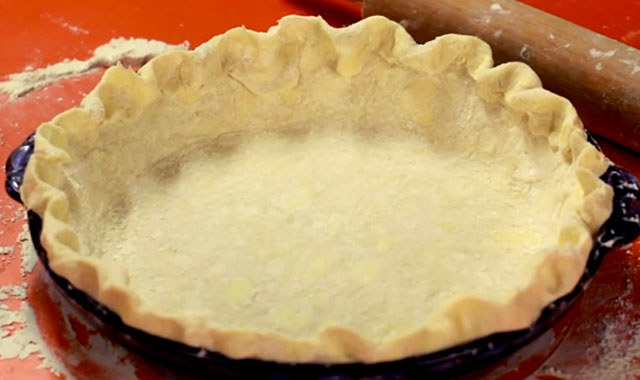 I've heard more nice things about my pie crust recipe over than years than I should say here lest I seem a braggart. Pie crust has a bad reputation, but it needn't. There are only three absolute requirements to any pie crust: fat, flour, and liquid and once you understand the science behind it you'll be making kick-ass pie crusts every time, all the time.

The first step of pie crust making is very much like the first step of biscuit making. The instructions will tell you to "cut the butter into the flour" or something like that. What that means is to work the fat component into the flour component to produce little blobs of fat coated in flour of varying sizes ranging from crumb-sized to pea-sized. This one essential step begets two delightful characters: Mr. Tender and Madame Flaky.
Meet Mr. Tender By coating the flour granules in some fat you are preventing them from touching other flour granules and therefore preventing the formation of gluten and making a tender-not-chewy crust.
Hello, Madame Flaky By coating the fat blobs in flour you are setting the stage for flakiness galore. When the flour-covered fat blobs are rolled out flat, they create microscopic layers of fat and flour. Imagine a sedimentary rock. Once it goes into the oven, those fat blobs melt, leaving behind air pockets and that's what makes a flaky crust.
Viola! It's that easy!
Well, almost that easy.
Pie Crust Recipe Video
Pie Rulez! (Or, Pie Rules)
There are three moments where people commonly screw up pie dough:
1. The fat melts before it's properly blended into the flour. To make the microscopic strata within the dough you need to have the little fat blobs. Melted fat won't make blobs. The remedy is to keep your flour and fat cold while cutting in and if it starts to soften too much to make blobs, then stick it back in the fridge a while to chill again.
2. The dough is worked too much after the liquid is added. Gluten can only form in the presence of liquid so you must be very careful to add just enough liquid to bring the pie dough together into a loose ball and do not knead the dough. Once you've added enough water to make it hold its shape, wrap it tightly in plastic and refrigerate for 30 minutes or longer.
3. Trying to roll the dough right away. It's imperative that you let the dough ball rest in the refrigerator before rolling it. The chill and the set time allows whatever gluten has formed to relax, making the dough less elastic and easier to roll out. Refrigerate it for about 30 minutes. You may refrigerate it longer (up to 24 hours) but let it warm and soften a little on the counter before trying to roll it. Attempting to roll out rock hard, ice cold dough will make you hate pie crust forever.
Fats Make a Difference
The fat you use might be butter, shortening, lard, coconut oil (vegan), or a combination of any of those. Each of these have a different optimal working temperature range, above which they become too soft to properly cut into the flour. The wider and higher the range, the easier the fat is to work with.
Butter adds great flavor, but its working temperature range is around 58-68 degrees F which makes it trickier for first-timers to use successfully (unless you live in a very cold place!). Keeping your flour and butter and even your mixing bowl cold while you're cutting in is the key to success when using all butter as I do in the video. All-butter crusts (Pâte Brisée) are slightly sweet and absolutely perfect for sweet pies. Using a high-fat, European-style butter will make for an even flakier crust!
Shortening is made from hydrogenated oils (cottonseed and/or soybean). Hydrogenation makes oils more heat-stable; therefore shortening has a much wider working range of 53-85 degrees F, so it's easier to get flaky layers of fat and flour without the pressure of worrying that it's getting too soft to work into the dough properly. If your main goal is flakiness, using all or part shortening is a fool-proof way to achieve that. Personally I find the flavor off-putting and not worth the easy flake.
Lard is rendered pork fat and has a range of 58-75 degrees and makes a great substitute for shortening if you'd rather stay away from hydrogenated oils. Look for leaf lard at specialty stores, which has a milder flavor than the industrially produced tubs o' lard next to the shortening at the grocery store.
Coconut oil is a great option for making vegan pie crusts without resorting to artificially hydrogenated oils. I recommend using virgin coconut oil (as opposed to refined and bleached – yuck!) which has a working range of about 70-76 degrees F in my experience, which is a narrow window but fortunately also around room temperature. Virgin coconut oil will give your pastry a coconut flavor, though, so it's not a good option for the weirdos who hate coconut. (wink wink)
Margarine can be used, but expect a similar flavor as with shortening, but with less flakiness. Liquid oils won't do any kind of flake-action at all.
Now that you have the knowledge, make use of it. Here's my BEST PIE CRUST RECIPE.
All-Butter Pie Crust Recipe
Print
Homemade Pie Crust
Author:
Prep Time:

30 mins

Total Time:

30 minutes

Yield:

1

1

x
1 cup

all purpose flour

1 teaspoon

baking powder

1/3 cup

(

5 1/2 tablespoons

) cold (unsalted) butter or other fat
about

1/4 cup

water, but possibly less
Instructions
Chill the flour and baking powder in a bowl by freezing it for 10-15 minutes.
Begin with very cold butter, talking real cold, like "put it in the freezer for 10 minutes" cold. Dice it with a knife into cubes about 1/3″ (1 cm) across; they don't have to be exact.
Add the butter cubes to your dry ingredients and use your fingertips or a fork to toss them around to get each cube separated and coated in flour. Now you'll begin the cutting in. The object here is to get the butter cubes broken up into smaller and smaller bits, each coated in flour.
Continue until the largest pieces are about half the size of a pea and the smallest ones are crumb-like.
Add the ice water a tablespoon at a time and mix swiftly and gently. Add just enough water to allow the dough to form into a loose ball.
Wrap tightly in plastic wrap and refrigerate 30 minutes.
Roll the dough out to the desired size (12″ circle for a 9″ pie pan) on a floured surface with a floured rolling pin. Turn it frequently to maintain its shape and prevent sticking.
Gently roll it over the pin and transfer to your pie pan. Wiggle it into the corners of the pan, don't press.
Turn the edges up and crimp with your fingers.
Notes
This makes one 9″ pie crust. Double the recipe for a two-crust pie such as a fruit pie.
Now you have a pie crust to use in whatever manner you desire! One yummy way is to make a quiche!