Summer Fruit Recipes: Plum Empanadas (and other things)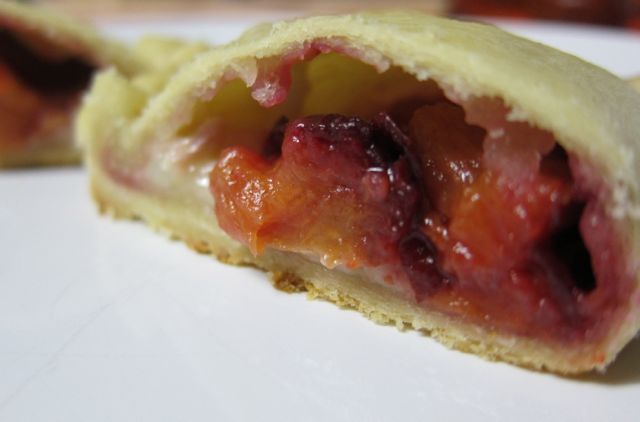 When I was around 8 years old, I had one of the most joyful and vivid dreams of my life.
We grew up in the Texas hill country, out on Lake Travis, far from civilization, but fortunately with lots of land to run around on and play. Next to our house was a scrubby field of weeds, sticker burrs, brown tufts of grass, and hard-packed white caliche soil. It was striking in a desolate way: parched, cracked, dry and barren, but also beautiful in its beige monochrome.
In my dream, though, it was a paradise. In my dream, the field was green with thick grass, as soft as high-dollar wall-to-wall. Orderly rows of stone fruit trees cast the ground with shade and it was my birthday. I dreamed it was my birthday in this luxurious place and the colorful crepe paper streamers all around were proof of the most wonderful birthday there ever was. Someone loved me deeply. I can even remember what it smelled like. The air was soft and warm and green and yellow and pink. Peaches, plums, apricots and nectarines were all for the taking. Just meandering through the trees, eating what I pleased; I don't remember there being any other people there. Funny. A picnic with no guests – a party that didn't ever really exist even – still hangs clearly in my mind.

Anyway, while I don't expect to ever find that field of dreams (sorry about that!) I still imagine it sometimes. In honor, here are some summer fruit recipes from this website and others, starting with sweet and savory plum empanadas … or plum-panadas? (sorry again!)
This white wine pastry turned out wonderfully light, but it definitely has a wine aroma out of the oven. If you don't drink wine… uh, I'm not sure what to tell ya, actually. I don't think plain ol' water would do the same, but perhaps try water acidified with a teaspoon of lemon juice or even white grape juice (as long as you're doing a sweet filling). If anyone tries it without the booze, lemme know how it works!
Print
Plum and Apricot Empanadas
Dough:

1/2 cup

white wine

1/4 cup

extra-virgin olive oil

1/4 cup

vegetable or canola oil

2 1/2 cups

all-purpose flour

1/2 teaspoon

salt
Filling:

2

ripe plums

4

dried apricots

2 tablespoons

white wine

4 teaspoons

sugar
Grating of fresh nutmeg

1/4 teaspoon

ground cardamom

8

thin slices sharp Cheddar
Instructions
Combine all dough ingredients in a large bowl and mix well to make a soft dough. Let rest while you make the filling.
Slice plums into 8 thin slices each and mince the apricots.
Combine fruit, wine, and sugar in a small pot and cook over medium heat until the wine is absorbed.
Add the nutmeg and cardamom and remove from heat.
Preheat the oven to 400 F
Divide the dough into 8 parts and roll each into a disc about 6 inches in diameter.
Place a tablespoon of filling onto each disc and fold over to make a half-circle. Pinch the edges tightly closed.*
Bake for 20 minutes or until light brown.
*If you want a darker crust, brush with beaten egg before baking.
Notes
These are best served warm or at room temperature.
If you'd like to use this dough for a savory empanada, you can use beer in place of wine.
Here are some delicious sounding recipes from other food sites I like:
This open-faced plum sandwich from Bev Cooks also looks healthy, but mostly it looks delicious. I mean, plum sandwich! You heard that right!
Here's a recipe for some darling little fresh apricot cakes from LovelyLadyCakes. These would be such a great birthday cake!
And this vegan peach ice cream from The Sweetest Vegan looks delicious, even if a little melty and messy.
Finally, a nectarine and pistachio salad for your pleasure…