[Ed note: I really need to take new pictures of this bourbon pecan pie!]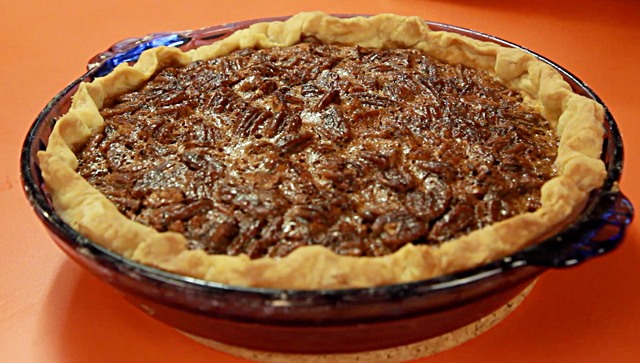 Subscribe to my YouTube channel to get notified of new videos.
As the only granddaughter living in the same city as my paternal grandmother, I was the one gifted with her mother's recipe collection last year. It brings me incomparable joy to read through them, connecting with a woman I never knew. From her notes, I gather that she made a lot of desserts and threw a lot of parties. There's one sheet of paper with four recipes written on it in faded pen: pecan pie, lemon pie, molasses pie, and chocolate pie. The pecan and lemon pies both have several check marks next to them, as if they've been tried and tested many times. The molasses pie has a big ol' X next to it. I guess I won't bother with that one. Thanks for the heads up from beyond the grave, Agnie.
Normally, I'm not a huge fan of pecan pie. They are almost always WAY too sweet, not to mention the fact that people can be so stingy with the pecans. (I can't blame them when pecans are going for 11 bucks a pound, really, but it's the holidays, people! Live large! Or make some other kind of pie instead.) The bourbon, though, cuts through the cloying sweetness and adding lots of toasted pecans makes a pie that will wow your socks off, especially if you pair it with some hot, black coffee.
What?! Coffee AND bourbon?! Is that the devil behind me?!
Nope. False alarm. It's just a mirror.
One more thing before I get on with the recipe. Great-grandma's original called for white sugar and dark corn syrup (Karo brand to be precise). I had smashing success using sorghum molasses in place of the dark Karo. Of course, I like the fruity, mineral-y, molasses-like flavor of sorghum so take that into account. If you have no qualms about corn syrup, you can either follow her recipe as written, or use brown sugar with light Karo. Or use brown sugar and dark Karo for an even richer taste 'splosion. Can't find sorghum and don't want to use corn syrup? Try brown rice syrup from a health food store. Molasses would probably work, too, but it would be a mighty rustic pie.
Bourbon Pecan Pie Recipe Video (scroll down for recipe)
Bourbon Pecan Pie Recipe – printable!
Ingredients
3 eggs
1 cup sugar
1 cup dark Karo (or sorghum molasses)
2 tablespoons bourbon (or 1 teaspoon vanilla extract for a booze-free pie)
2 cups coarsely chopped pecans (really just halved will do)
2 tablespoons butter
1 deep-dish 9-inch pie crust
Instructions
Preheat the oven to 375 degrees F
Whisk the eggs together with the sugar, syrup, and bourbon.
Toast the pecans in the butter over medium heat for about 3 minutes until they start to smell <em>delicioso</em>.
Mix those in with the eggs and sugar.
Pour into pie crust.
Bake 35-45 minutes or until the pie is slightly puffed but the center is still a little jiggly.
Cool completely.
Serve with whipped cream if you like and hot coffee. Yum!
If you like this recipe, you might like this eggnog recipe from the same era. If you'd like to make your own pie crust, use this recipe.