Bloody Marys have always been a cocktail I like in theory, but never in practice (except for one time in New Orleans but I can't remember where we were and I've never found it again). They're typically thick and acidic and flat. But after reading my new favorite food book, How to Taste, and interviewing its author Becky Selengut (listen to my fantastic podcast interview with her!) I found a few clues to a delicious Bloody Mary mix.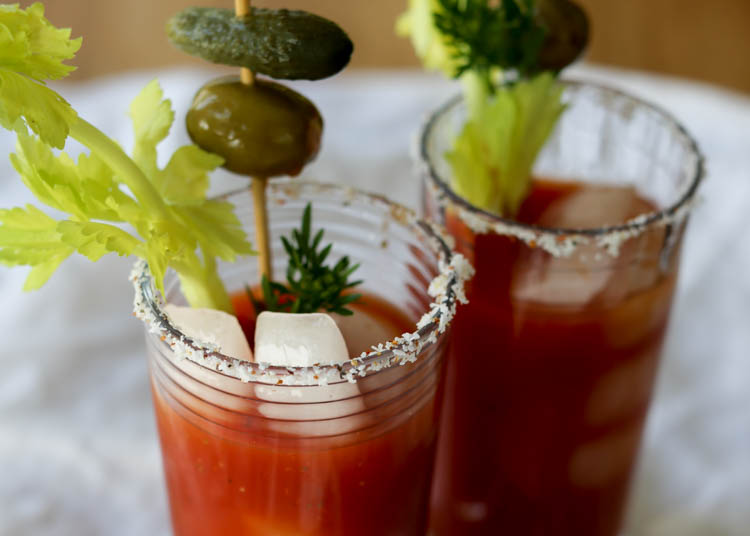 Number one: use V-8 as your base instead of tomato juice. Tomato juice is one-note while V-8 is already better balanced with the carrots and celery and whatever else is in it. Beets? Parsley? Who cares. It's good.
Number two: add more umami. Usually, that's Worcestershire sauce. I tried a combination of Worcestershire and . . . fish sauce. Just go with me on this if you're nervous. I guarantee it won't taste "fishy".
Number three: use a hot sauce other than Tabasco. I'm not trying to be a bitch about it; I love Tabasco, but it's too acidic with all the tomato, too. I like Frank's Red Hot or Crystal or any of the thicker Louisiana-style hot sauces.
Number four: if you can, let the mix sit in the fridge overnight to mingle tha flaves.
Number five: SHAKE! For the love, you gotta shake the vodka with the Bloody Mary mix. No stirring. Shaking only.
Print
Becky's Bloody Mary
8 ounces V-8
1 tablespoon (or more) Frank's Red Hot or Crystal sauce*
1 tablespoon Worcestershire sauce
1 teaspoon fish sauce
1/4 teaspoon black pepper
1/4 teaspoon celery seed, lightly crushed
1/4 teaspoon horseradish (optional)
large pinch salt
2 ounce vodka
Salt rim: 2 teaspoons coarse Kosher salt, ground black pepper
Garnishes: olives, celery stalks, cornichons; pickled peppers, green beans or asparagus
Instructions
In a jar combine V-8 and all seasonings through horseradish. Shake well. Taste. Add a pinch of salt if it's not great and shake again. Taste. I bet it tastes pretty rad now.
Refrigerate several hours or a couple days if possible.
To serve, shake vodka with V-8 mixture and a few cubes of ice.
Mix salt and pepper and dampen the rim of your glasses. Roll them in the salt and pepper. Fill glasses with ice and pour over the Bloody Mary. Garnish with as much stuff as you can cram in.