For when you want something a little sweet and a little spicy, but all you have is some boring ol' ground beef, make these beef satay meatballs! I was slightly inspired by the satay-marinated beef tri-tip I saw Food Wishes post a month or so ago (listen to my podcast interview with Chef John here!) but rather than take a small thing and make it big, I wanted to take a small thing and make it smaller in a way.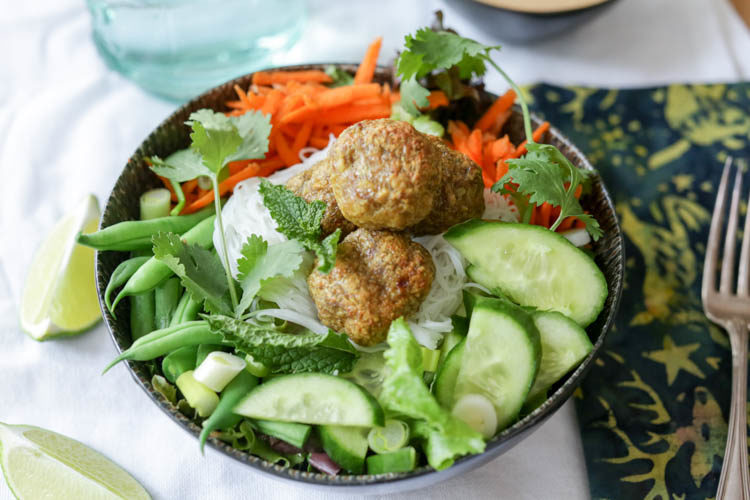 These beef satay meatballs are seasoned with satay marinade, but instead of soaking the meat, the seasoning is mixed right in there. Pretty much all the same ingredients as in my chicken satay, made into balls and served hot on a bed of crisp salad greens and chilled rice noodle. Make a lil peanut sauce in the blender (or just buy a jar) and you're set.
The meatballs freeze perfectly. Shape and lay them on a wax-paper-lined sheet. Freeze until solid and store in a freezer container. Bake as directed below, but add 3-4 more minutes. Ready for a fast dinner any old time!
(And I know, I know, the ingredients list is long as the day — way longer than a usual recipe on here — but you could omit half the ingredients from the meatballs and they'd still be pretty damn good.)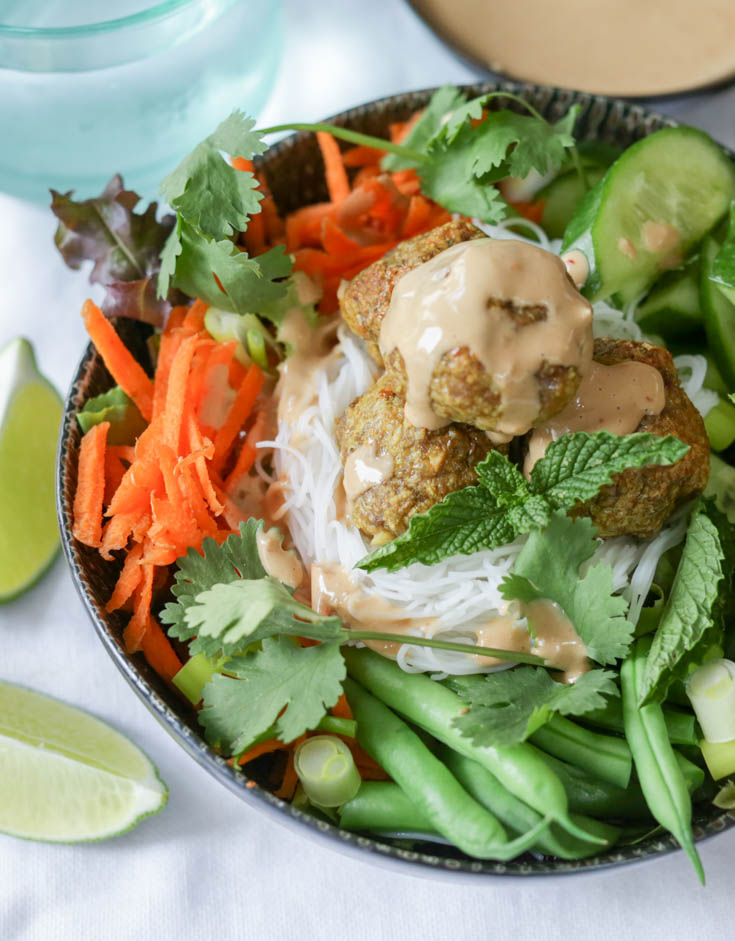 Print
Beef Satay Meatballs
Meatballs:
1/2

pound ground beef

1/2 cup

unsweetened coconut shreds or breadcrumbs

1/4 cup

cold water

1

egg

1

large clove garlic, minced

1 teaspoon

minced fresh lemongrass (or

1/2 teaspoon

lime zest)

1 teaspoon

soy sauce

1 teaspoon

fish sauce (omit if you can't find it)

1/2 teaspoon

grated fresh ginger (or

1/4 teaspoon

dried)

1/2 teaspoon

turmeric

1/2 teaspoon

ground coriander

1/2 teaspoon

salt

1/4 teaspoon

black pepper
Sauce:
1/4 cup

hot water

1/4 cup

smooth peanut butter

2 tablespoons

lime juice

1 tablespoon

soy sauce

1

small clove garlic

1/2

" chunk fresh ginger

1 teaspoon

brown sugar, optional

1/4 teaspoon

salt
Salad:
8 ounces

rice noodles

1

English (hothouse) cucumber, diced

2

carrots, grated

4 ounces

green beans, blanched

4 cups

chopped lettuce (Romaine)

1/2 cup

mixed fresh herbs (cilantro, mint, basil, green onions and/or parsley)
Garnishes: lime wedges, Hoisin sauce, Sriracha, fish sauce
Instructions
Mix meatball ingredients well and shape into 12 small balls. Arrange on a baking rack and refrigerate while you preheat the oven to 400ºF/204ºC. If you prefer, you can fry them in a skillet instead (teaspoon of oil over medium-high heat, turning three times, until cooked through).
While the oven heats, mix together the sauce ingredients. Puree in the blender or shake in a jar until smooth. Taste and add more salt and lime juice if needed. Set aside at room temperature (also can be made up to 3 days in advance and refrigerated).
Prep the salad: Start a pot of water boiling. (Blanch the green beans for 60 seconds; remove with a slotted spoon and drop into ice water) Add the noodles and cook according to package. Drain and drop into a bowl of ice water. Toss with fingers to separate and rinse and drain completely.
Divide vegetables into 4 serving bowls: lettuce, carrot, cucumber, green beans, herbs. Top each bowl with an equal amount of noodles. Refrigerate.
Bake the meatballs for about 10 minutes until browned and firm.
Serve hot meatballs on cold salad with peanut sauce and any other garnishes you like