Berry Banana Oat Smoothie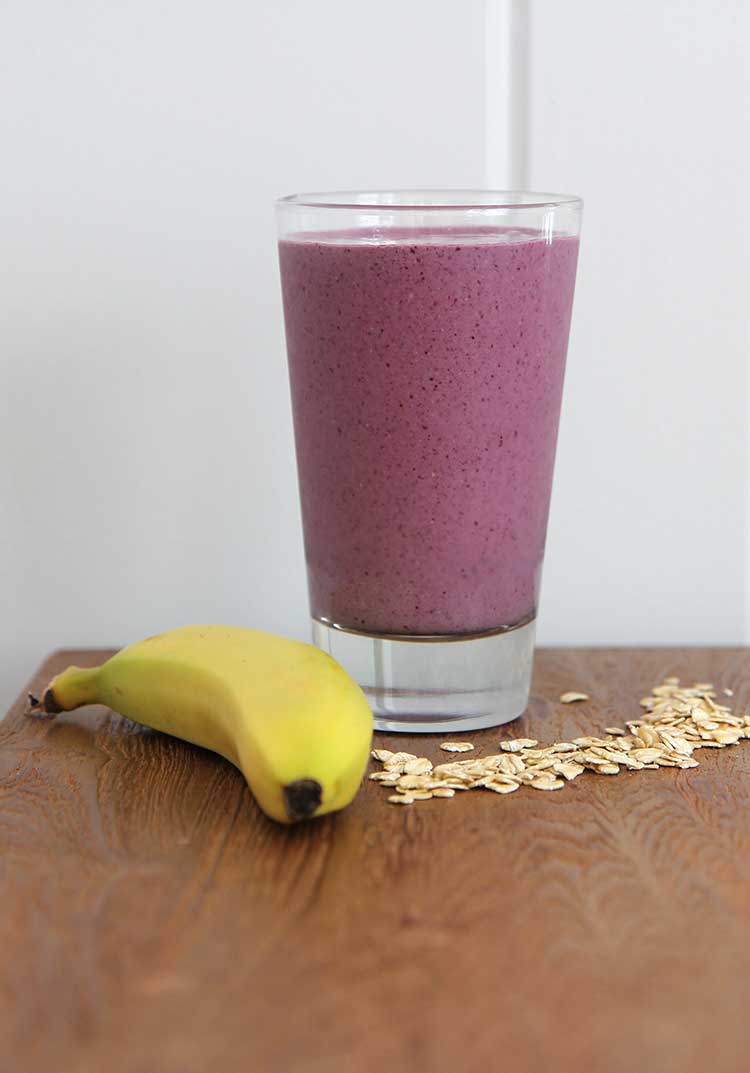 Since hitting the halfway point of pregnancy, a smoothie before "real breakfast" has turned out to be the easiest way (for me) to ensure I'm getting the extra 300 nutrient-dense calories I need per day to nourish the Ravenous Fetus. Not that I really count the calories in my pre-breakfast smoothies, but I'm guessing they work out to be about 300 calories and they are certainly filled with good things like whole fruits (and vegetables sometimes) and Omega-3 and 6, calcium, probiotics, complex carbs and protein if I decide to add some whey protein powder, which I often do.
This Berry Banana Oat smoothie is in regular rotation. I always keep bananas, peeled and chunked, in the freezer along with frozen berries. I usually buy the berries already frozen (much cheaper than fresh berries) but if I see organic strawberries on sale, I'll get some extra, rinse then and cut them in half (leaving the hulls on) and freeze them. I figure: the hulls must add some kind of nutritional value; I don't notice them at all once pureed; and it's easier than bothering to hull them. The rolled oats add that good-for-you insoluble fiber that keeps digestive things running smoothie (PunClub President, at your service).
Print
Berry Banana Oat Smoothie
1/2 cup

almond milk (or dairy milk or other non-dairy milk)

1/2 cup

plain yogurt (or vanilla for a sweeter smoothie)

1

frozen banana, chunked

1/2 cup

frozen berries

1/4 cup

rolled oats or instant oats (NOT steel cut oats)

1 tablespoon

chia seeds

1 tablespoon

hemp seeds

1 teaspoon

honey if desired
Instructions
Put the milk into the blender first, then all other ingredients.
Blend until smooth.
You can assemble the ingredients in the blender jar the night before, store in the fridge, then blend in the morning for an even quicker smoothie. Add a couple ice cubes if you do it this way to make sure it's cold and thick.
I've got many more smoothie recipes here!