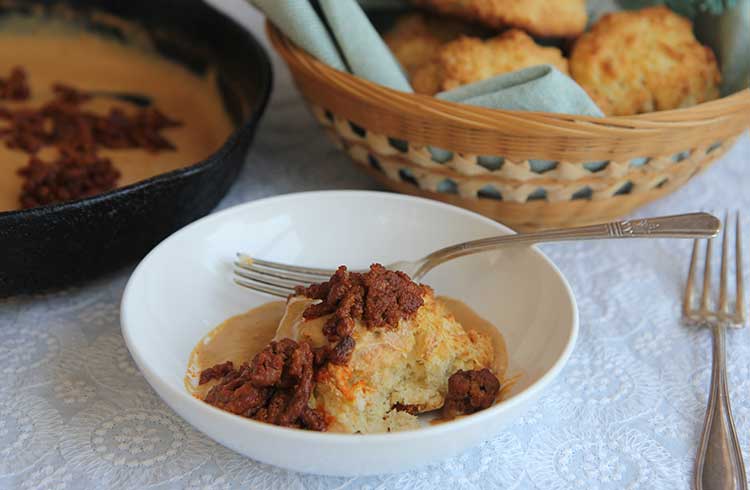 Last year when Chris and I were at "YouTube Camp", we stumbled upon Pann's Restaurant. From the outside, it looked exactly marvelous and once we were inside, we knew we were destined to find it. Besides a giant plate of cheese eggs and chicken and waffles, we also shared an order of biscuits and gravy.
Holy Mother of God.
They were the best biscuits and gravy I'd ever eaten. And I've eaten a lot of biscuits and gravy. Buttermilk biscuits and cream gravy were two of the first recipes I ever learned to make and two of the earliest videos made on this site, in fact. It's still the breakfast item I crave the most when I'm feeling nostalgic or gluttonous or just super-duper hungover.
As soon as we got back to Austin, I got to work duplicating their crispy, crunchy, lumpy, light and airy biscuits.
Then on a trip to OKC this year, we happened upon another fine dining establishment, Kitchen No. 324. We went there for breakfast every morning to enjoy their humongo "cat head" biscuits with chorizo gravy. Shoot, y'all. I had to go to Oklahoma to get chorizo cream gravy??? Texas really dropped the ball on that one.
Anyway, when you put it all together here you get biscuits with gravy, but not just any gravy. Sausage gravy. Chorizo gravy, to be exact.
Biscuits and Gravy Video
Biscuits and Gravy Recipe
Print
Biscuits and Gravy
Biscuits:

1 3/4 cups

flour

2 teaspoons

baking powder

1/2 teaspoon

baking soda

1/2 teaspoon

salt

4 tablespoons

butter

1 cup

buttermilk
Gravy:

8 ounces

breakfast sausage or Mexican chorizo

1

–

2

tablespoons butter

3 tablespoons

flour

2 cups

milk
Instructions
Set oven to 450º
Whisk flour, powder and salt together. Cut in butter.
Add milk and mix quickly.
Drop by large spoonfuls onto ungreased baking sheet to get 6-8 biscuits and bake 12-15 minutes.
While biscuits bake, make the gravy.
Cook sausage over medium heat in a medium skillet until cooked through, leaving it in large chunks (or small chunks if you like). Once cooked, remove with a slotted spoon, setting the sausage aside and retaining as much grease as possible in the skillet.
Add enough butter to the skillet to give you about 2 tablespoons fat. Once melted, sprinkle in the flour.
Cook the flour in the fat over medium heat for 60-90 seconds until smelling toasty.
Whisk in half the milk until smooth.
Add remaining milk, whisk again, and let simmer until thickened, stirring occasionally.
The biscuits should be done right about the time the gravy is ready.
Add sausage back into gravy or serve it on the side.
To serve it like Pann's, put a ladle of gravy in the bottom of a bowl, top with a biscuit or two, and cover with more gravy.
Nutrition
Calories:

628

Sugar:

8

Sodium:

1100

Fat:

34

Carbohydrates:

56

Protein:

23