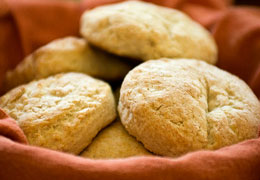 Some summers when I was a kid we'd take family road trips to visit Ma's kinfolk in Tennessee, up in the Appalachians. My great granny lived in a trailer at the end of a tiny road in a place called Shady Valley next to a little mountain creek that was icy cold — melted snow. That's where I caught my first crawdad and kissed my second cousin and smoked my first cigarette and picked wild raspberries and hid in a root cellar and played in the rain like you can't do in Texas. I'd sleep on the couch or in a tent in the yard or sometimes just in the car. It was some pretty magical times.
And my granny made the best biscuits in the world. She never measured, she hardly thought about it — she just mixed up some flour and fat and milk and voila. Bad Ass Biscuits.
Then she went on with the sausage and gravy. Granny, you are breaking my heart! I miss her and her biscuits. So I make my own biscuits now and remember that sweet mountain home. Here's how you can, too.
How to Make Biscuits Video
Buttermilk Biscuits Recipe
Print
Buttermilk Biscuits
Old-fashioned buttermilk biscuits
Author:
Prep Time:

5 mins

Cook Time:

15 mins

Total Time:

20 minutes

Yield:

1

2

1

x
1 3/4 cups

flour

2 teaspoons

baking powder

1/2 teaspoon

baking soda

1/2 teaspoon

salt

5 tablespoons

butter (frozen or at least very cold)

3/4 cup

buttermilk
Instructions
Combine dry ingredients in a big ol' bowl.
If your butter is frozen, use a coarse grater to grate it into the flour. If it's just cold, dice it and toss it around in the flour.
Use your fingertips to mix the flour with the butter, sort of squeezing little bits to break up the butter and get it coated in flour. It should look grainy.
Add the milk all at once and mix it up quickly.
Turn it onto a floured board and knead by folding it over itself several times. Thirty seconds of kneading is plenty. Be gentle with it.
Roll or pat it out into 1/2 inch thickness.
Cut with a biscuit cutter or the rim of a glass.
Put on a cookie sheet, ungreased. Bake at 450 degrees Fahreheit for 12-15 minutes.
Eat those hot flaky biscuits and think about my cool granny.
If you liked this post, please take a second to click the Retweet button or click below to Share it on Facebook. It helps us out BIG-TIME. Thanks!