I love black bean soup – well, any bean soup really – because you can just throw it all in a pot and (almost) forget about it for an hour or longer or the time it takes to make and drink a pitcher of margaritas, just as long as you set a timer so you don't fall asleep and burn the house down. Man. Talk about ruining dinner!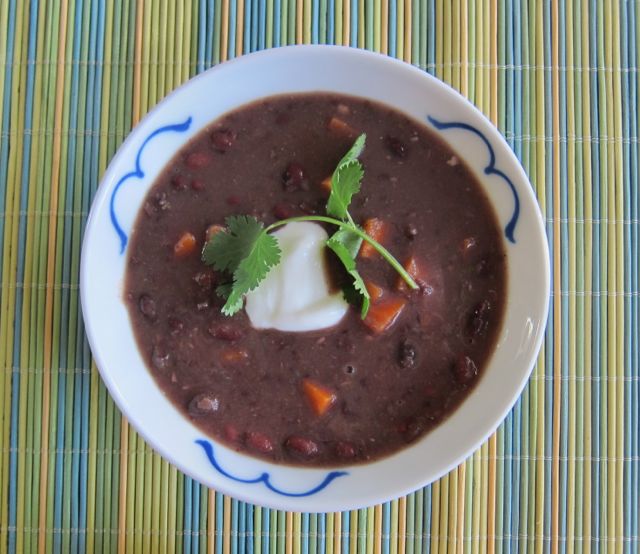 The cool thing about this soup is that with the orange and lime juice, it also works well as a chilled soup when it's super-duper hot out and you just can't bear to eat anything warmer than the inside of your refrigerator. If you do that, I suggest stirring in a spoonful of plain yogurt and some diced fresh tomato or even pico de gallo. You can call it black gazpacho and people'll think you're a real culinary whizz.
Print
Black Bean Soup
A Cuban-inspired vegetarian black bean soup. Can be doubled.
1/2

pound (1 cup) dried black beans

1 tablespoon

oil

1 cup

diced onion (about

1

medium onion)

1/4 cup

diced jalapeno or bell pepper

2 tablespoons

minced garlic

1 teaspoon

ground cumin

2 teaspoons

dried oregano

1 teaspoon

ground coriander

1/4 teaspoon

ground allspice

1/4 cup

fresh chopped cilantro leaves and stems (plus more for garnish)

1 1/2 teaspoons

salt (or more, to taste)

1 cup

diced carrot (about

1

large carrot)

2 tablespoons

fresh orange juice

2 tablespoons

fresh lime juice
For serving: sour cream, diced onion, cilantro, lime wedges
Instructions
Sort beans, discarding any rocks, and cover with 3 cups water. Allow to soak overnight, then drain and rinse.
Heat oil in a large pot over medium-high heat.
Saute onion and jalapeno for 5 minutes or until softened and beginning to brown.
Add garlic, cumin, oregano, coriander, and allspice and fry 30 seconds.
Add drained beans, 4 cups of water, and cilantro.
Turn heat to high and bring to boil.
Cover and reduce heat to low and simmer 1 hour.
Check beans for doneness. You may need to cook them another 30 minutes to an hour depending on the age of the beans. If it seems dry, add another cup of water.
Once beans are cooked very soft, add salt.
Blend half the soup to a puree with an immersion blender if a creamy soup is what you want.
Add the carrot and simmer, uncovered, another 20-30 minutes until the carrots are soft.
Serve with garnishes. This can also be served over rice for a heartier meal.
Notes
Prep time does not include overnight soaking of beans. If you forget that step, you can do a quick soak method like this:
Combine dried beans and 3 cups water in a sauce pot. Bring to boil over high heat, then turn heat off and allow to soak for 1 hour. Drain and continue with the recipe as directed.
Alternatively, you could use 3 cans of black beans. Drain and rinse them before using. Saute onion and spices, then add beans and only 1 1/2 cups of water. Cook 10 minutes, puree, then add carrots and continue as directed.