Yes, it's January and it's freeezzzing and we're cold and shivering in oversized shoes and raggedy coats, trying to warm up with fistfuls of matches and perhaps a cold margarita doesn't quite fit into this scenario.
Perhaps.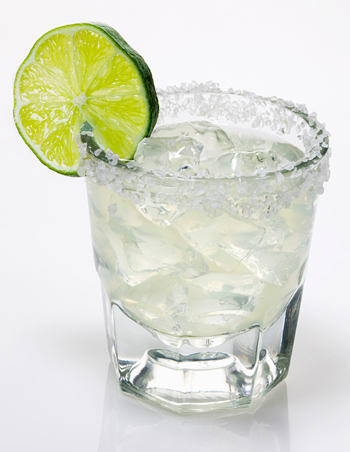 Then again, perhaps a margarita is exactly what you need in order to trick your brain into thinking it's summer again and you're actually laying poolside and tanned, reading some mystery novel and applying sunscreen on the hour. (Or perhaps you live in the Southern hemisphere and you actually are laying poolside and tanned. Jealous! Send me a one-way ticket, please, to wherever you are. I won't eat much.)
While I posted my patented* "3-2-1 margarita" recipe for Cinco de Mayo already, I don't think I've told you about how easy it is (impossibly simple, really) to make a spicy habanero-infused margarita. Well, I'm telling you now: it's easy. Here's how.

Print
Pepperita
Spicy, fruity habanero margarita
3 ounces

silver tequila

2 ounces

orange liqueur

1 ounce

fresh lime juice

1

habanero pepper
Ice
Salt
Instructions
Fill a cocktail shaker with ice and pour in the tequila.
Slice the habanero pepper thinly and add 2-4 slices to the shaker. (More if you like it really spicy!)
Shake for 10 seconds.
Add the lime juice and orange liqueur and shake 10 more seconds.
Rim your glasses if you like: Rub a lime wedge along the rim, then dip in salt.
Fill the glasses with ice and strain your margarita into them.
Garnish with a slice of habanero or lime
*Not really