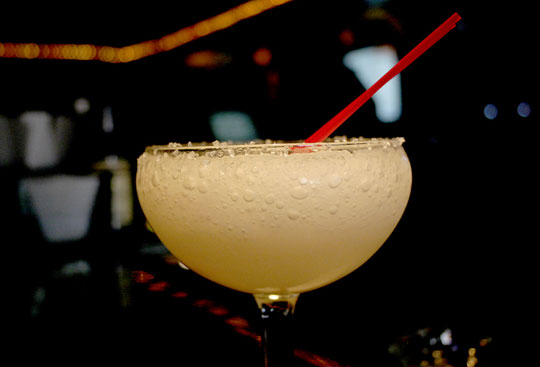 Feliz Cinco de Mayo, everybody! If my life were a more organized mess right now, I'd have planned on making some kind of celebratory video for this day. Maybe we would have gone to Puebla to see the battle site where Mexico totally kicked France's ASS even though they were outnumbered and out-gunned! Or at the very least, I could have learned some baile folklorico. Or at the very, very least, I could have figured out how to make the accento over the "o" in folklorico to make it proper. (Anyone? Computer wizzes? Alas.)
However, I can tell you how to make margaritas. Although I will probably be drinking beer today since I have to get up early tomorrow and go visit a farm. Pero, me encantan margaritas!
This recipe is the easiest because all you have to remember is "3-2-1": Three parts tequila, two parts orange liqueur, one part lime juice!
Ingredients
1 1/2 ounces tequila (blanco or reposado work best I think)
1 ounce Cointreau or Triple-Sec or another orange liqueur
1/2 ounce lime juice
Instructions
Fill a shaker with ice and pour all those liquids over it. Shake it up and strain over new ice. You can garnish it with a lime wedge.
If you're into salt, rub the rim of the glass with a lime wedge to get it wet. Spread some salt out on a small saucer and dip the lip of the glass in it, BEFORE YOU POUR YOUR MARG. (I kid! I'm sure you knew that!)
If you're into hot stuff, add several slices of jalapeno or habanero pepper to the shaker, too. It's like a salsa margarita! But WAY better than that actually sounds, honestly.
AND, if you want to try a different tequila drink, here's a video and recipe for Mexican Martinis! Look how short my hair used to be! Wow!
P.S. This is my new favorite tequila, and they are not paying me to say this: Tequila 1519 I like the reposado the best.
XO, mis amigos. Exxx Ohhh.