How To Make a Mexican Martini
How to Make a Mexican Martini Video – scroll down for recipe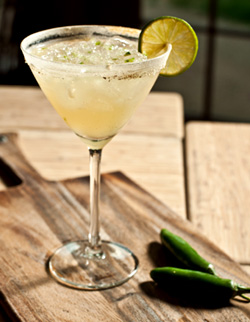 Every Sunday for many years, my best friends and I used to go to "church" at Trudy's, a local Tex-Mex chain, and sit on the patio, get really drunk, have a "sermon", and then cap it with the "joining of the boobs". It's hard to explain, but it was a fun way to spend a Sunday. Then I guess we grew up (a little) and also Trudy's came under new management and the drinks weren't as strong. Boo. Not as fun. Anyway, the drink we used to always get at "church" is a Mexican Martini.
The Mexican Martini is about as popular a drink around these parts as the margarita. And like the margarita, its origins are lost to the memories of ancient bartenders and blithering drunkards. Lucky for me, Trudy's serves up a real nice Mexican Martini. But, and this is the kicker, there's a house rule that limits you to two of these bad boys. I would bet that at its origin, this drink was basically a big ol' margarita served in a shaker, garnished with olives. Then people probably started getting wise to the trick and thinking, "…if this is just a big margarita…and I am cut off at two…maybe I should just order margaritas…and have eight of those." Drunk people are smarter than you think. So then, in my fantasy history of this drink, the bartenders started thinking, "…we need to make this drink different than a margarita…so people will respect it…and stop ordering eight margaritas instead…"
So now it's become it's own thing and a very appreciated thing it is. If you don't live near a Trudy's and you'd like to try the famed Mexican Martini, well you are in luck my fine friend. Here is the "original" Trudy's Mexican Martini recipe. Bonus: You have to SHAKE it!!!
Trudy's Mexican Martini Recipe
Print
Trudy\'s Mexican Martini Recipe
2

parts tequila

1

part Triple Sec

1

part orange juice

1

part lime juice

1

–

2

parts Sprite
Instructions
Shake it over ice and serve directly from the shaker into a salt-rimmed glass, garnished with olives.
Jalapeno stuffed olives will knock your socks off!
Other cocktail recipes you might like: