Black Forest Trifle Video (scroll down for recipe)
My grandmother Hornsby always loved a good trifle. She made hers with vanilla pound cake and raspberry jam, pudding and Cool Whip. (You can see her trifle recipe here.) This Black Forest trifle has all the flavors (the cherries! the chocolate! the booze!) of a Black Forest cake, but without the fussiness of a layer cake, which for some I know is easy but which for me often presents challenges with making it not look absolutely terrible.
There are only 7 ingredients needed (assuming you have a chocolate pound cake in the freezer already)
Chocolate cake
Cherries (fresh and pitted or frozen)
Kirschwasser (cherry brandy)
Heavy Cream
Powdered sugar
Vanilla extract
Dark chocolate bar
That's it. Trifles are a perfect dessert for holidays because they are a cinch to put together, they taste fantastic, they look pretty good and they can be made a day in advance. To prepare this trifle ahead of time, layer everything in your dish, ending with whipped cream. Cover and refrigerate. Before serving, shave chocolate over the top and decorate with cherries. If cherries aren't in season, you can use maraschino or Luxardo cherries (or pull a fast one like I did and order some fake cherries on Amazon!)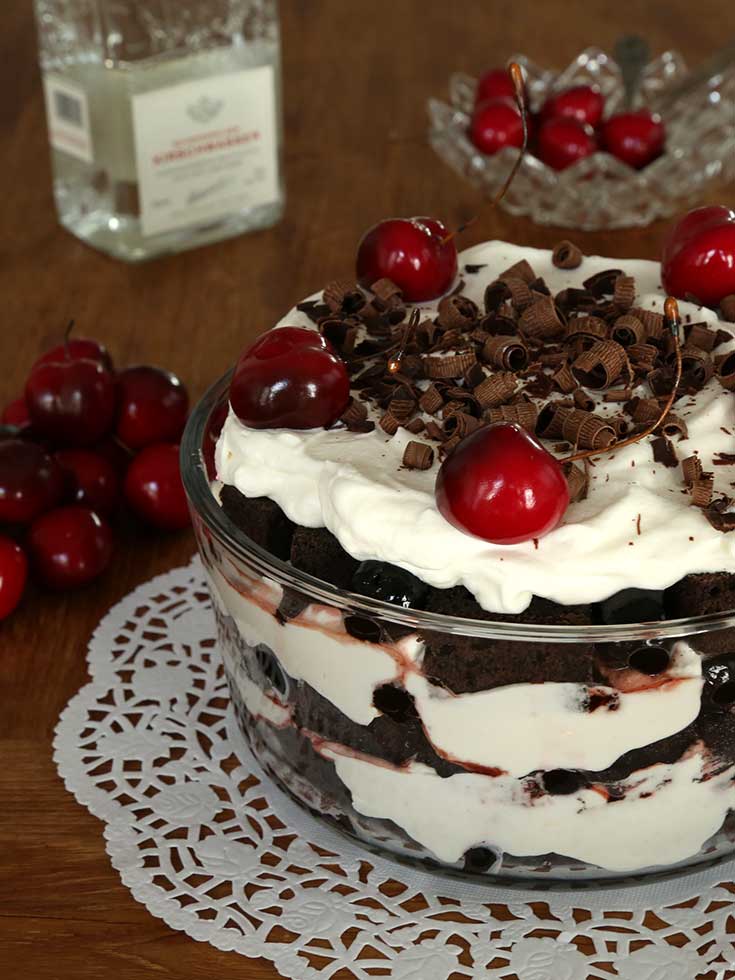 Black Forest Trifle Recipe
Print
Black Forest Trifle
1

pound fresh cherries, pitted (or 1

12 ounce

bag frozen cherries)

1/2 cup

Kirsch (cherry liqueur)

1

chocolate pound cake

3 cups

heavy whipping cream

3 tablespoons

powdered sugar

1 tablespoon

vanilla extract

8

fresh cherries for decoration (or Luxardo or maraschino cherries)

4 ounces

dark chocolate bar
Instructions
Pit cherries if using fresh. Combine cherries with kirsch and let sit at least one hour, up to overnight.
Drain cherries, but save all the liquid separately.
Cut pound cake into bite-size cubes.
Whip cold cream until soft peaks form, then add sugar and vanilla and whip until stiff peaks.
Layer in a straight-sided trifle dish: cake to cover the bottom; drizzle with Kirsch, sprinkle with cherries, spread with cream to cover. Continue, ending with cream.
Refrigerate 4-24 hours.
Decorate with cherries and shaved dark chocolate.
Notes
You will need a 4 quart size trifle dish to hold this amount, or two 2-quart dishes. Trifles are best served in a straight-sided glass dish so that you can see the layers but of course any vessel will work. Except a toilet bowl. Don't make it in that.