Trifle Recipe — Christmas in England
English Trifle recipe Video (scroll down for printable recipe)
Part seven in my Christmas Around the World series! Christmas in England, focus on: TRIFLE!
The Trifle was one of my grandmother's signature desserts. For as much as she loved to eat, she really did not enjoy cooking and rarely did it that I recall, except for gingerbread muffins, cinnamon toast, and this trifle, if you can call making a trifle "cooking". It's assembly, really; a combination of ready-made ingredients that comes together remarkably well. Most trifle recipes will use store-bought ladyfingers layered with custard, jam, sometimes nuts, and whipped cream. My grandmother always made hers with a frozen (and thawed, derp) Sara Lee poundcake, instant vanilla pudding, raspberry or strawberry jam, and CoolWhip. I've used poundcake here, but occasionally she also used angel food cake. You can use any of those cakey bits that you like.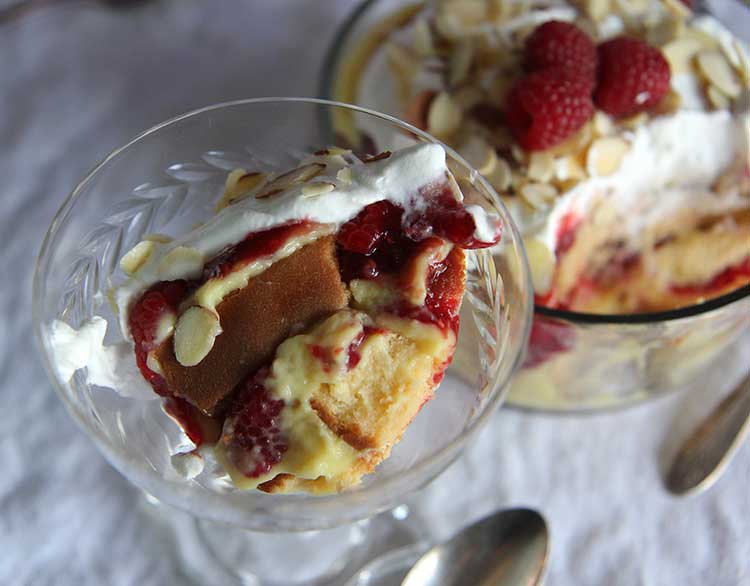 If you'd like to make your own custard (pudding) use the vanilla pudding recipe I gave you in this banana pudding post. Trifles lend themselves very well to experimentation, too, so you might want to try using a chocolate or coconut custard instead. Use any chunky jam that you like, but raspberry jam with vanilla custard is the most traditional combination. You could also make it a little fancier by macerating fresh berries or fruit in a little sugar and orange juice or orange liqueur for an hour and using that instead of jam. Sliced almonds were always on top of hers, too, but again you could try different nuts or maybe even use raw cacao nibs instead of nuts if you were doing a chocolate trifle. Really, the world is your oyster and you are free to trifle with it as you please.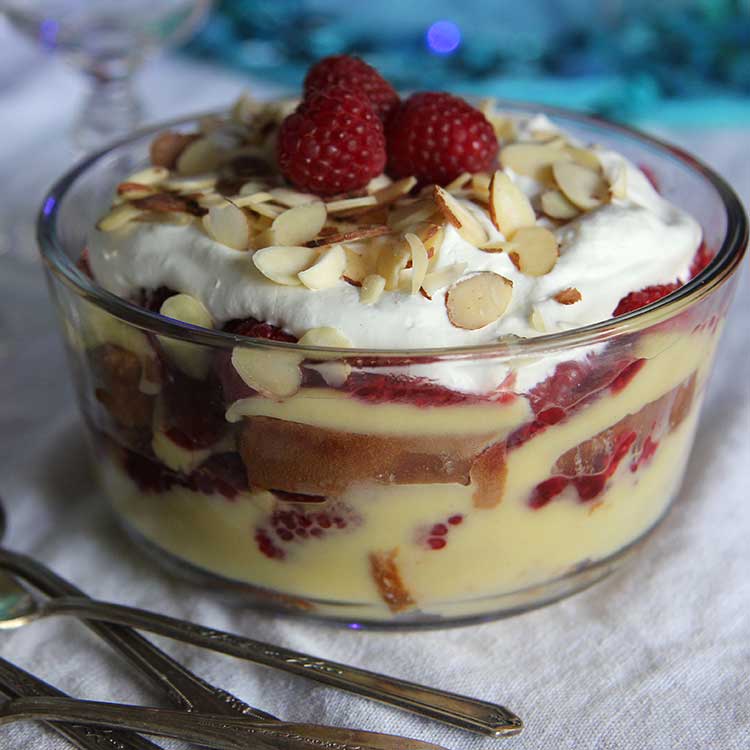 Trifle Recipe – Printable!
Print
Prep Time:

1 hour

Total Time:

1 hour
1-10 ounce frozen poundcake, thawed
¼ cup sweet sherry or brandy
3 cups prepared custard or pudding*
½ cup jam
1 cup sliced fresh berries
½ cup heavy cream, whipped to stiff peaks
¼ cup sliced almonds
Instructions
Cut the pound cake into slices about ⅓" thick crosswise.
Cover the bottom of a 2-3 quart dish (straight-sided glass dish is considered the "proper" dish for a trifle, but really anything will do) with slices of pound cake. Break the slices as necessary to make an even layer, filling in all holes with cake bits.
Sprinkle 2 tablespoons brandy over the cake.
Spread 1 cup of the custard over that evenly, reaching edges. Dollop a little of the jam over that and half the berries.
Make another layer of cake, brandy, custard, jam, berries.
If you have enough cake to make a final layer, do so. Spread the remaining custard, jam, berries over that.
Cover the top of the trifle with whipped cream and sprinkle with almonds.
Serve right away if you must, but it is better if allowed to sit in the refrigerator for an hour or two before serving.
For more recipes from the British Isles, check these out!
Scotch Shortbread