As promised, and just barely in the nick of time, here's how to make corned beef and cabbage out of that home-made corned beef brisket you made last week! You finished your corned beef assignment, right? Didn't you?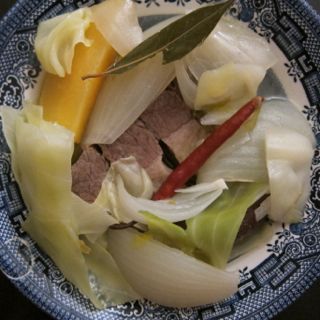 Oh boy. Well, lucky for you a homemade corned beef isn't completely necessary for this. If you choose you may use a store-bought one and yours will look pinker than mine because yours has nitrates, but the taste will be pretty much the same, and in fact yours will probably taste much more like the corned beef and cabbage my dear old dad used to make for us as kiddoes. Lassies. Laddies. Ladders? I forget.
This recipe uses a 2 pound brisket, but if you have a larger one, just double the vegetables and broth spices. There's no need to add salt to the broth; the corned beef is plenty salty to season the whole pot.
Print
Corned Beef and Cabbage
2

pounds corned beef brisket

1/2 teaspoon

ground allspice

1/2 teaspoon

ground ginger

1

cloves garlic, crushed

1

celery heart with leaves, chopped

1/2

onion sliced

2

bay leaves

2

dried red chilies (optional)

1

large onion, cut into

6

wedges

1

large rutabaga, cut into

6

wedges

1

pound fingerling potatoes, or any waxy potato cut into

2

" chunks

1

pound cabbage, cut into

4

wedges
Instructions
Remove the brisket from the brine in which it is packed and rinse it off. This is to get rid of excess salt.
Put it in a large pot and add enough water to cover by 2 inches.
Add the spices, celery, sliced onion, bay, and chilies and bring to boil over high heat, covered.
Reduce heat to a simmer and cook 1 hour, covered.
Add the onion, rutabaga, and potato and simmer another 30 minutes, partially uncovered.
Add the cabbage and simmer 10 minutes.
Remove the brisket and let cool a few minutes before slicing and serving with the vegetables, broth, and some kind of breadstuff for soaking up all the brothy goodness.
Rutabagas, aka Swedish turnip or Swede or yellow turnip, are related to turnips. They have a thick, waxed, purplish skin that needs to be pared off. The flesh underneath is yellow and becomes brighter yellow once cooked. If you can't find rutabagas, substitute a couple of small turnips.