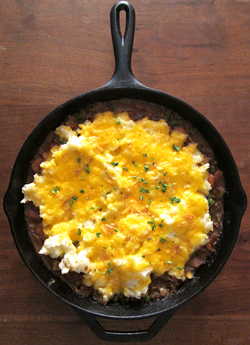 Shepherd's pie has got to be one of the yummiest things on the planet and I can not BELIEVE it's taken me this long to post about it. It's kind of weird, like I used to make this a lot when I was vegetarian, but then I started digging on the animals again and left them totally out of the shepherd's pie party! Well, the party's on now, fools! I mean, foals!
Just kidding; I don't eat baby horses.
If you'd like to try a vegetarian version, just swap the meat out for about 3 cups of something else: fake meat products, TVP, more vegetables, or beans. And that reminds me of one of the most glorious facts about shepherd's pie: you can put in pretty much any vegetables you got. It's a great way to use up leftovers AND, if you have the mashed potatoes already made, it's a one-dish meal! Yay!!! Shepherd's pie wins for the BEST RECIPE EVER.
How to Make Shepherd's Pie Video
Shepherd's Pie Recipe – Printable
Print
Shepherd\'s Pie!!!
3

–

4

cups mashed potatoes

3

strips bacon, chopped (or

2 tablespoons

bacon fat or vegetable oil)

1

pound ground lamb, beef, or turkey

1

onion, diced

2

cloves garlic, minced

2 tablespoons

flour

1 tablespoon

tomato paste

1/2 teaspoon

dried rosemary, crushed

1 cup

beef broth or beer

2

carrots, cut into half-moons

1

stalk celery, sliced

1 cup

peas

1/2 cup

shredded sharp Cheddar or Swiss
Instructions
Preheat the oven to 425.
In a large oven-safe skillet, fry the bacon pieces over medium heat until cooked and most of the fat has rendered.
Add the onions and garlic and cook until softened, about 5 minutes.
Add the meat and break it up while it's cooking so you end up with lots of little crumblies. Cook about 5 minutes or until all the pink is gone.
Add the flour and cook a minute or so until it's absorbed into the fat.
Add the tomato paste and rosemary.
Add the broth, carrots and celery and stir.
Bring to a simmer and cook about 5 minutes to thicken.
Spread the mashed potatoes on top and sprinkle the cheese over.
Bake about 20 minutes until the cheese is melty and browned.
Let it cool about 10 minutes before serving.
Notes
You can sprinkle it with paprika or parsley after baking for a pretty color contrast.
You can make the mashed potatoes fresh for this, but it's also an awesome thing to do with leftover mashers. Try to bring them to room temperature before topping the pie so they're easier to spread.