I ate a lot of mashed potatoes as a kid. Not unusual, I am sure. But one thing that was maybe unusual in these Modern Tymes was actually growing the potatoes ourselves. The funnest part was harvesting them. It's like finding pirate's booty that you can eat! Working my little fingers into warm earth and pulling up handfuls of dirty potatoes and then taking them indoors and turning them into mashed potatoes was one of the best things ever. It was hot out there in the potato patch and a wooden swing hung from a HUGE cottonwood tree so that we could swing out over the garden. That was pretty bad ass. And kind of scary because the swing was really crooked and had splinters in it and if you weren't careful you could smash into the tree.
But anyway, though, back to mashed potatoes. As you can imagine with such a quintessential dish, there are a hundred million jillion mashed potato recipes. It's like everybody's got an opinion! Sheesh. This is how I make them. I like to use starchy potatoes like Russets, but I know there are those who prefer waxy varieties like red potatoes. It depends on what texture you like for yer mashers.
Russets are easier to mash completely smooth, if you're into that. If you like some chunky business, you would probably like to try red potatoes. Peeling is optional. While I leave the skins on potatoes for things like homefries and hashbrowns, I peel them for mashing. And I know there's more nutrients and stuff in the skins and they're better for you and all that, but I like mashed potatoes to be unencumbered by weird bits of peel all in 'em. If you're using red potatoes, though, not only is peeling a pain in the ass because they're typically smaller than Russets, it's also not so necessary because their soft skins are less intrusive than the coarse Russet skins. So I don't bother peeling if I'm using red potatoes.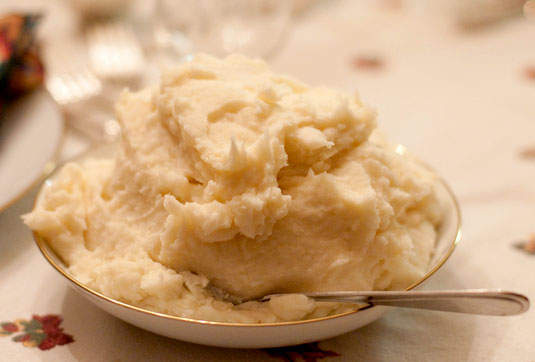 And there's more! Mashed potatoes are best if served right away. You could rig a double boiler to keep them warm for 20 minutes or so if you must. What I'll do, though, if I need to postpone dinner is to boil the potatoes and then just leave them in the hot water until I'm ready. (If it's going to be more than 30 minutes, turn the heat off before they are completely tender so they don't overcook and dissolve in the water like so much tissue paper.) Then drain and mash as usual.
AND, if you have any leftover potatoes you can make potato cakes by mixing in one egg for every cup of potatoes and frying that in butter, to make about four little patties. Or you can use them to top a shepherd's pie. Or you can use them to thicken a creamy soup. Or… I should just get to the point.

Print
Mashed Potatoes
Classic mashed potato recipe
2

pounds of potatoes

3

cloves of garlic, peeled and left whole

3

–

6

tablespoons of butter (I go for the lower end of that, but it depends on how creamy you like them)

1/3

–

1/2

cup of half-and-half, milk, or buttermilk

1 teaspoon

salt
Black or white pepper (I like LOTS, like a teaspoon or more)
Instructions
Peel the potatoes (or don't). Cut them so that they are all approximately the same size. Drop into a pot of cold water along with the garlic cloves, cover, and turn the heat to high
Bring to a boil and then crack the lid so it doesn't boil over and make a mess in your friend's kitchen. Boil 10-30 minutes until a fork or skewer stuck in the middle gives almost no resistance. The time depends on the type and size of your potatoes.
While they cook, heat the butter and half-and-half together until the butter melts.
Drain the potatoes carefully and return them to the pot.
Add the butter/half-and-half and the salt and pepper. Mash them with a potato masher until they're as smooth as you want. Alternatively you can use an electric mixer for super-smooth and fluffy potatoes.
Serve ASAP! With more butter or some gravy
This'll do for 4-6 people. If you have some left over, add them to potato soup!