Bratwurst Stew with Beans and Butternut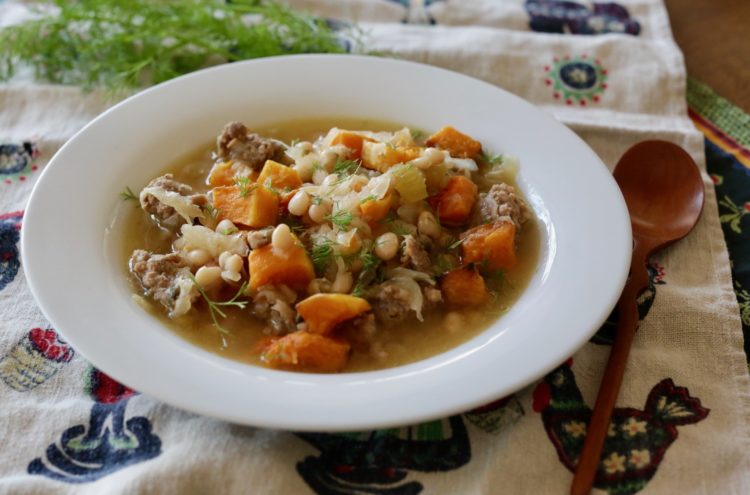 There are few things I like so much as a nice alliterative recipe title so Bratwurst stew with beans and butternut (or just bratwurst beans n' butternut) is right up my alley. To tell an embarrassing truth, I often get ideas for recipes based on alliteration of ingredients (see: quinoa with chestnuts and cherries). When I'm writing stories, I also often get story ideas based on punny titles. I'm easily entertained.
Anyhoo, I had some raw jalapeño Bratwurst from Paidom Meats in the freezer and I had a fresh bag of Rancho Gordo alubia blanca beans a friend sent me and I had a random can of sauerkraut in the pantry from like three years ago, so I made some soup in my Instant Pot and it turned out great and now you can make it, too.
The butternut squash is an optional addition. I liked the soup without it, but I had some already roasted in the fridge and tbh, the soup looked a little boring at first and I thought the orange would brighten up the photo. And I was right because look at that!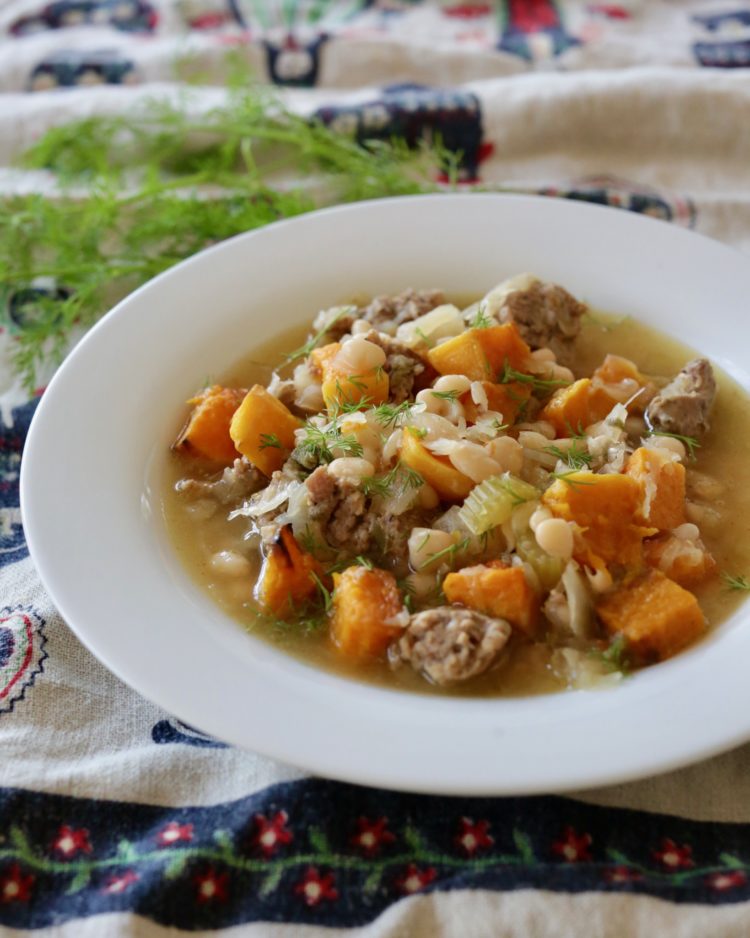 I have dill sprouting up all over my weedy front yard so I garnished with a little of that, but don't sweat it if you don't have it. Some parsley would be good or even just a little more nutmeg grated on top.
Print
Bratwurst Stew with Beans and Butternut
Author:
Prep Time:

10

Cook Time:

35

Total Time:

45 minutes

Yield:

6 cups

1

x
1 cup dry navy beans
1 pound raw Bratwurst
1 cup diced onion
1 cup diced celery
2 cloves garlic, minced
4 cups chicken broth or water
1 bay leaf
1/2 teaspoon salt
1 cup sauerkraut
1/2 teaspoon ground nutmeg
Optional: 2 cups diced roasted butternut squash*
Instructions
Soak the beans in water with a big pinch of salt for 8-12 hours.
Remove bratwurst from casing and crumble into the bottom of a pressure cooker (Instant Pot) or a large soup pot. Add onion and garlic and saute (medium-high heat if cooking stovetop) about 5 minutes until onion is softened and sausage is browned in places.
Drain the beans and add to pot with celery, broth, bay, salt, sauerkraut and nutmeg. Stir it up. Close lid and cook on high pressure for 30 minutes. Allow to release naturally. (For stovetop, cover, bring to boil, then simmer about 1 hour or until beans are soft. Check around 45 minutes to make sure there is enough water.)
Taste for salt and adjust. Stir in roasted butternut and reheat if necessary.
Notes
To roast squash: peel and dice 1/2″ cubes. Toss with a little oil, sprinkle with salt. Roast at 425ºF for 20-30 minutes
Nutrition
Serving Size:

1 1/2 cups

Calories:

648

Fat:

35

Carbohydrates:

50

Fiber:

16

Protein:

34
Keywords: bratwurst, sausage, stew, soup