Quinoa with Chestnuts and Cherries
This warm quinoa with chestnuts and cherries is chock full of them fall flavors, yo!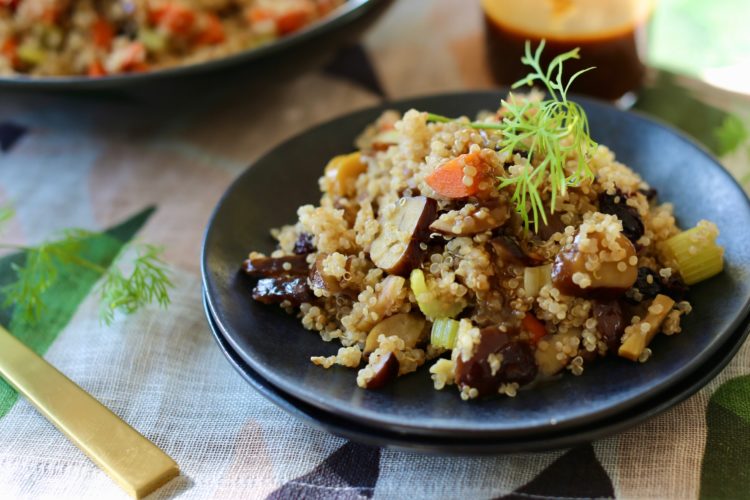 To be perfectly honest, I've had this bag (affiliate link) of Geffen "recipe ready" peeled chestnuts in my pantry for over six months. Bought in LA during the initial wave of weird corona-shopping and moved with us from California back to Texas (I'm nothing if not frugal) I haven't known what to do with them. All the recipes I saw online were either too fussy (celeriac puree with chestnut creme) or too dessert-y or just sounded boring.
But today is a new day! Today is the day I decided to clear out some things that have been in the pantry too long and these chestnuts and a jar of quinoa were calling to be used. To be even more honest, I'm not a huge huge fan of quinoa. For instance, I'd never serve "a side of quinoa". But I do like it in quinoa salad and this is basically a warm salad because who wants to eat cold stuff when it's blustery outside? Not me.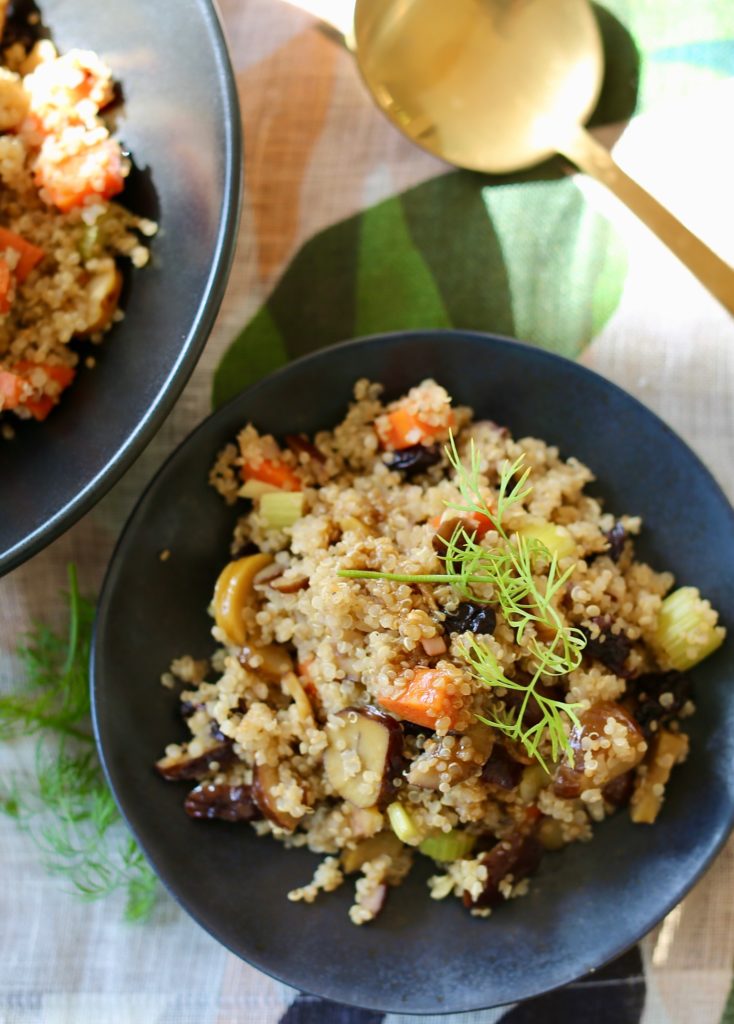 You could swap the dried cherries for Craisins easily. You could probably even use walnuts instead of chestnuts (though the nutritional info would change drastically). You could skip the vinaigrette if you're feeling low-energy, but it's pretty nice. If you don't have pomegranate molasses (I keep it around especially for salads, like this kale salad we love) use two teaspoons of lemon juice. Your vinaigrette won't emulsify as well, but just shake it up before you pour.
And for a textural contrast, serve this over some fresh arugula or spinach.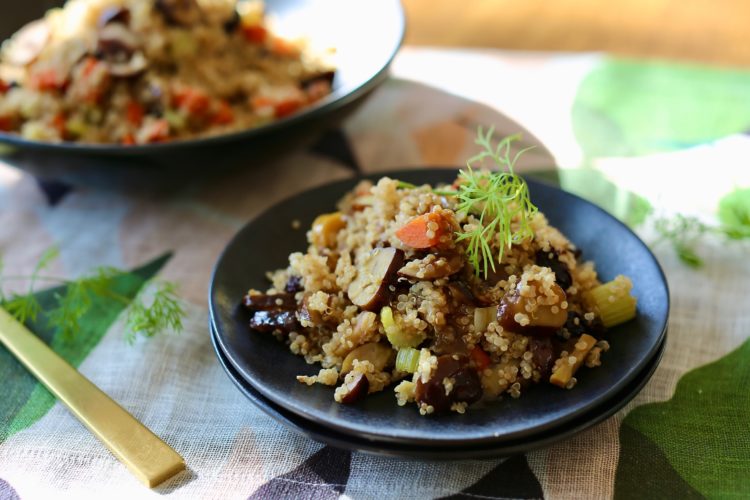 Print
Quinoa with Chestnuts and Cherries
Author:
Prep Time:

10 mins

Cook Time:

20 mins

Total Time:

30 minutes

Yield:

6 cups

1

x
1 cup quinoa
3/4 cup diced celery (2 stalks)
3/4 cup diced carrot (1 medium)
1 tablespoon minced garlic, divided
1 tablespoon minced ginger
1 small shallot, minced (2 tablespoons, divided)
5.2 ounce package peeled chestnuts
1/4 cup dried cherries or Craisins
5 tablespoons olive oil
1 tablespoon pomegranate molasses
1 tablespoon sherry vinegar
salt
pepper
fresh herbs if you got em (parsley, dill)
Instructions
Begin cooking the quinoa. Give it a rinse. Put into a small pot with 1 1/2 cups water and 1/2 teaspoon salt. Cover, bring to boil. Reduce to simmer for 15 minutes.
Meanwhile, heat 1 tablespoon of the olive oil in a large skillet over medium heat. Add carrots and celery and a pinch of salt. Cover and reduce to medium-low. Cook until tender, but not browned. 
While that cooks, make the vinaigrette. Combine in a small jar: 1 tablespoon of the minced shallot, 1/2 teaspoon of the minced garlic, 4 tablespoons (1/4 cup) olive oil, sherry vinegar, pomegranate molasses and 1/4 teaspoon salt. Shake well. 
Once vegetables are tender, add remaining shallot, garlic, the ginger, chestnuts and cherries plus 2 tablespoons water, another big pinch of salt and a few grinds of pepper. Cover and let steam about 5 minutes until water is absorbed. 
Add warm quinoa to the skillet and stir gently. Serve with drizzle (1 teaspoon per serving) of vinaigrette and some fresh herbs.
Notes
Nutritional info is based on using only half the amount of vinaigrette. Store reminder in the fridge for any salad you want to put it on.
Nutrition
Serving Size:

1 1/2 cups

Calories:

320

Fat:

13

Carbohydrates:

43

Fiber:

5

Protein:

7