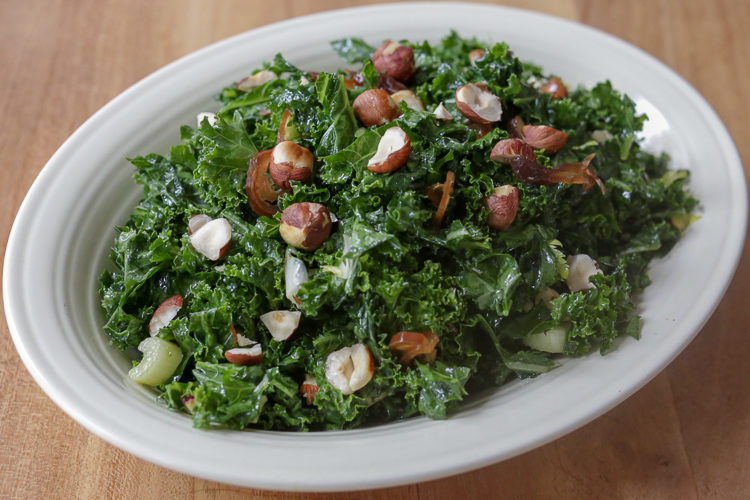 Another kale salad! But this one is so good it's been on weekly rotation since I first had its predecessor in September last year when we were in London. We were at the obnoxiously cool, quite pretentious Ace Hotel and I was starving for vegetables after eating three days' worth of fish and chips and chips and chips . . . and I saw a kale salad on the menu and oh Lordy.
I've said it before and I'll say it again that the trick to an edible kale salad is massaging the kale, You've likely heard of this already, but in case it's a new and frightening concept, massaging kale is just rubbing it roughly with salt to soften the leaves and make it easier — dare I even say "pleasant" — to chew.
Chop the leaves up small first, sprinkle with salt and go to town. Your fingers might get sore. That's what it takes. No pain, no gain. Then add the other dressing ingredients, in this case: olive oil, lemon juice, pomegranate molasses (optional but yummy as hell). Then toss in your other salad ingredients, in this case (and in the case at the Ace Hotel): dates, celery, hazelnuts, and a bit of pickled hot peppers.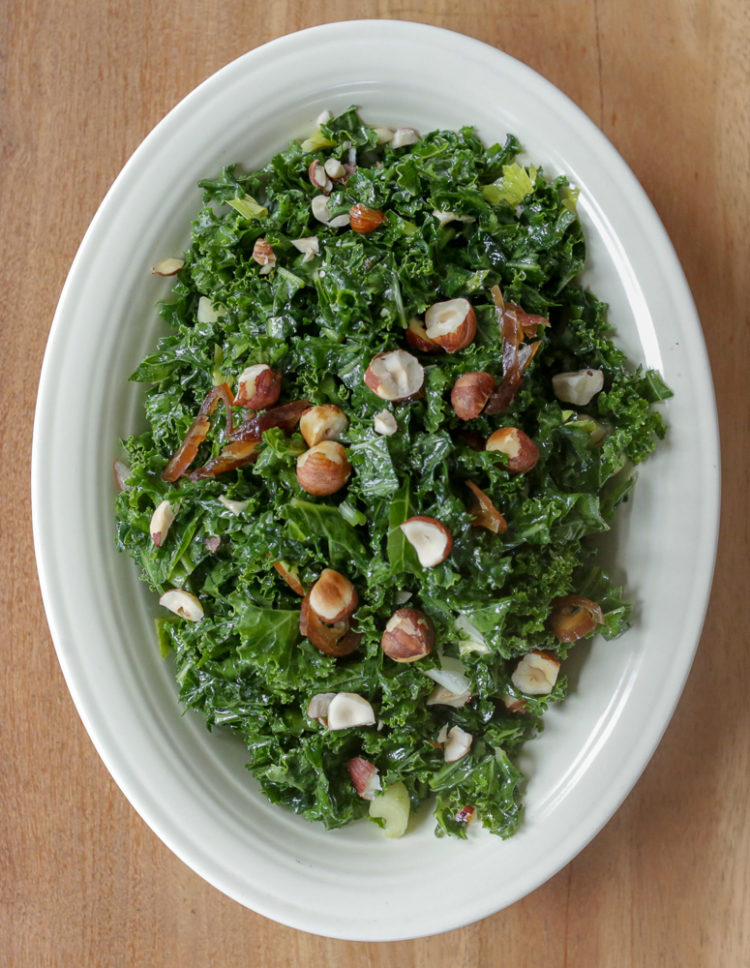 Like all kale salad recipes, this one is delicious eaten soon after mixing, but even better the day after that, and still good a day later. So it's a simple and healthy and it keeps. How many recipes can claim that?!
Print
Date and Kale Salad
1 bunch curly kale
1 teaspoon salt (maybe more, to taste)
2 tablespoons olive oil
1 tablespoon lemon juice
1 teaspoon pomegranate molasses (optional)
1/2 cup sliced celery
6 pitted dates, sliced
1/4 cup toasted almonds, hazelnuts or pecans
1 teaspoon minced pickled cherry peppers or jalapeños
Instructions
Wash kale, tear away the stems. Pat or spin it dry. Stack leaves, roll into a "cigar" and slice into thin ribbons. Toss with the salt in a large bowl. Then massage, squeezing and squishing the kale for a minute or two until it's softened and wilted. Add oil, lemon juice and pomegranate molasses if using. Mix well again with hands. Add celery, dates, peppers and refrigerate one hour or a couple or days. Add nuts before serving. (Also very good with diced avocado added at serving)