Strawberry Kale Salad Recipe Video – scroll down for recipe
Subscribe to my YouTube channel to get notified of new videos.
Here's some old news. I've been trying to eat more salads. And like everyone else on Planet AMERICA, I haven't been able to avoid the popculture current of kale salads. And I'm not completely sold on that ticket, I mean, the ticket of kale curing every ailment and making your skin glow with the light of a thousand Viking funerals, but variety is important and I do know there's more to salads than iceberg or even Romaine. So, kale salad, come on down.
For a more fun way to eat kale, try making this Spicy Thai Kale Chips recipe!
The strawberries add some juiciness to the salad so you don't need to use as much oil in the dressing. That's a pretty good trick to remember. I, of course, then turned around and also added nuts and cheese so I'm not sure I'm really saving anything in the calorie department. But I feel like as long as I'm eating my vegetables, what's the harm in drowning them in oil and/or cheese?
Am I wrong? I might be wrong.
Strawberry Kale Salad Recipe – printable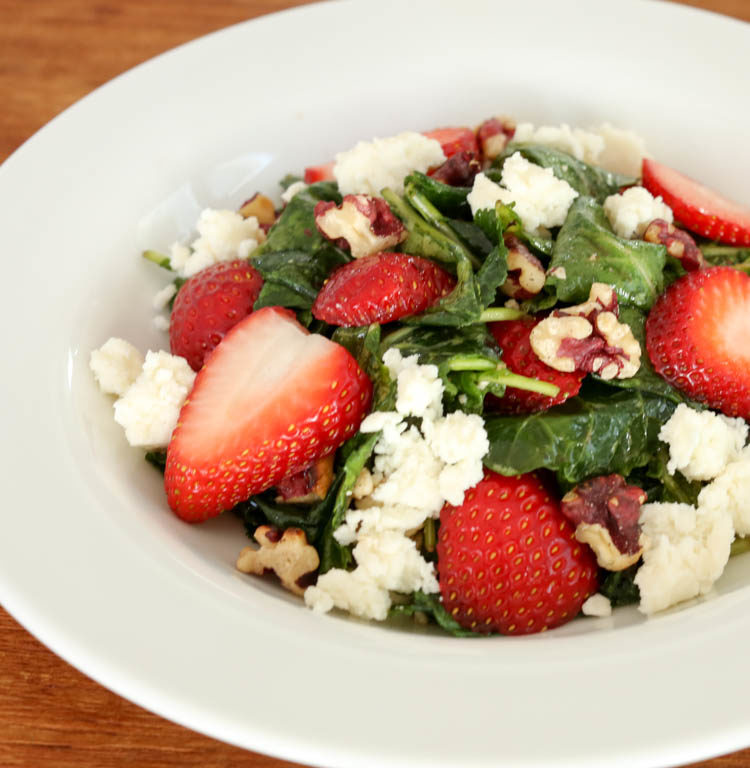 Print
Strawberry Kale Salad
Author:
Prep Time:

10 mins

Total Time:

10 minutes

Yield:

4

1

x
1

bunch kale (

5

–

6

ounces) or 5 ounces baby kale

1/2 teaspoon

salt

1 tablespoon

lemon juice (

1/2

lemon)

2 tablespoons

olive oil

1 tablespoon

Balsamic vinegar

2 teaspoons

honey

1/2 teaspoon

black pepper
drizzle hot chili oil (optional)

1 cup

sliced strawberries

1/2 cup

chopped pecans or walnuts, toasted

1/2 cup

crumbled panela cheese, queso fresco or feta (or another crumbly, salty cheese)
Instructions
Cut the tough ends off the kale bunch. Slice the rest into 1″ strips. Rinse and drain well. Pat dry with a clean tea towel. (if using baby kale, just start with the next step)
Put kale into a large bowl and sprinkle with salt, lemon juice. Massage kale with your hands for 2-3 minutes until it has wilted slightly. (Baby kale will only need a minute or so.)
Add olive oil, balsamic, honey, pepper and chili oil. Toss with tongs to coat well.
Add strawberries and pecans to kale. (At this point, you can refrigerate the salad for up to 2 hours.)
Add cheese right before serving.
Notes
To make salad even farther in advance, massage and dress the kale salad but don't add strawberries and nuts. Refrigerate up to 8 hours, adding remaining ingredients at serving time.
The key is to massage your kale. Not like in a dirty, sexualized way, but in a friendly, washing the poor guy's feet kind of way. You want to rub the salt and lemon juice right into the leaves to soften them up and make them easier to chew than non-massaged kale, which is like chewing grass.