Kale with Garlic and Sesame
Kale is one over-hyped vegetable lately, I tell you whut. I don't mean that to sound negative and complainy, but I know it does. Alls I mean is, kale is always on those lists of "Top 10 foods you must eat NOW!" and "Eat this and live FOREVER!" and then it goes on to be all like: Kale is so nutritious and it has vitamins and antioxidants and it prevents cancer and it's basically a miracle and you're an idiot if you don't eat kale at least every meal and put it in your coffee; and maybe that's all true and fine, but really I think the poor sad collard greens are just as good for you so why are you getting your panties all in a wad about kale, Dr. Oz? I call conspiracy. Or kale-spiracy. Know whut I mean, Vern?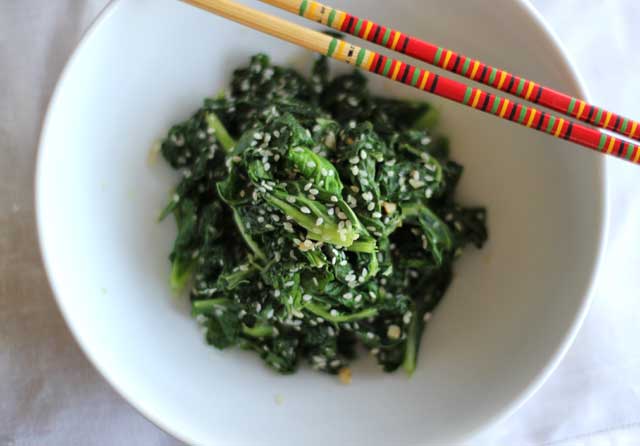 But the almighty Doctor has spoken and he hath said that thou greens shall be of the kale variety and that thou shall also find a way to prepareth the greeneries sans the fat of pigs or a whole bunch of butter and junk because that's just gonna counteract the powerful kale magic and then there's no way you'll live forever. Sad face.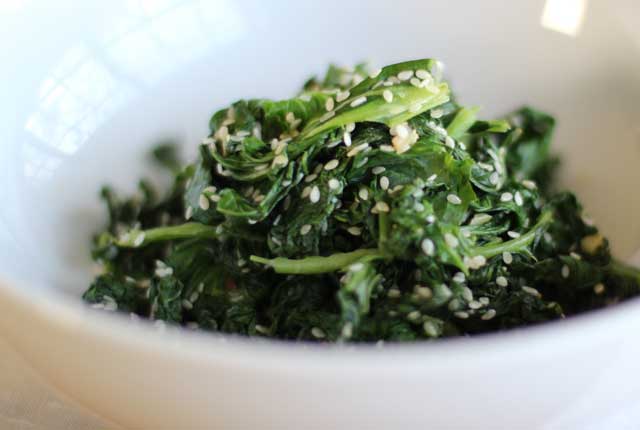 So here ya go. Learn how to cook kale with this easy and delicious recipe. Sauteed kale with garlic and sesame. It's quick, it's easy, it goes with a lot of other stuff, and it has garlic which I guarantee is also on every one of those healthy food lists.
How to Cook Kale Video (scroll down for recipe)
How to Cook Kale with Garlic and Sesame Seeds Recipe
Print
Kale with Garlic and Sesame
Author:
Cook Time:

10 mins

Total Time:

10 minutes

Yield:

4

1

x
1

bunch fresh kale

1 teaspoon

olive oil

1 teaspoon

minced garlic

2 tablespoons

sesame seeds

1/4 teaspoon

salt
a few drops toasted sesame oil (optional)
Instructions
Wash the kale by rinsing or submerging in a bowl of water and swishing it around. Pull the leafy parts from the stems. Discard the stems. Tear the leaves into bite-sized pieces.
Heat the oil in a large skillet or wok over high heat for a minute.
Add the garlic and cook only about 15-20 seconds until it starts to smell fragrant. Add the sesame seeds and half the kale.
Sprinkle with half the salt and toss around a few minutes until kale starts to wilt. Add in remaining kale and continue to cook until it's softened and reduced in volume by half. It should still be bright green.
Remove from heat and sprinkle with sesame oil. Serve hot or at room temperature.
Notes
Spinach is also delicious this way
For another thing to do with kale, make these Thai flavored kale chips. They're the bomb.