Breakfast Meatloaf (including Pork Sausage Recipe)
My brother's friend Cameron described to me a fantastical breakfast phenomenon he once imagined, called a "Breakfast Meatloaf". I took on his dream as if it were my own and created this absolutely GD delicious breakfast meatloaf, using my maple-sage pork sausage recipe, combined with a goodly helping of vegetables, stuffed with hard boiled eggs, and drizzled with a spicy maple glaze. WHAT?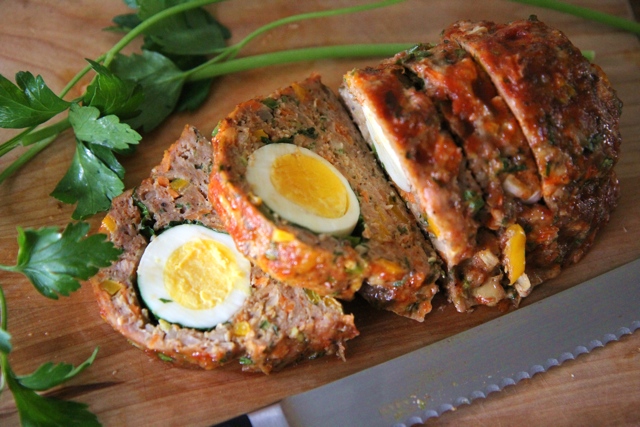 Ahem.

One of the best things about this (besides it being completely delicious and I want some more right now) is that you can make it ahead of time, cool it, slice it, and store it in the fridge for a few days. Like most meatloaf, it's perfectly fine eaten cold (I'm not the only one, right?) and absolutely kick ass reheated in a pan with some butter to get some crispy lil bits all over it, then snuggled into some hearty bread slices — maybe with tomato, ketchup, more Sriracha — and eaten on the run or not.
By "on the run" I mean on the run from the law, obviously. Breakfast meatloaf sammy would make a great traveling lunch to send along with your friend who stopped by your house for aid while eluding the cops!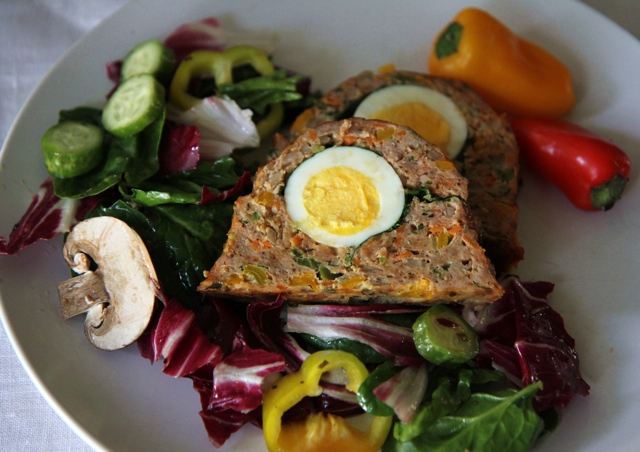 For a demonstration of making pork sausage and breakfast meatloaf, peep this video:
Full Recipe:
Print
Breakfast Meatloaf (including Pork Sausage Recipe)
Author:
Prep Time:

10 mins

Cook Time:

30 mins

Total Time:

40 minutes

Yield:

4

1

x
1

pound ground pork

1 teaspoon

salt

1 teaspoon

dried sage

1 teaspoon

dry mustard

1 teaspoon

black pepper

1 tablespoon

maple syrup (plus another for the glaze, below)

1/2 teaspoon

paprika

1

raw egg

1/2 cup

diced onion

1/2 cup

diced bell pepper and/or jalapeño

1

carrot, grated

2 tablespoons

minced parsley

2

boiled eggs, peeled
Few leaves spinach
Glaze (optional):

1 tablespoon

maple syrup

1 teaspoon

Sriracha sauce
Instructions
Set oven to 350ºF.
Combine pork with seasonings, salt through paprika. Mix well with your hands.
Add raw egg, onion, peppers, carrot, and parsley and combine well.
Spread half the pork mixture out on a baking sheet, forming an oval about 6″ long x 4″ wide x 1″ thick.
Wrap a couple of spinach leaves around each boiled egg.
Cover each egg/spinach with half the remaining pork mixture.
Lay the pork covered eggs down on your pork oval, lengthwise. Shape the now-weirdly-rounded loaf into a regular meatloaf shape.
Bake 30 minutes