Look at these broccoli baked potatoes! LOOK AT THEM! Don't they look cheesy and creamy and delicious and terrible for your arteries??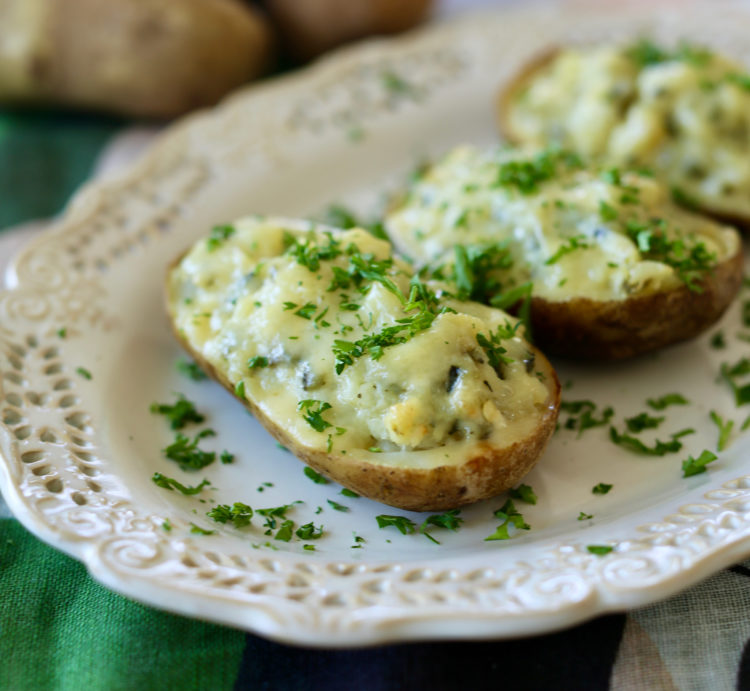 Well.
They are most of those things. But not all of those things. Because we are dieting, folks! We're countin' the cal's, watching our weights. So these broccoli (twice) baked potatoes are actually fairly low calorie and high fiber while still being super-duper delicious.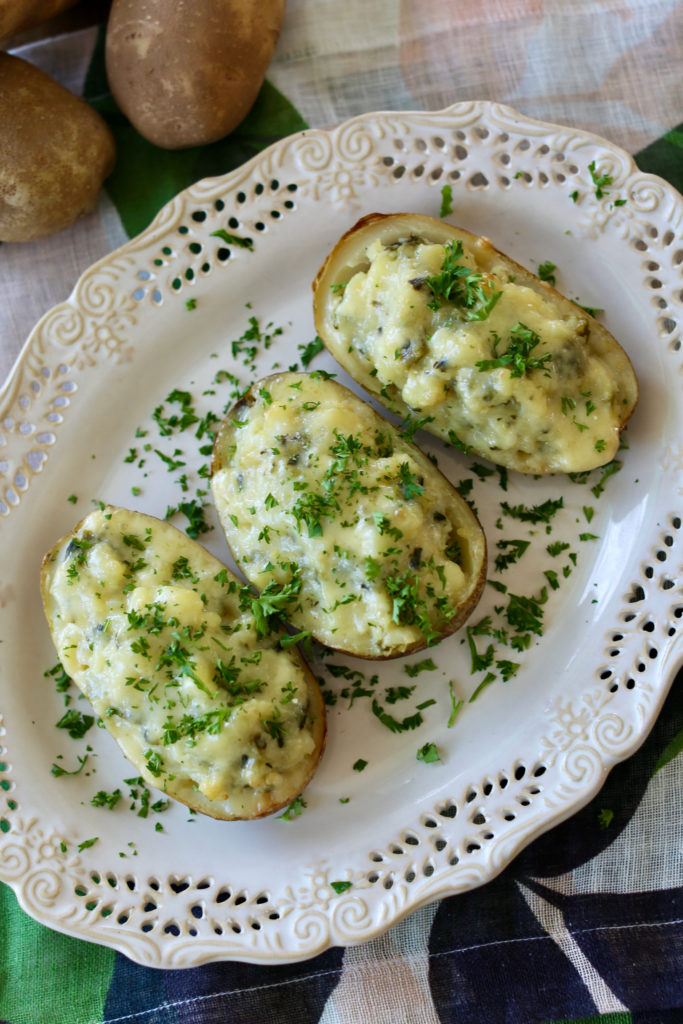 And you can totally use cauliflower instead for cauliflower baked potatoes. Follow the same instructions, but with cauliflower. AND in the summer these are also great with roasted poblano peppers.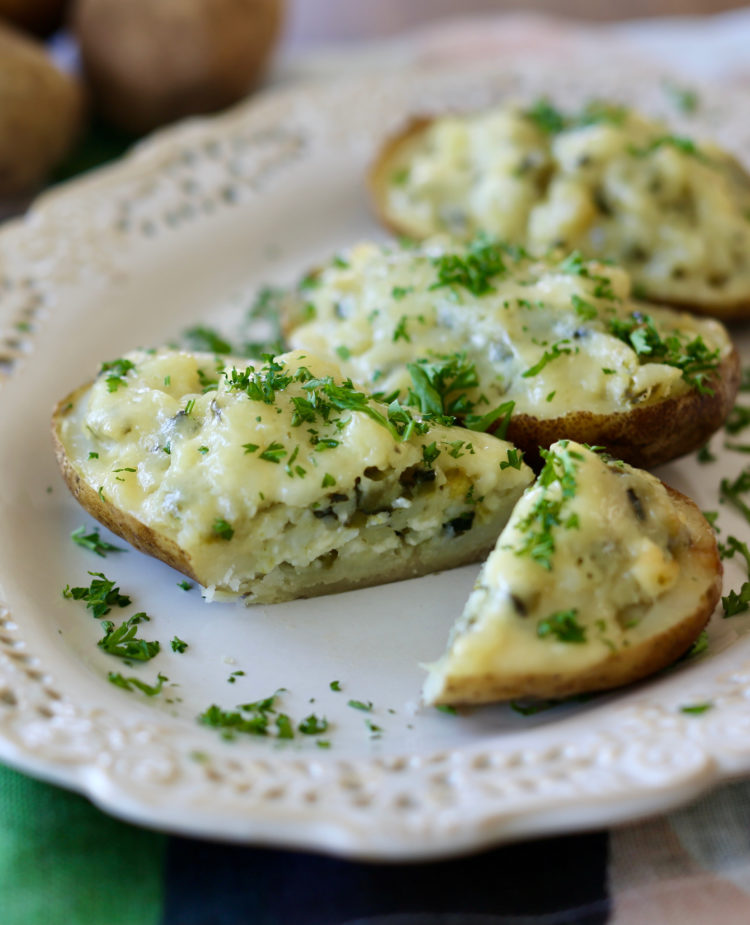 The trick, Rick, is low-fat cottage cheese which will definitely be familiar to you if you grew up in the 80s and your mom also dieted sometimes. If you've never cooked with it, I'm here to warn you that it doesn't melt into stringy strands of milk fat and it's not what I'd call creamy, but when mashed up into a twice-baked potato like this, it works.
I do top these with a smidge of sharp cheddar (the full-fat kind) for some dairy tang because I'm not a masochist, but even still, these broccoli baked potatoes are not just good for you, they're good.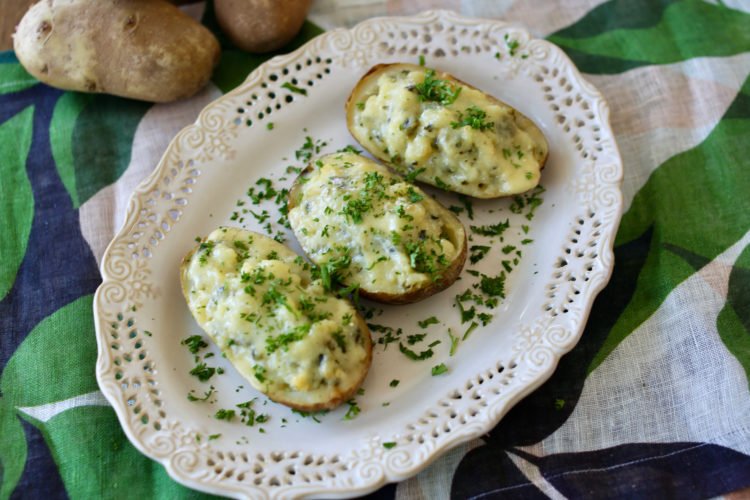 Peep this old post for a video on making twice-baked potatoes! There's even a twice-baked potatoes song I made up that is catchy as hell.
Print
Broccoli Baked Potatoes
Author:
Prep Time:

30 min

Cook Time:

1 hour

Total Time:

1 hour 30 minutes

Yield:

4

servings

1

x
4 medium-large potatoes (6–8 ounces each)
1/2 pound broccoli or cauliflower florets
1 teaspoon oil, divided
1/2 cup low-fat cottage cheese
1 teaspoon salt
1/2 teaspoon pepper
1/2 teaspoon garlic powder
2 ounces grated sharp cheddar
Instructions
Set oven to 350ºF. Scrub and dry the potatoes and prick the skin with a fork in a couple places. Use a few drops of the oil on your ands to rub the potatoes down real good. Place on a small baking sheet. 
Toss the broccoli (or cauliflower) with the rest of the oil and put into a baking dish (preferably one with a lid) Sprinkle a bit of salt on the potatoes and the broccoli, then cover the broccoli dish. 
Bake potatoes and broccoli for about 30 minutes. Check the broccoli. It should be tender and roasted. Remove and let potatoes cook another 30 minutes until very tender. Let potatoes cool until you can handle them. (At this point you can also refrigerate the potatoes and broccoli for a few days.)
Halve potatoes and scoop out the insides leaving a shell about 1/4 inch thick. Combine the potato insides with the cottage cheese, roasted broccoli, salt, pepper and garlic. Mash until mostly smooth. 
Pile into shells and top each with 1/2 ounce cheddar (stop here and refrigerate or freeze if making ahead).
Return to the oven for 10 minutes until hot and melted.
Notes
These are a great make-ahead meal. Stuffed potatoes can be refrigerated up to one week, or frozen. Do not thaw before baking the second time; bake an additional 5-10 minutes.
Nutrition
Serving Size:

2 halves

Calories:

261

Fat:

7

Carbohydrates:

39

Fiber:

7

Protein:

13