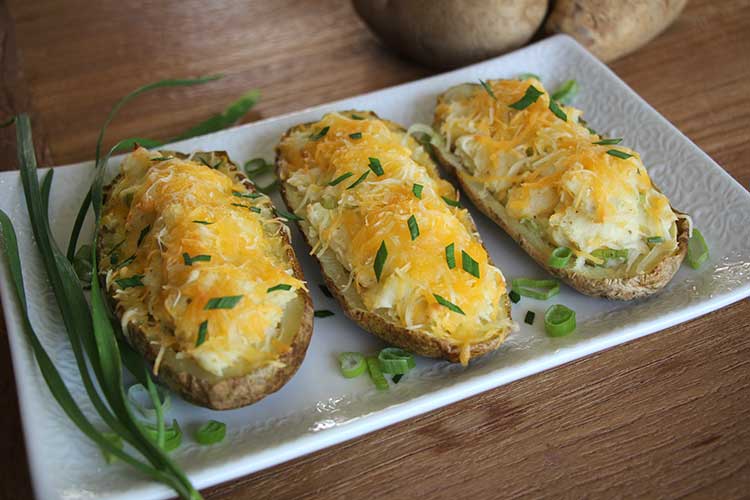 When I was a young'un, twice-baked potatoes seemed SO FANCY. The kind of thing only rich people ate at their country clubs. I think that might be because around that time, the mid 80s, country clubs and rich people and fancy food were on my radar thanks to the movie Trading Places, which is an excellent film, by the way.
If you aren't rich and don't eat at country clubs and don't read the Fanny Farmer Cookbook for entertainment, a twice-baked potato is like mashed potatoes and baked potatoes in one! It's genius! And it's actually really cheap because potatoes, and it's really not even much harder than a baked potato or a mashed potato and PLUS if you put weed in em you could call them thrice-baked potatoes. Get it?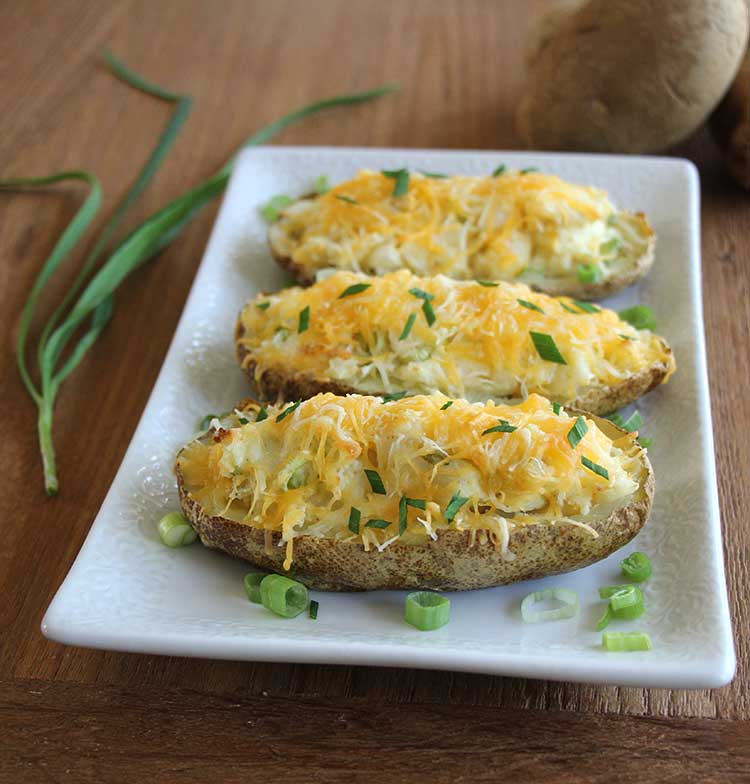 But don't put weed in them. Instead, put some of these other things in them that are wholesome and good and not illegal in 40 states: steamed broccoli or green beans or asparagus, peas, blue cheese, ham, bacon bits, salsa, chili, cooked spinach, cream cheese, ricotta, black olives, pepperoni, jalapeños, pickled cherry peppers, whipped cream, pecans, walnuts, fresh thyme, basil, tarragon, parsley, rosemary, chives, garlic … this list could literally go on infinity. Instead, here's the recipe and a video showing you how to make them.
Twice-Baked Potatoes Recipe – Printable!
Print
Twice-Baked Potatoes
Author:
Cook Time:

30 mins

Total Time:

30 minutes

Yield:

4

1

x
2

large Russet potatoes (about

6 ounces

each)

1/4 cup

sliced green onions

2 tablespoons

sour cream or plain yogurt

1 tablespoon

butter

1/2 teaspoon

salt

1/4 teaspoon

white or black pepper

1/2 cup

grated cheese, divided
Optional: 1/4 cup crispy bacon bits and/or 1/2 cup steamed small broccoli florets
Instructions
Scrub the potatoes very well and poke holes around the equator, long-ways, with a paring knife.
Cook in the microwave (high power for 7-8 minutes) or oven (350ºF for 1 hour) until soft all over. Leave the oven on 350º or set it to preheat to 350º.
Cool potatoes until you can handle, then cut in half along the equator.
Use a grapefruit spoon to scoop out the inside of the potatoes, leaving about 1/4 inch "shell".
Put the potato insides in a bowl with the onion, sour cream, butter, salt, pepper and mash until smooth.
Stir in optional ingredients and half the cheese.
Pack potato shells with the mixture, mounding it up.
For crispy potatoe skins (you want) rub the shells with a little more soft butter.
Place potatoes on a baking sheet and sprinkle the tops with remaining cheese.
Bake at 350 for about 20 minutes until heated through.
Nutrition
Serving Size:

1/2 potato

Calories:

225

Fat:

9

Carbohydrates:

30

Protein:

7
Twice-Baked Potatoes Video