Cocoa Brownies Recipe Video (scroll down for printable recipe)
I first shared this brownies recipe with the (very tiny) world of the HilahCooking newsletter, gosh, probably two years ago. That's hard to believe. Then I put it into the Learn to Cook book since it's easy as hell and perfect for beginners. Once, right after we released the book last year, I was so excited because a lady wrote about how she was so glad the brownies recipe was in the book because she'd tried it from the newsletter and loved them, but then deleted the email and thought it was lost forever. But now it's back! For everyone to share! I'm sorry; that story was probably super-duper boring to you. Thanks for indulging me, or at least glazing over this part and on to the brownie picture below.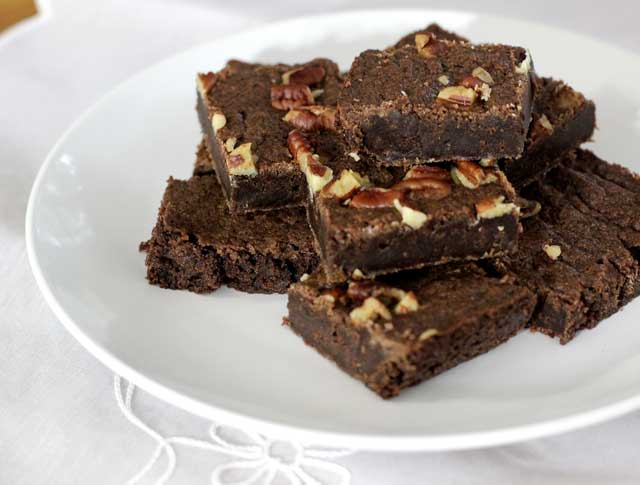 What is the gol-dang big ol' deal about these brownies, goshdangit, though?! In my brownie-world, these are the king. They are super-dense and fudge-y and chewy. If there's one thing I hate it's a brownie that thinks it's a cake. Ugh. Get over yourself, fluffy brownies! I also love that this recipe uses cocoa powder rather than chocolate squares which may seem like a bunch horse-shit to some people, but I never keep baking chocolate around the house so this works out well for me and my impromptu cravings for brownies.
Cocoa Brownies Recipe – Printable!
Print
Brownies
Author:
Prep Time:

5 mins

Cook Time:

30 mins

Total Time:

35 minutes

Yield:

1

2

1

x
1 cup

(

2

sticks) butter, soft

2 cups

sugar

2

eggs

1 teaspoon

vanilla

2 cups

flour

1/2 cup

cocoa powder
Optional: 1/2 cup chopped nuts
Instructions
Set the oven to 350ºF. Grease an 8×8″ or 7×11″ pan.
Cream the butter and sugar together in a bowl.
Beat in the egg and vanilla.
Stir in flour and cocoa. The mixture will be very thick and stiff. Add nuts if you want them.
Spread it into the greased pan as evenly as possible.
Bake 25 minutes in a 7×11″ pan, or 30 minutes in a 8×8″ pan.
Cool and cut into 12 squares.
I don't remember where this recipe came from — if I found it in a book or made it up — since I've been making these brownies for at least 20 years. But evidently my grandmother Hornsby liked them enough that she wrote the recipe down for herself, titling it "Hilah's Cocoa Brownies". I found this in her recipe collection and it makes me smile when I look at it.