I will tell you a secret. Before this video, I had never eaten a buffalo wing, nor was I very interested in them. I know; it is blasphemy, considering how much I enjoy cold pints and spicy food and sweaty men and frying things. But there you have it.
Chicken Wing Virgin.
And then I met Jenny Kelley.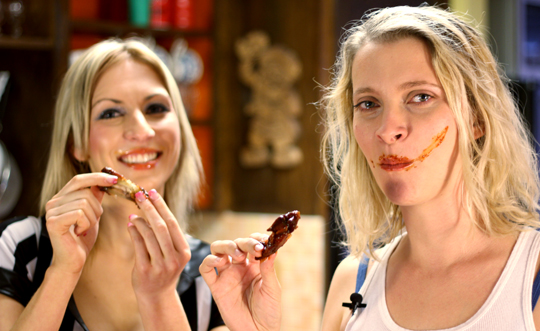 Well, first we met on the internet, thanks to the fact that she has an innernet cookin' show, too! We were able to meet in person thanks to The Fates, who saw to it that we live within driving distance of each other. Thanks, Fates!

When we were planning this episode, you know, chattin', rappin', brainstormin' about what we could make (and what we were gonna wear) and she mentioned she had a special, extra-spicy hot wings recipe, I was sold. I thought, "If anyone knows anything about hot wings, it is this chick right here". And she does. Boy howdy, does she ever.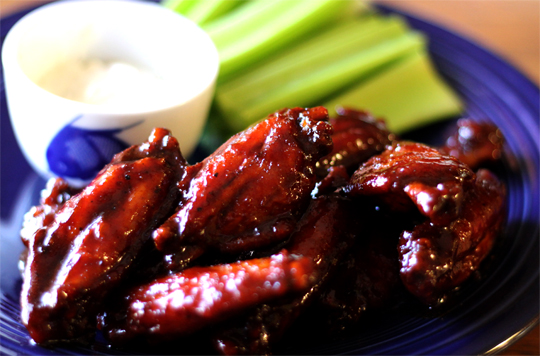 So here is Jenny showing me how to make buffalo wings, a.k.a. hot wings, just in time for the Superbowl. Yay for special guests! Yay for Superbowl parties! We had a ton o' fun as I'm sure you can tell in the video. And the chicken wings were outstanding. We didn't even need no dips. Then we drank wine and chatted while enjoying an incredibly warm and clear January day in Texas. Of course, four hours later it was sleeting and hailing and freezingbuttasscold outside, but it was nice while it lasted.
Ingredients
2-2.5 lb chicken wing portions
1 packet of dry Ranch dressing mix
2 tsp Goya Adobo seasoning (although you could probably use just about any seasoning salt mix you have around)
32-48 oz vegetable oil for frying
The Sauce
1 c wing sauce (we used Hooter's, but there are many on the market)
1/2 c brown sugar
1/2 tbsp worcestershire sauce
1/2 tbsp garlic powder
1/2 tbsp onion powder
1/8 tsp cayenne pepper
1/8 tsp paprika
1 pinch (< 1/8 tsp) Hot Shot! (red pepper seasoning)
1/8 tsp black pepper
Optional: 2 tbsp of any crazy hotsauce you like to make it extra hot!
For the wings, toss them with the Ranch mix and seasoning salt until they are all coated and so are your hands (or you can use tongs, sheesh!). Let that marinate overnight if you want to, or just let it hang out while your oil heats up. Pour the oil into a large pot; use as much as you need to get it to about 1 1/2 inches deep. Heat over high about 10 minutes. Use the wooden spoon trick to test it: put the handle of a wooden spoon into the oil and if it bubbles, the oil is hot enough.
When it's hot, put the wings in carefully to avoid splooshing oil all over your awesome Superbowl outfits. They don't need to be in a single layer or anything; just get them all in. Give them a little stir. Let cook about 25 minutes until they are dark brown and crispy. Stir occasionally just to be sure they aren't sticking to the bottom, but they really don't take much attention. We kept the heat on high the whole time and cooked them covered with Jenny's splatter screen and they took exactly 25 minutes.
While the wings cook, put all the sauce ingredients together and let it simmer to combine all the flavors. This makes a delightfully sticky, spicy sauce that reminds me of Korean barbecued short ribs. Mmm.
Once the wings are done cooking, pick them out and lay on some paper towels to absorb excess oil. Put them in a big ol' bowl and pour the sauce over. It will seem like too much sauce at first but just keep stirring gently until the wings are fully coated and also a little cooled off to that you don't burn the shit out of your tongue.
Eat them right out of the bowl if you are feeling primal, or put them on a plate if you are feeling polite.