Are you ready for some FREEKZONE!!!
Yes? Well, that is fortuitous indeed. Freekzone came over after a long day and made me his special boneless buffalo wings. They were just what I needed: crunchy, spicy, proteiny, fast, and easy. In fact, after his demonstration and my taste-test, I might say that boneless buffalo wings are the world's premier drunk person food!
Want to know what the secret is? No, not the secret to eternal life and hapiness and free money from the universe. I mean the secret to the extra-crispy crust on the wings. Give up? It's Doritos! Doritos-crusted chicken! Or you could use Cheetos. Or Fritos. Anything that rhymes with "Itos" would work. Tostitos. You get the picture. But we were fortunate enough to have genuine 1970's style taco-flavored Doritos. And they really did the trick. I tell you whut.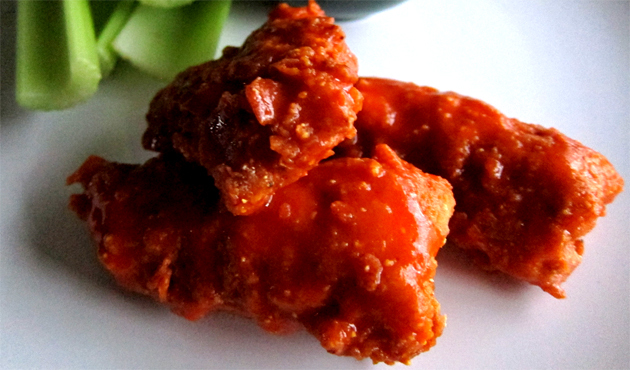 Watch the possibly-very-annoying but just-as-likely-to-be-hilarious video here!
Or just read the recipe here!
Print
Boneless Buffalo Wings
Extra crispy, fried chicken breast pieces coated in traditional Buffalo wing sauce
1 1/2

pounds boneless, skinless chicken breast

3

eggs

1/2 cup

flour

1/2 cup

cornmeal

1 cup

finely crushed Doritos (or another similar junk food item)
Oil for frying (about a 1/2 inch deep in your skillet)

1/4 cup

melted butter

1/4 cup

Frank's RedHot
Instructions
Cut the chicken into 12-16 equal-sized pieces, about the same size as a chicken wing (1″x2″).
Beat the eggs well.
Combine the flour, cornmeal, and chips in a large bowl.
Heat the oil to 350 F.
Dredge the chicken in the dry mix, then the egg, then the dry mix again and set aside on a plate until all are coated.
Fry 3-4 minutes on each side until golden and crispy. Check that they are cooked through by cutting one in half.
Drain on a metal rack while you get the sauce ready.
In a large bowl, mix the melted butter and Frank's. Toss the hot chicken pieces in the sauce until coated.
Serve at once with celery stalks and blue cheese dressing.
If this is just way too intense and crazy, try my baked chicken wings recipe! And don't forget the blue cheese dressing for dipping!